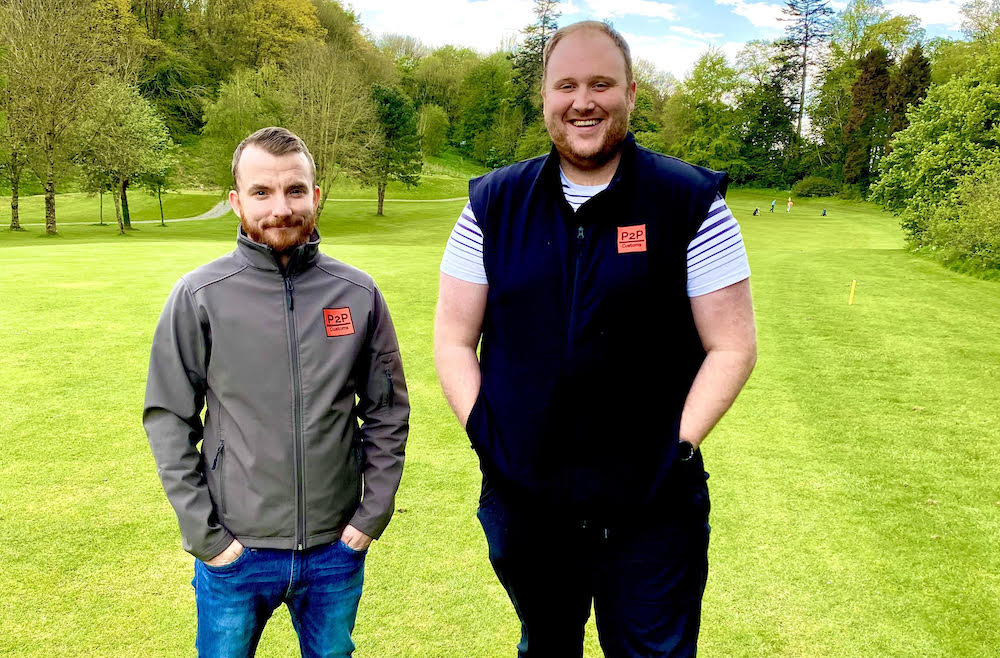 Anything to Declare? A sign that most of us have not seen in over a year – at least – but for hauliers crossing borders on a regular basis it can be an occupational hazard.
We seldom think of the journeys made to deliver our packages on a daily basis, or the produce in our local shops, but two Co. Armagh men can recant the minutest of details of that journey – and to them it is poetry in motion.
Having previously been involved in the customs business, Daniel McDermott and Ryan Kelly took the gamble of going it alone in February, and they have surpassed all their expectations.
Speaking to Armagh I, Daniel explained how Armagh-based P2P Customs is making sure that all paperwork was present and accountable for those journeying through the UK, Irish and the EU borders.
With borders very much a hot topic in relation to Brexit and the controversial NI Protocol, Daniel said it's not something people were used to and that it's going to get harder over the next couple of months, as "it is constantly changing and everyday throws up something new".
Explaining how he found himself in the customs industry, Ryan explained that his background was in accounts but two and a half years ago, with Brexit looming, he decided to change direction.
"I kind of just fell into it," he admitted, "I was working in a bank beforehand and was handling a lot of accounts in the transport industry; I liked it because you had the contrast of professional and the hauliers who tell you where to go.
"Then two years ago, I went to Birmingham for a conference on how customs is impacting the future and what was going to be needed."
According to Ryan, last year there was an estimated shortage of 50,000 customs agents, which has fallen, but the demand is still outweighing the supply.
And two years ago, Ryan gained a diploma from the UK Customs Academy in customs processes and compliance. He was joined by Daniel last year, and now the pair work hand in hand helping to establish their new business.
"It got to January and we both felt that a lot of the culpability was falling on us but were not able to implement the changes that we wanted", Ryan explained.
"We sat down together at the end of January and had a conversation, we had a few job offers but we wanted to implement our own plans and make sure that customs was done right."
And so from there P2P Customs was born, along with their motto 'Customs Done Right', but by their own admission it has not all been plain sailing.
"We had the knowledge and experience, in terms of customs, but there have been a lot of steep learning curves in terms of business," admitted Ryan.
Thankfully, family and friends have been on hand to help them both in terms of getting the business off the ground.
"From the start we had a commitment to being 24 hours," Ryan explained. "At the beginning it was only me and Daniel, so we were splitting 168 hours a week between us, but now that is a standard week.
"But it has been enjoyable and when we look back at how far we have grown, now six staff including ourselves, it has been amazing but we still want to develop further and remain hands on."
The company is now in the process of taking the first step in growing the business by moving into Zambezi Business Park, on the Station Road in Armagh. Their new office has been purposefully designed to support the continuing growth of that business.
From the very start, with both Ryan and Daniel coming from a customer service background, they knew that their 'bread and butter' were those to whom they were providing a service.
"There was a lot of phone calls at the start; we wanted to develop a good customer base and now we literally have a whiteboard with numbers for all our customers, so we can ring them every week to make sure they are set.
"We wanted to process everything in house ourselves, we didn't want to be outsourcing anything, we wanted to have complete control of the declaration process so that we were fully accountable."
Ryan said he wanted customers to see them as their customs partner, not just someone who carries out their paperwork – "we tell them all the time give us a call, send an email and we will help you as best we can."
The business has grown and grown, with the pair now having great relationships with the likes of Belfast, Larne, Warrenpoint and Dublin ports.
"We know the industry is heavily time-constrained in terms of on time delivery so we have a four hour service level agreement with all our customers.
"This was a big thing, as back in January to March, there were big problems with some declarations taking two days; for a haulier and a lorry sitting idle for two days is around £500 a day."
The pair have exceeded all of the targets which they had set back in February but they are not resting on the laurels.
"We want to keep investing in the business; this is also a testament to our staff, they are like mirror images of ourselves," Ryan said.
"We have had staff staying after their shift has ended because there is work that needed done; we could not have achieved all of this without them."
Ryan expressed a desire to promote the industry for those possibly considering their career options, particularly those who are still in school.
"Me and Daniel fell into this work, but I do think it is something that kids could find very enjoyable. It is a new industry for this island and one that has exploded," he said.
To find out more about what Daniel and Ryan do at P2P Customs, visit their website here.
Sign Up To Our Newsletter