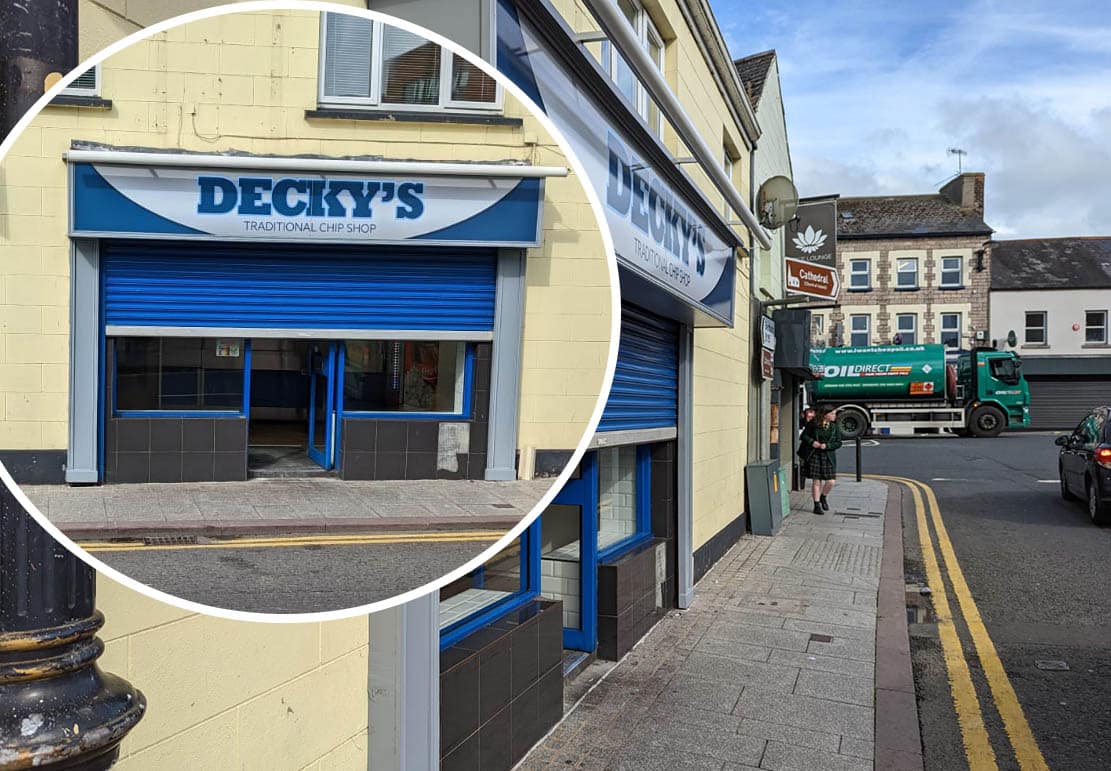 The owner of an Armagh chip shop has branded the latest Firmus Energy price increase "an absolute disgrace".
The provider announced on Tuesday that it is increasing its tariffs in some areas, including the Ten Towns Network, by a whopping 56.3%.
The network includes Armagh; Banbridge; Benburb; Bessbrook; Blackwatertown; Camlough; Craigavon; Laurelvale; Loughgall; Lurgan; Magheralin; Moira; Moy; Newry; Portadown; Richhill; and Tandragee
The increase will take effect from October 3, and will add an extra £15.50 per week to the average household bill.
Decky Sheridan, who owns Decky's Traditional Chip Shop in Cathedral Road, said his Firmus quarterly bill had already risen by more than 500 per cent since he opened the business 14 months ago.
Speaking of the energy bill support scheme, which will give people £400 off their energy bills, he said:  "I don't understand why the government thinks it's okay to hand money out to people just to keep them quiet for a wee while. It's just putting a plaster over an open wound.
"They should be targeting the companies and asking why it needs to be that much.
"I also don't understand how the UK probably uses the least Russian gas in the world yet their prices increases are one of the highest in the world."
Decky said he is already thinking of doing deliveries as a back-up plan to supplement his income, should the need arise.
"I am already a very, very busy shop which is why I haven't started deliveries. At the minute I don't have to but if gas prices keep on going the way they're going, something will have to change," he said.
"I don't want to put up prices. I put them up six weeks ago, and customers were okay with that, but I don't want to have to do it again."
He said his electricity costs are also "through the roof" as well, having almost doubled in the past 14 months.
Meanwhile, a small local restaurant, which preferred not to be named, said the latest increases could mean the end for them.
At present, their current weekly Firmus bill is around £300 while their monthly direct debit for electricity is £2,900. This includes an outstanding amount.
The spokesperson said: "With the hikes, the bills are going to be even higher this quarter. It leaves next year looking very uncertain for us."
Alliance MLA Eóin Tennyson said the latest energy prices increases demonstrate the need for additional cost of living support from Westminster and a restored Executive.
"This latest price hike is the largest ever announced for Firmus customers in Northern Ireland, and will increase the average bill for 59,000 customers by a further £847, to £3,150 per year," said the Upper Bann representative.
"This dramatic spike lays bare just how out of date and insufficient the previously announced £400 energy discount will be unless urgent action is taken.
"The UK Government must respond to this accelerating affordability crisis via an emergency Budget of at least £30 billion to protect households and businesses from the full impact of rising costs.
"It is also essential the Executive is restored immediately to enable timely and targeted delivery of available funds to those most in need.
"Given the scale and severity of this crisis, the Energy Bills Support Scheme should now be uprated to at least £800 per household. The £20 per week uplift in Universal Credit and Working Tax Credit entitlements should restored immediately and the Government should endeavour to remove VAT on domestic fuel."
Sign Up To Our Newsletter