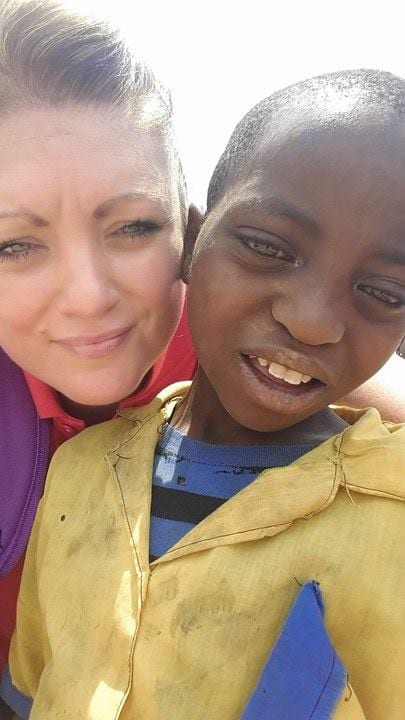 An Armagh woman has just returned from Malawi with friends and colleagues after helping to build a new school and medical centre at a local orphanage.
And Aisling Slim – who says the experience "changed me forever" – is now appealing for donations to help provide fresh water and power for the young people.
Most of the 14-strong team work for the Southern Trust, across all departments, and are members of NIPSA 733 branch.
They all live in the Armagh, Dungannon and Newry areas and wanted to do something to help those who need it most, making a difference and improving the quality of life for the children.
All manner of fundraising events were organised and more than £60,000 was raised.
Aisling told Armagh I: For "For the past year we have been tirelessly fundraising, from street collections to sales to coffee mornings – you name it we did it!
"We left Dublin on September 22 and flew to Malawi, where we visited many projects, from villages to clinics and the Tilinanu orphanage.
"Our £60,000 has helped so many, from building the school/medical centre to bringing much needed medical supplies, supporting bikes to villages, school equipment – it really has been amazing."
Together they helped the Tilinanu orphanage build a school and medical centre to accommodate the needs of some 165 children.
And having only returned, Aisling has organised a shoebox appeal and had an overwhelming response, putting together basic toiletries and other items to send out to the young people in need for Christmas.
It really has been an eye-opening and life-changing experience for Aisling and the team; to witness the squalor and know you are helping in a very tangible way.
They also brought medical supplies and visited a clinic which works to treat people with HIV and AIDS.
Aisling added: "I am just an ordinary mum who works a normal job who got asked to help fund raise and go to Africa.
"This past year I have done amazing things and met amazing people along the way. The people of Malawi are amazing and the people of Armagh have been fantastic, supporting me and the other guys with all the fundraising we have done."
Now the former St Catherine's College student is asking for your help once again.
Having constructed a medical centre and school, the team want to provide further practical help.
Said Aisling: "We have had an amazing response to the shoebox appeal so I was hoping people might instead now make donations towards a water hole and solar panels for the orphanage.
"We are very lucky people being born in this country. I would love to continue to help the people of Malawi in any way I can.
"I was really hoping the people of Armagh could come on board and help.
"The trip has totally changed my life. We saw so many horrific things, but also heard a lot of amazing stories.
"These people have been through such tough timesbut  always had a smile. I am very honoured to be a part of the amazing journey. I swear it has changed me forever!"
If you would like to make a donation to help provide solar panels and water, you can contact Aisling Slim via Facebook by clicking this link.
Pictures: Aisling with the young people at the orphanage in Malawi, and the group of 14 at a clinic to which they brought supplies to help treat patients with HIV and AIDS.

Sign Up To Our Newsletter