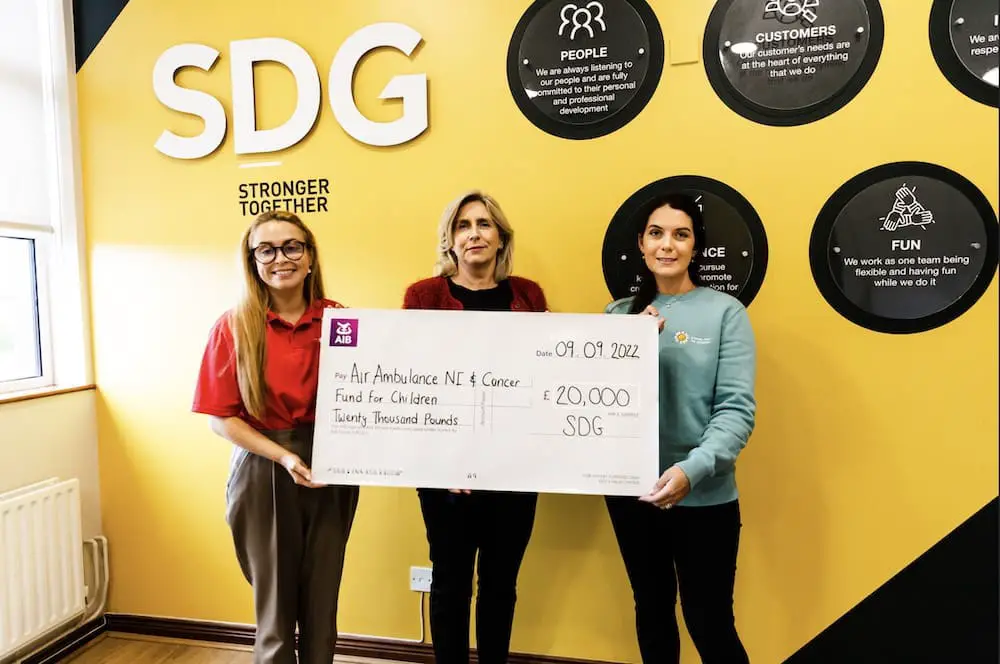 An Armagh firm this week handed over £20,000 to two local charities, Air Ambulance NI and Cancer Fund for Children.
The presentation took place at SDG Head Office located at Tullygoonigan Industrial Estate.
CEO Louise Skeath and members of staff presented £10,000 to each charity from fundraising events held throughout the year.
Since 2021, SDG have held a number of events including a Dragon Race, abseil from the top of the Europa Hotel, a charity mountain climb up Slieve Donard and in July a Spinathon at the Head Office, which saw 40 participants cycle over 700 miles in one day.
The £20,000 raised is as a result of the company, which celebrated 30 years in business in 2020, agreeing with staff to start a "Charity of the Year" initiative in 2021 to give something back to local communities.
Commenting on the charity initiatives held since 2021, Louise Skeath Chief Executive of SDG said: "We started this charity fundraiser last summer and at the time with everyone starting to return to normal life again it felt even more important to support charities who are essential to our families and local communities.
"We are delighted with the final total raised and are thrilled to hand over two £10,000 cheques to Air Ambulance NI and Cancer Fund for Children. The final figure of £20,000 is credit to the support and ambition of staff, customers, suppliers, and neighbours here at Tullygoonigan who all pitched in to help raise the monies, so it's a wonderful outcome for everyone, not least the two charities."
Thanking SDG for the support for its works, Amy Henshaw, Regional Fundraising Coordinator for Air Ambulance NI said: "Thank you so much to all the staff at SDG for your enthusiasm and hard work in supporting Air Ambulance Northern Ireland (AANI) over the past year. We are truly delighted to have received such an amazing donation of £10,000 from the various events staff had taken part in and also organised such as the Dragon Boat Race and Spinathon.
"Through your outstanding contribution to AANI, you have kept the helicopter operational for almost two full days, which will potentially help four people in Northern Ireland who require urgent, critical care. As a charity, we heavily rely on charitable donations from local businesses, so thank you sincerely for this truly
wonderful donation as without it, the team simply couldn't fly."
Welcoming the £10,000 donation, Mairead Rodgers, Corporate Fundraiser for Cancer Fund for Children added: "At Cancer Fund for Children, we were absolutely delighted to be chosen as one SDG's charity partners for 2021. SDG have gone above and beyond throughout the year to raise funds through a variety of events and activities to help the support the aims of our charity.
"We exist to help ensure that no child faces cancer alone, and we simply could not do this without the incredible support of amazing businesses like SDG. We were thrilled to be able to work with their highly motivated team and are beyond grateful for their massive donation of £10,000."
Sign Up To Our Newsletter