The images of children washed up on a beach have shocked the world.
Trying to escape the war in Syria, that picture which screamed from the front pages of newspapers has made the world sit up and listen.
Images of families desperately trying to clamber over barbed wire fences in Calais, trying to cross the Mediterranean in tiny boats and the drowned child on a Turkish beach.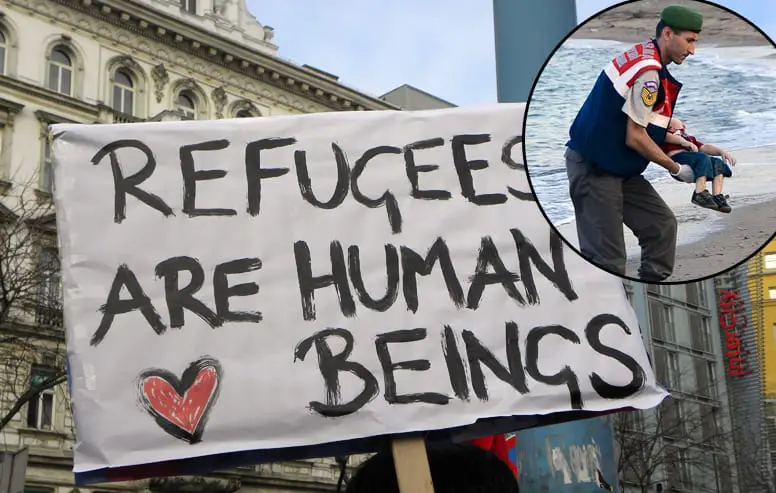 This war has been raging since 2011 but that shocking picture and the countless more which have followed has finally forced into the wider world's eye the worst humanitarian crisis of our time.
People cannot sit back. They will not sit back.
And here in Armagh – and far, far beyond – actions have been speaking louder than words.
The people of the city are being asked to help out and donate to help the migrants in Calais.
A special drop off is planned at the Armagh Business Park, on the Hamiltonsbawn Road in the city, which has kindly donated the use of a secure space for donations and to use to amass the contributions.
Armagh woman Dervla O'Neill told Armagh I why they had decided to get involved.
She explained: "After feeling disheartened over the lack of local help for the humanitarian crisis we volunteered any help we could give to Cork Ireland Calais Refugee Solidarity.
"They are bringing a convoy of aid from all over Ireland to Calais on September 29 or 30.
"Stena Line have volunteered free transportation to the convoy.
"Northern Ireland Calais Refugee Solidarity are coordinating with CICS, with volunteers all over Northern Ireland, and through them we have set up Armagh to Calais to gather donations for the convoy."
The first collection drop off at Armagh Business Park is on Sunday, September 13, between 10am and 3pm, with more dates being added in more volunteers come forward. 
Dervla added: "We need boxes, packing tape etc, if any business would like to help with that. If you have a truck or van and would like to join the convoy, we can help."
Here is the list of the priority needs.
• Tents (especially 4 man)
• Sleeping bags
• Blankets
• Heavy duty rubbish bags
• Men's warm winter clothes (Small & Medium)
• Scarves, hats & gloves
• Men's Shoes – runners & walking shoes only
• Candles & torches with batteries
• Toothbrushes & Toothpaste
• Shaving foam
• Tissues
• Toiletries bags
• Bike & puncture repair kits & bike tools
• Medicines & first aid supplies
• No food, as this will be purchased in Calais to allow more room for other goods to be transported
• Money donations to Cork gofundme.com (link on this page)
"Excess items will be distributed to Kos/Hungary and we will work with aid agencies on the ground in those areas," said Dervla. "CICS are staying for a week to volunteer in the camp. Tracey Ryan Elaine Ni Meritneach are the main coordinators and can be reached on (00353)867777108 and (00353)873876183."
Check out the Armagh to Calais page on Facebook and please, please do everything you can – no matter how big or small, together we can make a difference.
Read more news:
Armagh and Dublin GAA mass brawl appeals see heavy fines reduced
Colin Morgan's latest 'Legend' to get UK premiere on Leicester Square
Bessbrook pensioner may have been stabbed with a hook while he slept
Large plume of black smoke led to repeat public calls on factory fire
Northern Ireland one step closer to Helicopter Emergency Medical Service
Sign Up To Our Newsletter