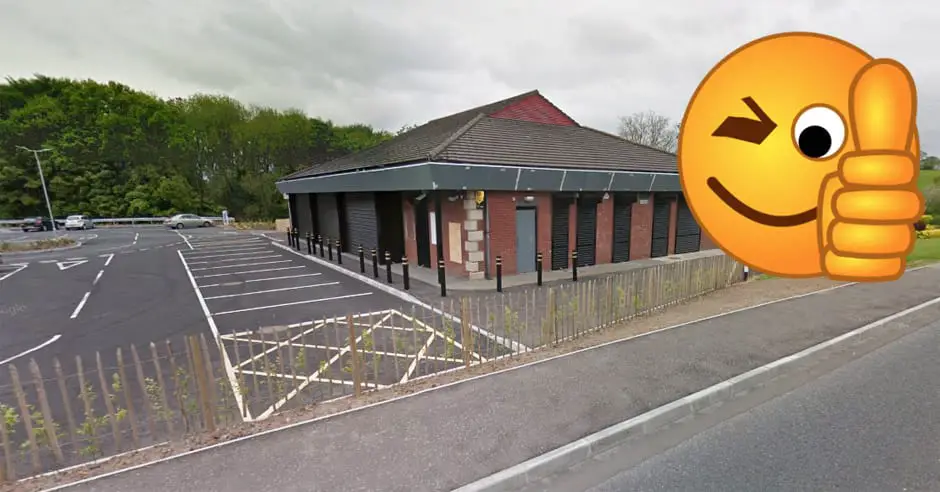 Plans to convert a former filling station into two new fast food restaurants – at a cost in excess of £630,000 – has this week been recommended for approval, Armagh I can reveal.
The proposed developed has been earmarked for the old Fruitfield Filling Station on the Portadown Road, at Richhill.
Armagh I first revealed an application had been submitted to Armagh City, Banbridge and Craigavon Borough Council for consideration last November.
Now planning officials – after studying the proposals and addressing some site concerns – are poised to recommend to council that the restaurants plan be allowed to proceed and have included it on the delegated scheme as an 'approval'.
A parking analysis has been carried out on site and it is felt there is adequate spaces to cope with the expected demand.
The old Fruitfield retail premises at Portadown Road, Richhill, relocated to a newly-built 'food hall', complete with in-store butchery, deli, off-licence and restaurant – The Scullery – representing a major investment on the site by the Reid family.
The family business was first opened in 1998 but in recent years it outgrew its old premises and the decision was made to relocate to a bigger site.
Now the former supermarket attached to the old Fruitfield Filling Station, which closed after the new Eurospar Reids Farm Foodhall opened, will be redeveloped.
Fruitfield Foodhall is owned by brother and sister, Gary Reid and Joanne Gourley, and their father, Eric Reid.
It is in the latter's name that the plan to create two side-by-side fast food outlets – with seating available in informal dining areas – were submitted.
Mr Reid told Armagh I that he's delighted permission has finally been granted.
"It'll be great to offer the local people more choice and will be great to have more people around the premises," he said. "This is an exciting opportunity and hopefully I have no doubt it will be beneficial to the area as a whole."
Part of the basement will be converted into a food preparation area.
While environmental health officials had raised concerns in relation to night time noise disturbance caused by traffic and people coming to the new fast food outlets, it suggested a condition restricting hours of operation be imposed.
It suggested that the premises not be permitted to open after 11pm and before 7am.
The developer's team, however, have suggested that, should the need arise to open beyond that, perhaps as late as 1am, this could be facilitated through the provision of an access gate to Sleepy Valley, which could be closed at 11pm to ensure traffic enter via the main access.
A professional planning consultant's report was also forwarded to council officials for consideration which states the case for the need for this type of development.
It says the applicant's wish was to extend the catering facilities available at the petrol filling station site to "provide for a variety of catering tastes in addition to the restaurant already operating alongside the new supermarket".
It adds: "The proposal is to make use of an existing building with adequate car parking and good access and with no new visual impact.
"It will supply a catering need complementing the existing restaurant, giving further choice along the trunk road as part of a recognised multi-purpose roadside service facility already popular with motorists and truck drivers, with the latter's access and specific parking requirements already provided for within the site."
There are still no names linked at present to the planned outlets; it is not known whether these would be operated as part of the family business or run as franchises.
Read more news:
Huge refurbishment of Camlough Lake will be completed in time for Triathlon
Fundraising drive for 'inspirational' woman hit with cancer for second time
Major £200,000 road scheme in south Armagh to take 10 weeks to complete
Nephew Joe joins Ancre Somme pilgrimage to lay wreath on Willie McBride's grave
Teacher hits out at government scheme that could force him to seek work abroad
Will it happen? Lengthy deferral sees £1M Cathedral Road revamp left in limbo
Tributes paid to 'absolute gentleman' who died in Portadown Road collision
Co Armagh to host music festival – 14 acts, two stages and talent galore!
Sign Up To Our Newsletter