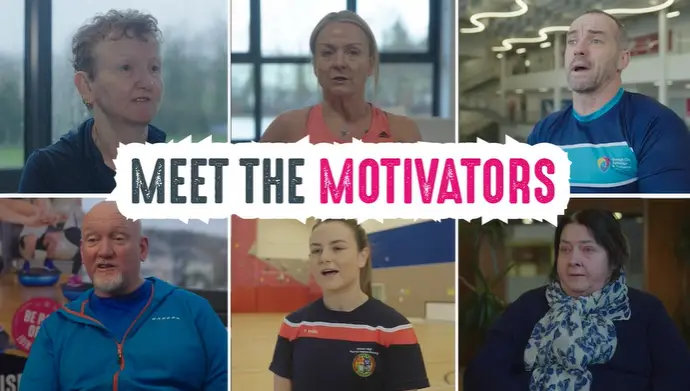 Set to the incredible, chart-topping soundtrack from local music legend Martin Rafferty, six getactiveabc members and instructors share inspiring stories about their own fitness journey.
The getactiveabc leisure centres mean something different to everyone. For some it's an escape, for others it's about achieving a personal best or addressing health issues, and for many it's a place they can connect with others.
Watch the video for a snippet of each interview as all six participants discuss the importance of physical activity in their daily lives, stepping through the door for the first time and those little wins that build over time.
Starting Monday, February 7, the full interviews will feature each Monday evening on the getactiveabc Facebook page as part of their #meetthemotivator campaign.
Getactiveabc is extremely grateful to all six individuals for telling their stories and motivating others to take that important first step:
Noreen Evans
Noreen Evans attends the Physical Activity Referral Scheme (PARS) at the Orchard Leisure Centre in Armagh to help manage her diabetes and her recovery from Covid-19. Noreen became very ill with coronavirus in December 2020, she was admitted to
hospital and spent time in ICU. Noreen fought tirelessly to overcome the virus and was discharged from hospital in February 2021, deemed a miracle woman by staff. She has been going from strength to strength under the supervision of Helen Mone,
PARS Consultant.
Clodagh McComiskey
Clodagh McComiskey is a Recreation Attendant at Gilford Community Centre. Since the age of 11, she has been boxing competitively, achieving six Ulster and Irish titles. Clodagh has represented Ireland on numerous occasions, competing in two Ulster Elite finals and the Irish elites in September 2021. She was invited to the Ulster High Performance to train towards qualifying for the Commonwealth Games. In her spare time, Clodagh coaches children at Gilford Amateur Boxing Club. Clodagh's family took part in 'Ireland's Fittest Family' in 2019.
Jackie Halligan
Jackie hails from Richhill and played hockey for Armagh Hockey Club and Stranmillis University. She joined the Nifty Fifties class at Richhill Recreation Centre and now teaches it! During lockdown she embraced teaching Pilates classes online via Zoom
and began using social media.  After posting an Abs reel on Instagram reaching over 2.3 million views, Jackie became an Instagram sensation with a whopping 140K followers. Jackie is preparing for her debut on 'Portadown Care Does Strictly Come
Dancing' in March 2022 with her dance Partner, Stephen Henderson.
Robert Phoenix
Robert had an interest in sport from a young age, enjoying football and long distance running. He spent many years on the football field as a referee until his career changed to long distance lorry driving in the 1990's. In 2019, Robert was involved in
a very serious road traffic collision, he spent time in hospital and upon discharge he was house bound for six months. Robert's rehabilitation programme involved extensive physiotherapy. His physio referred him to the PARS programme at the
Orchard Leisure Centre under the watchful eye of Nigel Cummings.
Tommy Stevenson
Tommy is a fitness instructor at South Lake Leisure Centre in Craigavon. He hails from Lurgan and is a prominent member of the local sporting community. He has coached and trained numerous successful teams including Antrim Hurling and Armagh Ladies. For two decades he played for his native St Paul's in Lurgan and subsequently became their manager before taking on the challenge of triathlons, graduating from half to full Ironman.
Pamela McCusker
Pamela is a getactiveabc member at Dromore Community Centre. After having her first child she joined the gym and has been a very active member ever since. Pamela is a strong advocate for a little gym 'me time', time to recharge and care for physical
and mental health, in a world of busy schedules and constant family and work demands. During filming Pamela wowed the crew, staff and other members on the rowing machine, bikes and treadmills.
Everybody is welcome at getactiveabc and, as Marty Rafferty sings – You'll never be alone'. To find out more about how the staff will support you every step of the way on your fitness journey, call into one of our centres or visit
getactiveabc.com/memberships
Sign Up To Our Newsletter