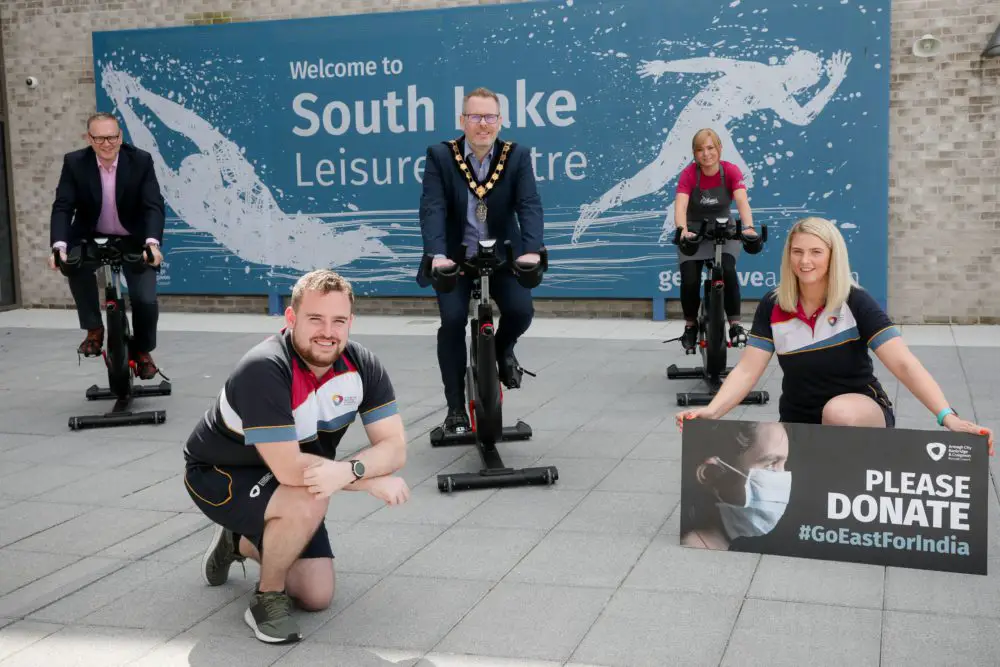 Armagh City, Banbridge and Craigavon Borough (ABC) Council is spearheading a major fundraising campaign to support the people of India – as they battle the world's worst second wave of the coronavirus pandemic, with devastating daily figures breaking global records.
ABC Council has launched a 'Go East for India' fundraising appeal to walk, run, cycle and paddle the 4,812 miles from Craigavon to Chennai in India – to help raise money for Oxfam to supply much needed Covid-19 aid and assistance for the people of India.
Council staff and Elected Members are coming together to do a variety of fundraising activities to support the cause, including a spin-a-thon at South Lake Leisure Centre, a biathlon involving running and kayaking at Craigavon Lakes, and a step challenge.
Funds raised will help the Oxfam India Covid-19 Appeal and will support their aims to distribute PPE and medical equipment to hospitals and health centres, provide food and cash to the most vulnerable, as well as remove the barriers to increasing vaccine production and ensure access for everyone.
In 2017 council established a long standing association with India through the launch of the 'Export to India – Go East Programme'. This programme enabled businesses from across the borough to take part in a trade mission to India, establishing many positive business partnerships, particularly in the Chennai region.
Lord Mayor of Armagh City, Banbridge and Craigavon, Councillor Kevin Savage said:
"Council members and officers were visibly moved by the devastating scenes coming from India recently, and were compelled to do something to help at this critical time for the country. Over the past five years, council has developed strong working relationships with many government and business leaders in the region, which has benefited many businesses across the borough through the 'Go East Programme'. The catalyst for this was the trade mission in 2017."
"The warmth and hospitality that many of my colleagues experienced during this visit has had a lasting impact, so as a council we are encouraging everyone to please donate and help the people of India in their real hour of need."
India is currently struggling as the healthcare system is seriously overwhelmed by the ever-increasing number of Covid-19 cases. Raising money to provide much needed aid and assistance will help support the Indian people, especially the most vulnerable at this critical time.
If you would like to be part of this fundraiser and donate to Oxfam, come along and support any of the below events taking place at South Lake Leisure Centre.
TUESDAY 8 JUNE 2021: SPIN-A-THON
Starting on the hour from 11am to 5pm, 17 bikes will be available for instructor-led spin classes, lasting 45 minutes. £5 minimum donation per attendee.
WEDNESDAY 9 JUNE 2021: BIATHLON
Starting at 10am and setting off at half-hour intervals until 7.30pm, teams of five (at a maximum) will compete in a one mile race around the Lake and a one mile kayak on the Lake. Times will be recorded, with the fastest person and team winning watersports activity vouchers. £5 minimum donation per attendee.
FRIDAY 11 JUNE 2021: ABC COUNCIL STAFF SPIN
With two spin bikes at South Lake Leisure Centre café area, staff will also be spinning their way to help raise funds. Spur them on by making cash donations on the day.
ABC Council is also encouraging local businesses in the borough to get behind the initiative and offer their support by donating and/or organising their own fundraising events.
FURTHER INFORMATION: If you are interested in taking part or would like to donate, click here.
Sign Up To Our Newsletter