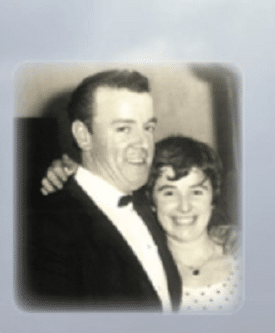 We the family of the late Sheila and Peter Breen deceased 15th March 2020 and 28th March 2020 RIP, their children Ciaran and Helen, their daughter in law, son-in-law, and grand children, would like to offer our sincere appreciation and heartfelt thanks to all those who sympathised with us on the loss of a much loved Mum, Dad and grandparents.
We hope you will understand how the swiftness of their passing, combined with the wider circumstances at the time contributed to the delay in making a public expression of gratitude; rest assured however, that its belated nature makes it no less sincere.
A year later, still faced with ongoing restrictions, we are sadly once again unable to gather and truly celebrate Mum and Dad's lives in the manner which they truly deserved.
However, despite the many things we can't do, we are happy that we can take this opportunity, a year on from their passing, to formally thank those who helped us.
As a result of Mum and Dad's death occurring during the earliest days of the pandemic, many people were unable to offer their condolences in person.
However, we were simply overwhelmed by the outpouring of sympathy expressed through a multitude of means, showing us that kindness always finds a way.
Each and every text, card, letter, doorstep delivery and offer of support by family and friends provided more comfort to us than words can express. Each memory shared sustained us through the darkest of days.
We thank all the priests of the parish and in particular Fr Peter McAnenly for his pastoral care of Mum and Dad throughout the years and for officiating at a fitting and personal Requiem Mass for Mum, for the burial of Dad and the later online Requiem Mass.
Thanks also to the doctors, nurses and community staff of Tynan surgery and especially Dr McAlinden.
We are deeply grateful to the medical staff of Belfast City, Craigavon Hospitals, Ann's Homecare, to the Macmillan and Marie Curie nurses who, through their exceptional  palliative care, enabled Mum to spend her final weeks at home.
Thank you to the doctors, nurses and staff of Archway Surgery, Craigavon Area Hospital and Daisy Hill Renal Unit, especially to John Harty and Vicky Toner for always going the extra mile for Dad.
Finally we would like to thank McArdle Funeral Directors for their professional and compassionate handling of all the funeral arrangements for Mum and Dad.
It is important for us to acknowledge that all of those aforementioned fulfilled their respective duties at a time of tremendous  fear and uncertainty, something which makes our gratitude  all the more heartfelt.
It is impossible to individually name each and every one of the family members and friends without whose support we would have been unable to get through the last year and hope that our previous expressions of private thanks will suffice.
We trust these acknowledgements will be accepted by all as a small token of our deepest appreciation.
Sign Up To Our Newsletter