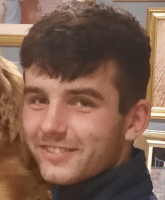 Fullerton, Tiarnan. Tiarnan's parents Francis and Roisin, brothers Ruairi, Caolan and Odhran and extended family circle and many friends wish to convey their thanks and appreciation to all those who sympathised and supported them during their very sad bereavement. To our kind family, friends and neighbours whose help was invaluable over the wake and funeral and indeed since.
Special thanks to Tiarnan's friends and work colleagues whose presence and emotional support was overwhelming even in spite of their own grief.
We thank all those who attended the wake and funeral, brought mass and sympathy cards, messaged or posted online their condolences.
To the individuals and businesses in the town who brought gifts of food or floral tributes we are most grateful.
We thank those who attended Tiarnan prior to the emergency services arrival and to the PSNI for their compassionate and professional approach.
Special thanks to our GAA family in Keady and to the wider GAA fraternity for their presence and warm tributes to Tiarnan.
Particular thanks to the priests of the parish and to the visiting priests from other parishes who called and prayed with us and especially to The Very Reverend Fr John McKeever for his pastoral care of us as a family and for officiating at a very personal and fitting funeral mass.
Thanks also to Deacon Hughes for his prayerful presence and to the Sacriston and the parish team for all their help.We thank Catherine Grimley Hughes and Dermot McCusker for the beautiful music throughout the funeral mass and to the gravediggers (Tiarnan's Army) for preparing his final resting place.
Gratitude to Phillipa and her team from the 'Rolling Pin' for providing the post burial refreshments and to the parish for the use of the hall. Finally to Mone Funeral Directors for the complete and professional handling of all the funeral arrangements.
At the risk of failing to mention someone we trust this will be accepted by all as a sincere token of our appreciation and thanks
Tiarnan's month mind mass will be celebrated in St Patrick's Church Keady on Sunday April 16, at 11:30am
Contact us via email marketing@armaghi.com and our dedicated team can help you choose a fitting tribute.
Sign Up To Our Newsletter