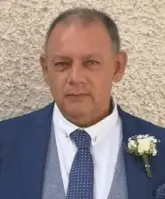 Acknowledgement from the family of the late Thomas (Packie) Lewis.
The large family circle of the late Thomas Lewis RIP, (Camlough and formerly of Newtownbutler, Co. Fermanagh) who died suddenly February 12, 2023, would like to express our sincere and heartfelt thanks to all who sympathised with us during our recent sad bereavement.
Thomas' family especially his dearly beloved wife Paula (nee Maginnis), his cherished children Alanna and Thomas jnr. James (Lisa), Natasha (Gary) and Nicole, grandchildren Edward and Paddy, his siblings Margaret, Seamus, Pam, John Joe, Maureen, Anthony, Martin, Christopher, and Eileen and his parents-in-law Seamus and Mary Maginnis would like to thank all those who called and shared stories about Thomas with us following his sudden death.
To our neighbours and friends both in Armagh and Fermanagh and the wider community who travelled to our home to pay their respects, sent mass and condolence cards and attended the
Requiem mass, we all greatly appreciate your prayers and kindness.
Thank you to all those who sent and brought food to the house and helped with refreshments as well as those who provided a guard of honour at the chapel and along the road.
Thanks to the ambulance service and the staff at Daisy Hill Hospital for their support.
Special thanks to Fr Gary Donegan for the personalised service and Maria and Rose Connolly for the beautiful music and singing for Thomas during his funeral.
Thanks to Bellews for the lighting at the house, Pajo McConville for the taxi service from the Carrickcruppin club to our home, Carrickcruppin club for the use of their facilities and McEntees for the refreshments.
Thank you to Liz and all at Doyles Undertakers for all their help during the wake and carrying out all the funeral arrangements in such a dignified manner.
As it is impossible to thank everyone individually, we hope this acknowledgement will be accepted by all as a token of our sincere appreciation.
Thomas' months mind mass will be celebrated on Saturday March 11, 2023, at 7.30pm in the Church of St Malachy, Carrickcruppin.
"Sacred Heart of Jesus have mercy on his soul."
Sign Up To Our Newsletter