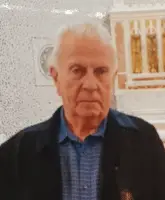 Mackin, Peter. (Ballymacnab). Peter John's son Sean, his grandchildren, brothers and sisters wish to express their gratitude to all those who sympathised with them during their recent bereavement. To all our very kind family, friends and neighbours whose help and support was invaluable over the death and indeed throughout Peter John's life.
To all those who visited the wake to extend their condolences, and attended the funeral, sent mass or sympathy cards, brought gifts of food and floral tributes we were most grateful. Thanks also to those who telephoned, messaged or posted online their expressions of sympathy.
Gratitude to the GP, Doctors and Nursing staff of C.A.H especially Dr Foy and the Haematology team.
Especial thanks to Fr Greg Carvill for his pastoral care of Peter John and for leading us in a very personal funeral service and to the Craigavon Hospital Chaplaincy team and in particular Fr Damian. We thank Liam and Petrina for preparing the church and to Catherine and Dermot for the beautiful music at the Mass.
Thanks also to Ballymacnab Hall committee for the use of the chairs, boiler and crockery over the wake and for the use of the Hall for the post burial refreshments and to McEntees for the food and excellent service.
Finally thanks to Derek Gibson and Kyle for the provision of the marquee and the gravedigger who prepared the grave.
Lastly we thank Mone Funeral Directors for the complete and professional handling of all the funeral arrangements.
As it is impossible to thank each person individually we trust this acknowledgement will be accepted as a sincere token of our appreciation.
Peter John's month mind mass will be held in St Patrick's Church Ballymacnab on Tuesday April 18, 7:30pm
Contact us via email marketing@armaghi.com and our dedicated team can help you choose a fitting tribute.
Sign Up To Our Newsletter