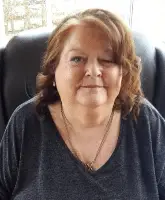 McShane, Maria.
Maria's husband Matt, son Caionn, daughter Alana, her grandchildren and brother and sisters wish to express their profound thanks and appreciation to all those who offered support and sympathy to them during their sad loss.
To all our wonderful family and friends who done so many things in so many ways not just over the wake but prior to Maria's passing we are forever grateful.
Thanks to all those who attended the wake/funeral, brought mass/sympathy cards, floral tributes, telephoned or posted their condolences online, we appreciated each and every one of them.
Thanks also to the ladies who made and served tea over the wake and to the many individuals and businesses which provided food.
We thank all those involved in the care of Maria during her illness both in home, hospital and in Newry Hospice. To the medical and nursing staff from Craigavon hospital, the paramedic service, the Acute Care Team, the Dr's and staff of Willowbank Surgery, McKeevers Chemist Keady, the Keady District Nursing team, the Marie Curie and Macmillan teams and the carers from both the Trust and the private sector, we are eternally grateful to the exemplary care and compassion shown.
Especial thanks to the priests of the parish in particular Fr McCann and Fr McKeever for their pastoral care of Maria and indeed us all as a family and to Fr John McKeever for officiating at a very fitting funeral mass. Thanks also to Fr McAnely for attending our home and to Fr Greg Carville for concelebrating the funeral mass and officiating at the burial.
Thanks to the Sacriston for setting up the church and to the gravedigger for preparing the grave. The funeral was greatly enhanced by the music and singing provided by Fiona Brennan-Toal and to Liam Lappin for his graveside tribute.
Finally to Bridget Mone of Mone Funeral Directors and staff for the complete, professional and dignified handling of all the funeral arrangements.
At risk of failing to mention someone we trust this acknowledgement will be accepted as a sincere token of our appreciation.
Maria's month memory mass will be celebrated on Monday May 23 at 7pm in St Patrick's Church Keady.
Please leave messages of condolence in our comments section on the website 
Remember a loved one with a sympathy or memoriam notice on Armagh I.
Contact us via email marketing@armaghi.com and our dedicated team can help you choose a fitting tribute.