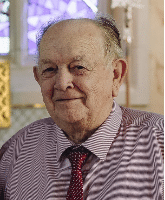 The family of the late Jim Connolly have requested this acknowledgement is posted in appreciation and gratitude.
Jims sons, Micheal and Declan, daughter Deirdre, daughters-in-law Carmel and Catriona, son-in-law Malachy, grandchildren and entire family circle wish to thank all those who sympathised with them during their recent bereavement.
To all our wonderful family, friends and kind neighbours whose help and support was invaluable over the wake and funeral.
To all those who attended the wake and funeral, telephoned, messaged or posted online their condolences, brought mass cards, gifts of food and floral arrangements, we thank you all very much.
We thank all the ladies who made and served the tea and to the men who provided parking assistance and the general clean up before the wake.
Thank you to the priests of the parish, Canon Crawley who attended daddy in his final days and Fr McKeever for celebrating a very beautiful and uplifting funeral mass.
To Catherine and Dermott for the lovely music and singing which greatly enhanced the funeral mass.
A very special thank you to all those who cared for daddy during his illness, Dr Gail Nicholson and her Acute Care at Home team, the District nursing team, the Marie Curie staff and the staff from Ann's homecare who all went above and beyond for daddy and our family.
Thank you to Mary B and the staff of The Caledonian for the post burial refreshments.
To the gravedigger for preparing Daddy's resting place in such a meticulous and tidy manner.
A sincere thanks to Bridget and her team from Mone Funeral Directors for the complete, compassionate and professional handling of all the funeral arrangements.
At the risk of failing to mention someone we trust this will be accepted by all as a sincere token of our appreciation and gratitude.
Jim's month mind mass will be held in St Patrick's Church Keady on Monday August 21 at 7pm (Novena mass)
Click here to place a family announcement 
Sign Up To Our Newsletter