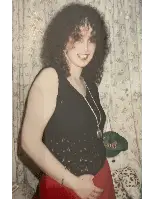 The family of the late Jacqueline McKenna R.I.P wish to express their sincere and heartfelt thanks to all those who sympathised with them during their recent sad bereavement.
Thank you to all who called at Jacqueline's home, sent Mass cards, sympathy cards, flowers, gifts, wreaths and posted tributes online.
Also, Thanks to those who attended the wake, helped make and serve the tea, brought gifts of food to the wake, our wonderful friends and family, your help was invaluable over the wake and funeral.
To Father McAnenly for attending the wake and Father Barry Matthews who celebrated the funeral Mass.
The sacristans who prepared the chapel for funeral Mass. Cathy Kelly for the beautiful singing which enhanced the funeral Mass.
To Jacqueline's carers for all their care and support.
The Tullysaran Road Bowlers for the guard of honour.
A very special and heartfelt thank you to the Doran family, for all their love and support to Jacqueline over the years.
The ambulance crew and PSNI for attending and their care . To the medical staff in the Friary Surgery Armagh. A special thanks also to Dougans chemist, Armagh.
The gravedigger for digging the grave and to Martin Kelly funeral directors for their compassionate and professional handling of all the funeral arrangements. We assure you all the above are greatly appreciated.
Jacqueline's Month Mind will be held in Tullysaran Chapel on Friday 21st July at 7.30 pm.

Contact us via email marketing@armaghi.com and our dedicated team can help you choose a fitting tribute.
Sign Up To Our Newsletter