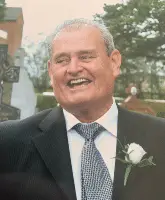 We, the family of the late Gerard O'Hanlon, would like to express our sincere thanks to those who sympathised and supported us during our recent bereavement.
We are grateful to the many family and friends who called to the wake, those who sent messages, those who brought food and Mass Cards and those who sympathised online. The support from near and far continues to be much appreciated. The numerous comments on social media are a lovely tribute to his memory.
The representation at the funeral from the many different parts of the community which Gerard was involved in brought us much comfort and would have made him so proud. Thank you also to those who joined us at our home and at Mass, including those watching online.
Sincere and heartfelt thanks to Fr Eugene for conducting the funeral mass and for such a fitting and personal homily which reflected his character so well. Thanks too, to Peter Campbell and his daughter Cassie for the music during mass which added so much to the celebration and which we know Gerard would have loved. Also thank you to Shea Toner who piped Gerard to his final resting place.
Special thanks to those who cared for Gerard in recent times, we could never repay you for your support, diligence, kindness and friendship.
Thanks to Peter Devlin of Dorman Funeral Directors for the dignified and professional manner in which the funeral arrangements were conducted. Your kindness and guidance were much appreciated in unfamiliar situations. Special mention to the staff of The Gables Restaurant for the refreshments after the burial.
As it is impossible to thank everyone individually, and we would not want to omit anyone, we trust that this acknowledgement will be accepted as a token of our sincere appreciation of the continuing support and comfort in our grief.
Gerard's Months Mind Mass will be celebrated at 7:30 pm on Monday July 24 in St. Mary and St Joseph's Church, Brackaville, Coalisland and can be viewed on the parish live stream.

Contact us via email marketing@armaghi.com and our dedicated team can help you choose a fitting tribute.
Sign Up To Our Newsletter