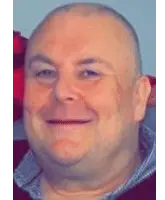 Nixon, Christopher. The Nixon & McStravock families wish to express their sincere gratitude to all those who sympathised on the recent sad passing of Christopher Nixon RIP, a dear son, brother, nephew, uncle, cousin and friend (affectionately known as Nico.)
To all those who attended his wake and funeral, those who very kindly sent flowers, phoned, sent messages and sympathy cards. A special thank you to Michael Dorman Undertakers especially Peter Devlin for the dignified manner in which he carried out the funeral arrangement.
Also a special thanks to our neighbours and friends who were so helpful and generous with their time, it really meant a lot. We would also like to thank the ICU in Craigavon Area Hospital for the dignity and care that was shown to Christopher.
A special word of thanks to Fr. Eugene for the beautiful mass and kind words about Christopher. Thank you to the readers, Eucharistic Ministers, Sacristan and the grave digger. Also a word of Thanks to Shauna McStravock, Patrick and Gareth for the beautiful singing and music.
A big thank you to Na Fianna for the lovely Guard of Honour and use of their Club after the Service and to Kelly Ann Corr and staff for the beautiful meal.
Please accept this acknowledgment for all the kindness shown by all.
Christopher's Months Mind Mass will be celebrated on Monday May 29,at 7.30pm in St Mary & St. Josephs Brackaville.
"May his Gentle Soul Rest in Peace"
Contact us via email marketing@armaghi.com and our dedicated team can help you choose a fitting tribute.
Sign Up To Our Newsletter