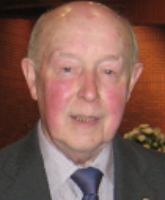 Herron, Barney. The wife and family of the late Barney Herron would like to express their sincere gratitude to all of those who sympathised with them during their recent bereavement.
Thanks to our neighbours and friends, to all who called to the house, brought food, helped at the house, sent Mass cards, sympathy cards and messages of support, lined the funeral route and attended the requiem Mass.
We would particularly like to thank the members of Na Fianna GFC Coalisland and the staff of Primate Dixon P.S for their dignified guards of honour.
Our gratitude also goes to Fr. Eugene O' Neill for the lovely, thoughtful and consoling Mass and to Fr. Peter O'Neill SSC and Fr. Gerry Neylon SSC who concelebrated.
A special word of thanks to our neighbours the McGuckin family and Plunkett McGartland, whose beautiful music made the funeral Mass extra special for us. It was a lovely tribute to Barney.
Thanks too to the sacristans Paddy and John for their help during the service and to Gary, the gravedigger.
We would like to extend our thanks to all the staff of Coalisland Health Centre, the staff of O'Neill's Chemist and the district nursing team who cared so well for Barney, as well as the acute care team, the ambulance crew, the chaplain and the staff in resus CAH who were so caring and kind to Barney.
We also thank Peter Devlin and the staff of Michael Dorman's Funeral Directors for their dignified and professional handling of Barney's funeral.
As we are unable to thank everyone individually, we hope you will accept this acknowledgement as a token of our sincere thanks and appreciation.
We were extremely humbled by the number of people who paid their respects to Barney over the period of his wake, funeral and the days after. Your warmth and kindness have been a great consolation to his family.
Barney's Month's Mind Mass will be celebrated on Monday February 28, at 7.30pm in The Church of the Holy Family, Coalisland. The Mass can also be viewed via the Church webcam
Please leave messages of condolence in our comments section on the website 
Remember a loved one with a sympathy or memoriam notice on Armagh I.
Contact us via email marketing@armaghi.com and our dedicated team can help you choose a fitting tribute.
Sign Up To Our Newsletter