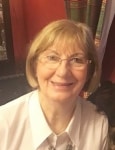 All Welcome.
"No matter how life changes,
No matter what we do,
A special place within our hearts,
Is always kept for you."
Much loved and sadly missed every day by your family
The Month's Mind Mass for Anne will take place on Saturday July 22 at 6pm in The Church of the Sacred Heart, Jonesboro.

Contact us via email marketing@armaghi.com and our dedicated team can help you choose a fitting tribute.
Sign Up To Our Newsletter