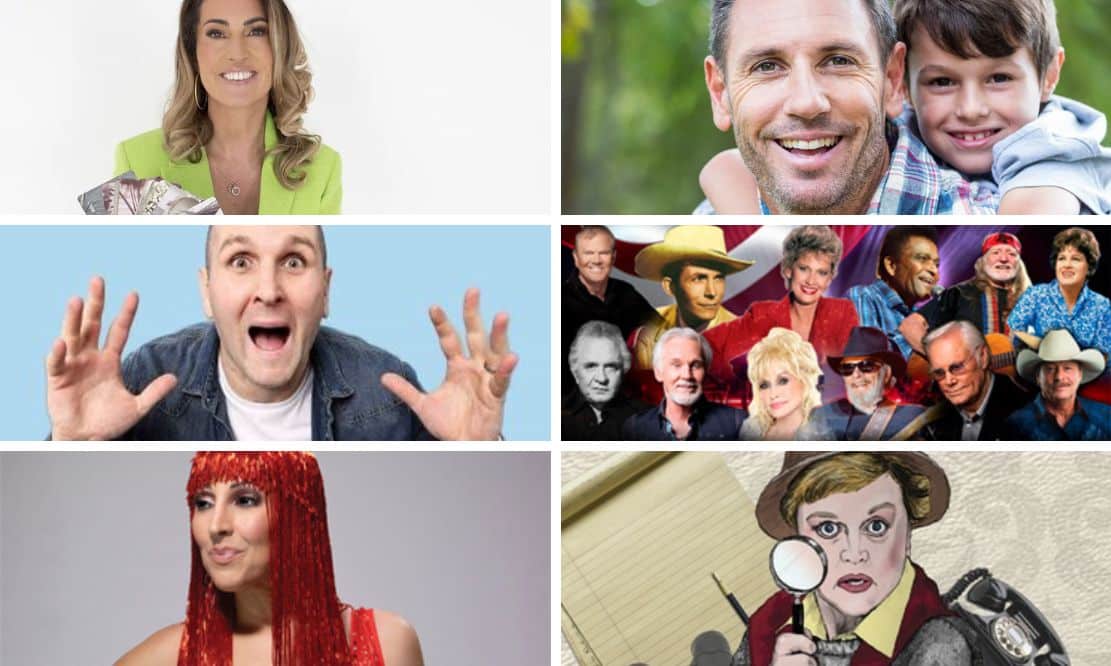 This June will see a host of exciting events take place in the top city centre entertainment venues, bringing you the best in laughter, live music and learning.
You can expect everything from delectable dining options for Father's Day to a journey into the spiritual realm, as Angela Dunlop showcases her physic mediumship.
We have compiled a list of seven of the biggest events this month to help you make the most of your weekends:
If you could Turn Back Time what would your ideal night out be? Trisha McCluney is Essentially Cher – Ireland's only live tribute to the Dark Lady, and has fast become one of the most in demand tribute artists in the UK.
Market Place Theatre
Friday June 9, 2023
8pm | £20.00
For more information click here
---
A unique night of laughter and craic as four of the country's finest stand-up acts take to The Market Place stage. Laugh along with sets from Sean Hegarty, Terry McHugh, Pete Giffen and Adam Mogey; all sell-out artists in their own right.
Market Place Theatre
Saturday June 10, 2023
8pm | £15.50
For more information click here
---
Angela Dunlop, International Psychic Medium, will be joining The Armagh City Hotel for an Evening of Mediumship sharing her abilities with an audience.
Angela has touched the lives of thousands of people over the decades. She has brought her mediumship to open audiences in Europe, Australia and the UK. She has given hope, comfort and empathy to those she has worked with. She has restored faith.
Armagh City Hotel, Armagh
Friday June 16, 2023 | Last entry 7.15pm | Start time 7.30pm
Tickets £15.00
---
Solve-Along-A-Murder-She-Wrote
Cult hit event Solve-Along-A-Murder-She-Wrote returns to Armagh with a screening of the classic Murder, She Wrote episode "Sing a Song of Murder". Jessica Fletcher goes to London but soon gets caught up in a murder mystery only she (or you!) can solve!
Hosted by super-fan Tim Benzie, Solve-Along-A-Murder-She-Wrote features: A race to solve to the crime, via the Fameometer and the Suspiciometer! A Cabot Cove quiz! Clips and biogs of the campy guest stars! A singalong to the theme tune with new lyrics!
Market Place Theatre
Saturday June 17, 2023
8pm | £16.00 | £14.00 concession
For more information click here
---
Armagh City Hotel Father's Day Dining Options
The ever popular Sunday Carvery will be served in The Callan Bar, boasting a large selection of superbly cooked meats, fishes and vegetarian dishes, served with locally sourced vegetables and a choice of potatoes.
Two and three-course Sunday lunch will be served in the Friary Restaurant, offering a welcoming and family-friendly ambience which sets the scene for a lovely, relaxed afternoon together.
Armagh City Hotel
Sunday June 18, 2023
12.30pm – 3pm 
For more information click here
---
The Legends of American Country
The show features three fantastic singers who are all accompanied by a superb live band of musicians with that authentic Tennessee sound coupled with authentic stage set and state-of-the-art production that will transport you all the way hand clapping and toe tapping to Nashville and back in one night.
One thing's for sure if it's Country music you like then this is the only show in town!
Saturday June 24, 2023
8pm | £25.00
For more information click here
---
The evening will be a culmination of everything Rory is known for; from his trademark lockdown stories with 3 kids to his a*** hanging out on RTE's Hell Week and of course, conversations with special guests to both motivate and inspire those in attendance. There might even be a few sing songs – a must for any proper Irish night out!
Market Place Theatre
Thursday June 29, 2023
8pm | £22.50
For more information click here
Sign Up To Our Newsletter