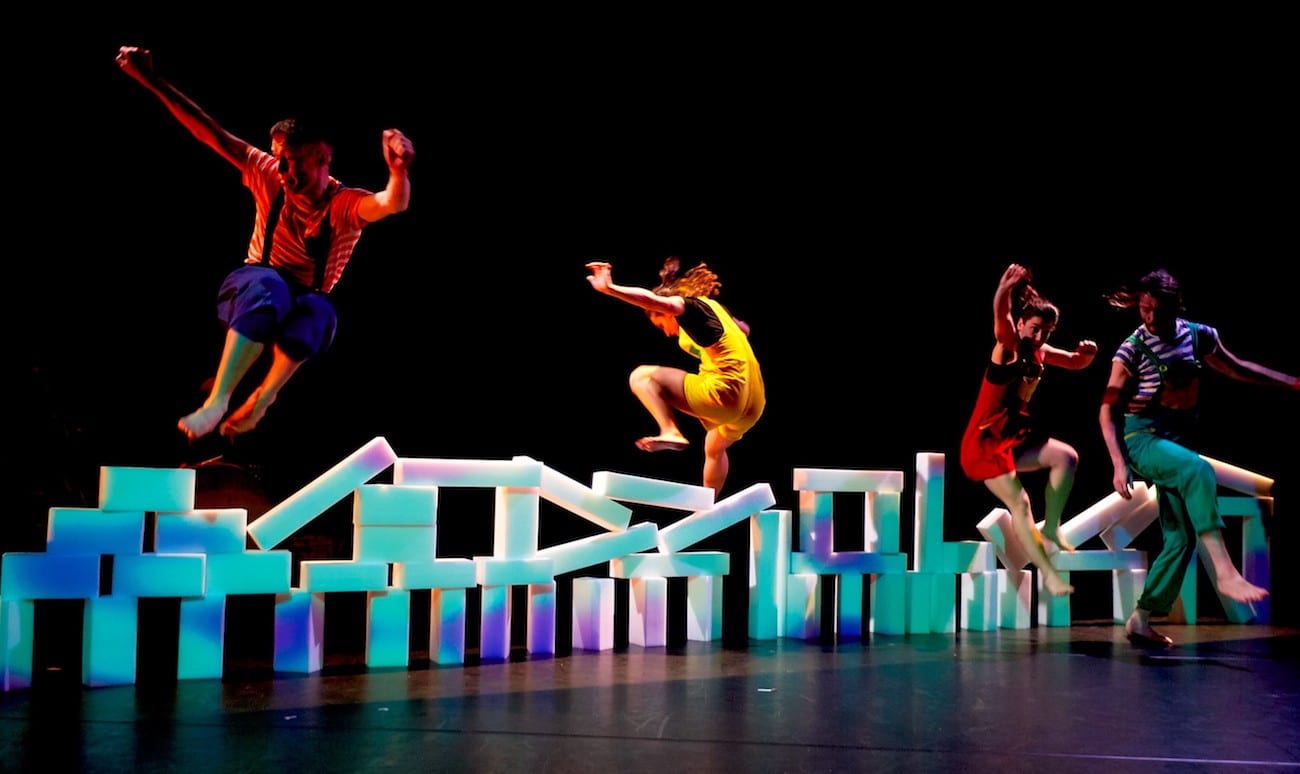 "A breathless yet thoughtful piece, nicely infused with humour and music, with the four amigos racing headlong against the clock before hysterically calling time on their own madcap games." Culture NI
Belfast contemporary dance company, Maiden Voyage is getting ready to tour its wonderful commission Pause and Effect, created by Northern Ireland trained Choreographer Eleesha Drennan, this autumn.  
An exciting and exhilarating family performance, Pause and Effect follows the playful frolics of four dancers whilst conveying important messages of friendship, competition, understanding, sharing and communication.
Described by Culture Northern Ireland as "A clever blend of playful humour, playground antics and precisely timed sophisticated dance", the performance sees the dancers create a whirlwind of lively action and sound with only an occasional pause, where timing is everything.  
Using sixty building blocks to build, destroy and create over and over again a chain of events, the performance transforms a fallen down wall into a riverbed, creates a tea party from a giraffe, and much more.
As with life, the dancers toy with the ultimate dilemma, do they race against the clock or stop and pause to enjoy the moment?  Accompanied by music created by renowned artist Willie Drennan, father of choreographer Eleesha Drennan, the music draws from folk tunes and the rhythmical sounds of traditional instruments. 
Pause and Effect will stage nine performances during October, starting at the MAC, before visiting Lisburn, Armagh and Newtownabbey.  
Commenting on the return of Pause and Effect, Maiden Voyage Artistic Director, Nicola Curry, said: "We are delighted to return with Pause and Effect which premiered in 2016.  
"This exciting performance is full of excitement and charm. Inspired by the spontaneity of a child's creative play, the combination of imaginative movement and live music is exhilarating, and, like most children, hard to keep up with. Families loved it last time!
"We are thrilled to bring this energetic performance to Armagh this year."
Gilly Campbell, Arts Development Officer for Drama and Dance, Arts Council of Northern Ireland, said: "Maiden Voyage has built a reputation of excellence for the quality and distinctiveness of both its dance programme and delivery, and is viewed as a dance sector leader both within and beyond Northern Ireland. 
"The professional performance of Maiden Voyage has taken dance from the region to new levels and the Arts Council of Northern Ireland is proud to support this award-winning, critically-acclaimed company with the autumn tour of Pause and Effect, through National Lottery funding."
Pause and Effect performances will be held in:
The MAC, Belfast,

Friday 6 October at 10am & 11.15am, and *Saturday 7 October at 2pm (*audio described with free stay and play activity afterwards – please book stay and play at time of ticket purchase)

Island Arts Centre, Lisburn, Wednesday 11 October at 10am & 11:30am

The Market Place Theatre, Armagh, Tuesday 17 October at 10am & 11.15am

Theatre at the Mill, Newtownabbey, Thursday 19 October at 10am & 11.15am
The company are delighted to offer free workshops for schools and groups booking to attend the performance.
Pause and Effect will be audio described for the 2.00pm performance at the MAC on Saturday 7 October, there will be touch tour at 1.30pm before the audio-described show for those using audio description. For details contact Sandy on info@maidenvoyagedance.com.
Sign Up To Our Newsletter