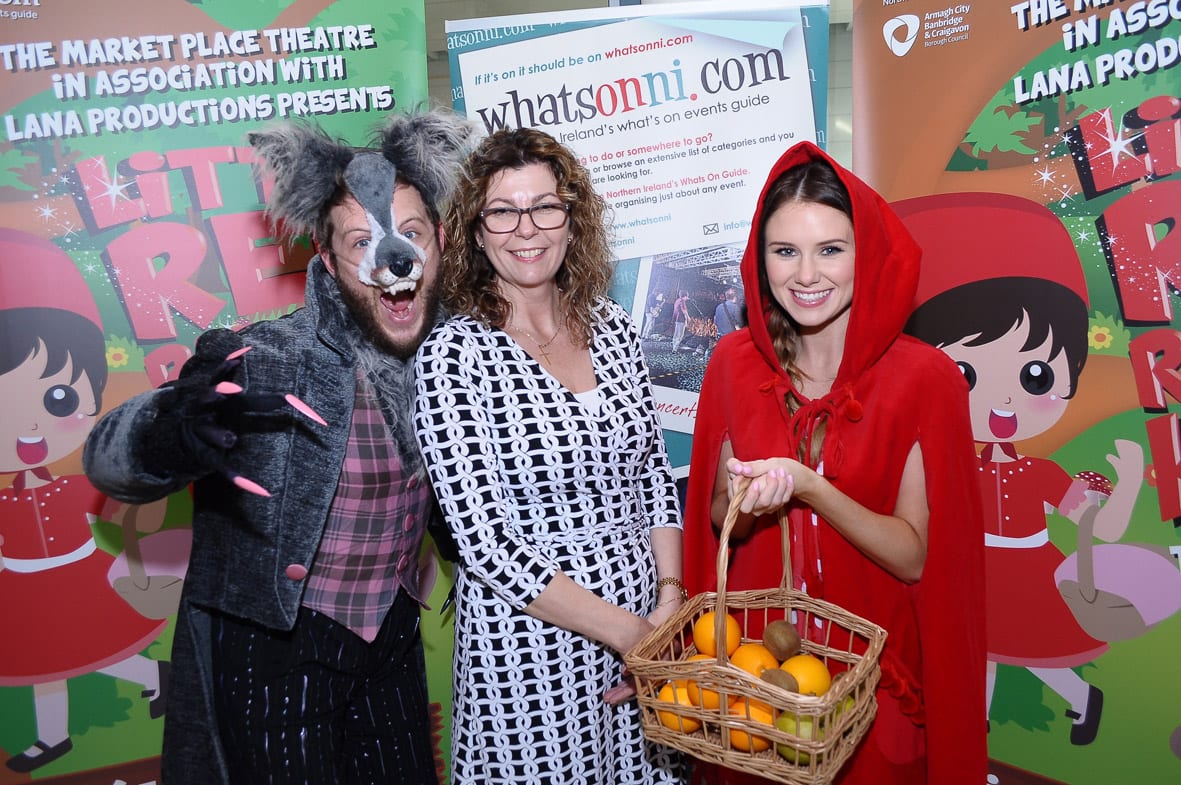 'Little Red Riding Hood' is this year's pantomime spectacular at The Market Place Theatre, Armagh.
And some of the cast were in town to help launch this magical, fun-filled adventure.
Phillipa O'Hara [Red Riding Hood] and Matthew Forsythe [Wolf] visited Armagh for the launch. They form part of a six-strong professional cast who are set to give kids an unforgettably festive experience.
Phillipa and Matthew are joined by Marty Maguire ['Nanny No Hood – Dame], Nicky Harley [Mammy Hood, Candy Floss, Thee Nanny Hood, Pig 1], Mary Moulds [Pig 2, Goldisocks, Gretel] and Armagh's very own Eoin Mallon [Prince Chopper, Pig 3, Hansel].
Also getting into the Christmas spirit at the launch was Jacqueline McGonigle from 'whatsonni.com' who are generously sponsoring this year's production.
The 2015 Christmas pantomime promises to be a magical, fun-filled adventure and is presented by a fabulous cast of characters, and bursting with catchy songs, loads of audience participation and plenty of bite! All the better to entertain you with! What's happened to Grandma? Why has she got that big toothy grin, why has she stopped cutting her nails and why has her bed shrunk… or is it really Grandma at all?
Families and children will get right up close to all the action with loads of chances to cheer on Little Red Riding Hood, her friends The Three Little Pigs, and Boo the big and very bad wolf.
Traditional panto at it's very best, 'Little Red Riding Hood' promises an unforgettably festive experience coupled with The Market Place Theatre's renowned reputation for high quality, professional pantomimes that are acclaimed as among the best in Ireland. This production is recommended for children aged 5 to 95!
'Little Red Riding Hood' will run at The Market Place Theatre, Armagh from Friday, December 4 until Sunday, December 20.
There will be 20 public performances of the show and these are available at www.marketplacearmagh.com, from the venue or through the Box Office on 028 3752 1821. Ticket prices for the pantomime range from £10.00 – £14.00.
The Market Place Theatre pantomime also incorporates a British Sign Language Signed Performance on Saturday, December 12 at 5.00pm. There is also a Captioned Performance on Thursday, December 17 at 6.30pm, which gives deaf, deafened and hard of hearing people access to live performance.
The Market Place Theatre has enhanced this year's pantomime experience. Audiences can stay after the show and enjoy the festivities including a visit to Gingerbread Alley. Come in Fancy Dress and take your photo in the magical Winter Wonderland – with a chance to win prizes for any submitted photos – and audiences might even meet a cast member up close and personal!
The Market Place Theatre Bar & Bistro will have panto-themed menus for families and 1 adult and 1 child eats for only £10.00. Full menu on the theatre website.
Read more news:
Multi-million pound projects at 'advanced stage' – but more progress due!
Police say local businesses have fallen victim to UK-wide credit card scam
New Order to harmonise dog fouling penalties takes effect from today
Major retail investment proposed for south Armagh village
Appeal to parents to take responsibility for children after altercation
Three teenagers sustain injuries in tea-time stabbing incident
Sign Up To Our Newsletter