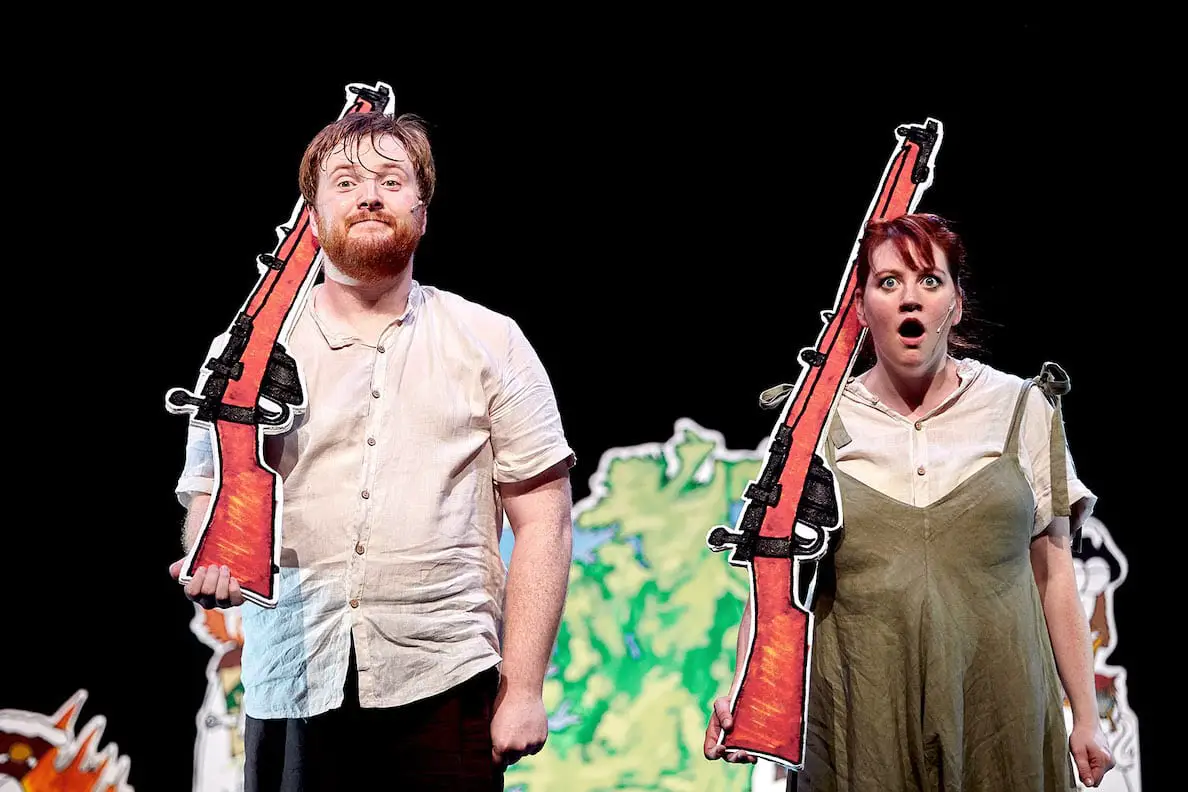 The Market Place Theatre has a special treat in-store as it presents a new theatre production that brings you the history of Ireland in a hugely entertaining way for the whole family.
Based on his hugely successful YouTube series and published books, John D Ruddy brings Manny Man does the History of Ireland to Armagh on Friday, March 8.
Brought to you by Donegal's An Grianán Productions, featuring actors John D Ruddy and Louise Conaghan and directed by Rachael Devir, watch Syn and Oppy as they plough through Irish history with illustrated cut-outs and craziness on their nationwide tour.
From the Ice Age, all the way to Ireland today, and all in less than 90 minutes, with the same tongue-in-cheek humour Manny Man is known for. When it comes to fun history, Manny Man is your only man!
Manny Man creator and one of the leads in the upcoming stage production, John D Ruddy has said it has been very gratifying to seeing his character and brand grow over the past decade.
"When the YouTube videos first went viral, it was very exciting as hundreds of views turned into thousands. Five years later and the channel has had over 30 million views!
"Bringing it to life on the stage has been a very different experience in its creation. When I adapted the videos into books, it was simply a case of structuring and expanding on what I had already written. Writing for the stage had an entirely different set of challenges.
"I couldn't just have a narrator flying through all the History, and so I came to finding the characters of Syn and Oppy who bring us through the roller coaster of Irish History, playing over 50 characters EACH! It adds a whole new dimension to Manny Man and I look forward to what this will do in the future!"
John said he is very excited to be taking Manny Man does the History of Ireland on Stage to theatre's across the island of Ireland.
"It's been a wonderful opportunity to have this play been seen by anyone, let alone having the opportunity to bring it across the country!
"I was on tour with Co-Motion's Frank Pig Says Hello by Pat McCabe during October and November last year, starting with the Gaiety Theatre and heading round the country, which gave me good insight into what was in store for Manny Man hopefully!"
The actor said there are certain places in Ireland where different sections of history will be more resonant. "In Donegal, things like the Flight of the Earls or the Ulster Plantations are more resonant, but in Limerick, its Viking roots, William of Orange and the Civil War will be all the more relevant.
"Cromwell's name will echo all the more in Wexford, seeing as his forces sacked the town while peace talks were going on! I'm looking forward to presenting the History Ireland to the island as a whole," John said.
Manny Man appeals to very broad audience, there's something in there for everyone, John said: "Adults will enjoy the little subtle nods, kids will love the slapstick and the different characters.
"Eight-year-olds enjoyed it and 80-year-olds enjoyed it when we premiered it during Earagail Arts Festival in County Donegal last year! It was wonderful to have created something that could bring friends and families together to enjoy a night of laughing and even a few tears along the way!"
Manny Man does the History of Ireland on Stage will be at The Market Place Theatre on Friday, March 8. Book your tickets here.
Sign Up To Our Newsletter