The year 2016 has been one of reflection, poignancy and commemoration as minds have been cast back 100 years to the events of the Great War 1914 – 1918.
Cities, towns and villages right across Ireland and beyond witnessed many men, women, young and old, leave their native land to fight in far off shores; many did not return, with those who did, journeying home again with horrific war wounds and eternal mental scars.
Drumderg Great War Society was incepted in 2012, its primary aim that of "honouring the Glorious Dead of the Great War".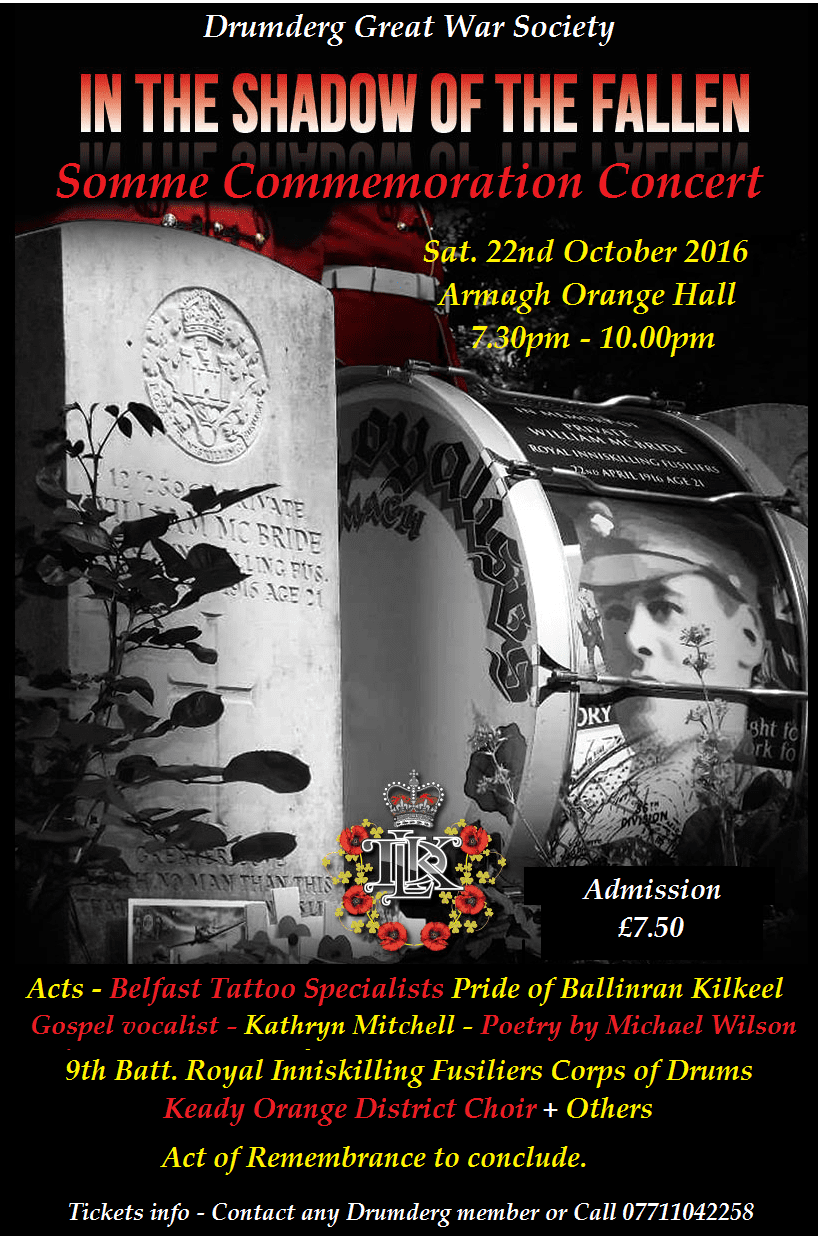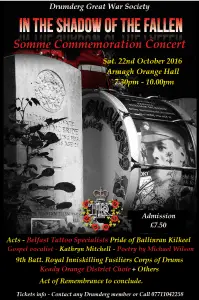 Many events have followed its formation, with the highlight being the inaugural visit to Belgium and France in June 2015 on a Battlefield Tour.
The group has also worked recently with Belfast's Lyric Theatre and in June this year, hosted an event in Killeen Hall with the Lyric performing extracts from their playwright 'Sons of Ulster'.
With this in mind and as the its concluding tribute event in 2016, Drumderg Great War Society is pleased to present 'In the Shadow of the Fallen', a Somme Commemoration Concert to be held in Armagh Orange Hall on Saturday, October 22, 2016, from 7.30pm until 10pm. Doors will open at 7pm for a prompt commencement at 7.30pm.
A spokesperson said: "The group are delighted to have secured many top class acts for the concert. Pride of Balliran Flute Band from Kilkeel, fresh from their spectacular performance at this year's Belfast Tattoo held in the SSE Arena, popular Gospel Singer Kathryn Mitchell, the 9th Battalion of the Royal Inniskilling Fusiliers Band from Omagh, Keady District Orange Choir, plus others will join with Cookstown poet, Great War historian and compere for the evening, Mr Michael Wilson.
"The evening will conclude at 10pm sharp with an Act of Remembrance to the War dead, officiated by the Rev Nigel Reid, with special homage and tribute made to the 31 men from in and around the Keady District who paid the ultimate sacrifice at the Great War."
Tickets are priced at £7.50 each and are available from all Drumderg members or alternatively you can reserve your tickets by calling or texting 07711042258. A pay at the door option may be available on the night but is subject to availablity.
The spokesperson added: "As always, we are indebted to the public for their continuing support, as we endeavour to pay a poignant tribute to the soldiers of the Great War. We will remember them."
Sign Up To Our Newsletter