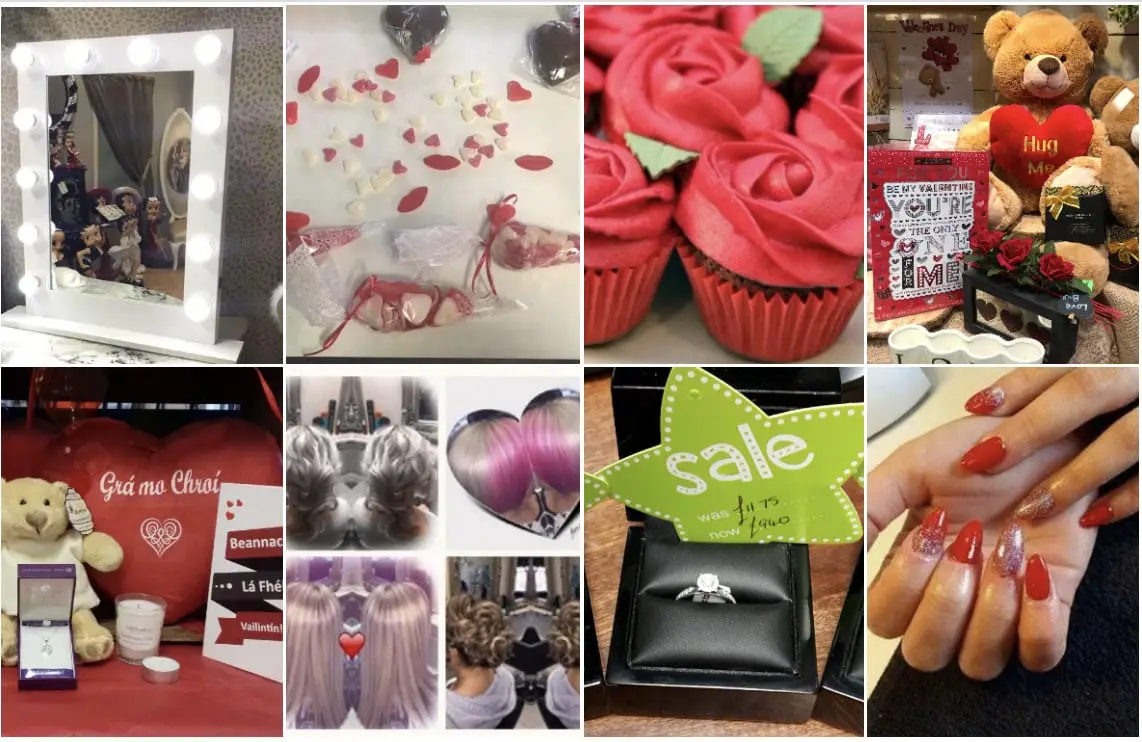 With Valentine's Day just around the corner, our thoughts and attention turns to finding that special something for that special someone in our lives.
And we don't need to look much further for some of the best deals around, as Armagh's independents are offering up some fantastic promotions we'd be 'cupid' to turn down – what!!?
Here are some of the best ideas and gifts you can find in Armagh over the next seven days..
D'ZINE HAIR STUDIO
Located at the corner of Ogle and Thomas Street in Armagh. Donna and her staff offer award winning hair styles in comfortable, relaxed setting. GHD and hair products are available. Get 10% off all gift vouchers and services when you mention Armagh I. To book an appointment, call 028 3751 8057.


THE FLOWER BOWL
The Flower Bowl International on Scotch Street offers a huge selection of fresh flowers available on a daily basis. You can order flowers for Valentine's Day by calling on 028 37522635 or online at www.flowerbowl.co.uk. They also offer same day delivery and 24hr telephone order service. Visit their Facebook page for more info.
BRONZE SALON
Feel the difference the moment you step into one of our gorgeous salons. With fantastic staff and a clean, professional and friendly atmosphere. Our tanning facilities offer a unique tanning experience and use only state-of the-art equipment.
Our highly skilled team of beauty therapists are trained in all leading beauty techniques and we offer an extensive range of services including HD Brows, Minimi Body Wraps, Waxing, Threading, and Male Grooming.  Check out their website here for treatments, galleries and bookings or call them on 028 3752 8000
TRAYNOR FURNISHINGS
Traynor furnishings is family owned business in Armagh Shopping Centre. They offers unrivalled quality, value and service to customers across the county and beyond. Owned by two brothers Jason and Gary, the business prides itself in offering a carefully selected range of products.
So, why not treat your loved one to a brand new bed this Valentine's – or even a mirror to remind them of how beutiful they really are! Check out their Facebook here for a range of products here, or call Jason on 07706406425, or Gary on 07886129497.
The Gold Drop
The Gold Drop on Thomas Street are currently offering 20% off on some of their best jewellery for Valentine's – from beautiful pendants to stunning, eye-catching rings.
They also offer a wide selection of watches by Citizen, Storm, Dalton, Bering, Royal London, Q&Q, and Timeco. In addition they also stock a wide range of Diamond Rings in Platinum, White Gold and Yellow Gold. Check out all their amazing offers on their Facebook page here. Or visit their website www.golddropjewellers.com, or simply call them on 028 3752 5766.
Bake My Day
What better way to tell someone how much you mean to them by ordering a handmade set of Valentine's cupcakes, or a specially baked treat. Bake My Day specialise in hand-crafted and made to offer delicacies. They can also accommodate and food allergies and tolerances. Beautiful hand made cakes and buns available for all occasions – located in armagh shopping centre. Check out their Facebook page for more info or call them on 028 3752 5683.
Cult úr – Irish Shop
Cult úr are offer an extensive portfolio, including bespoke jewellery, crosses, plaques and sculptures that are inspired by Irish myths, legends and history. Get your hands on a unique Valentine's gift by popping in store at Armagh Shopping Centre. Check them out on Facebook here, or visit the website www.siopacultur.com, or call them directly on 028 3751 5229.
Scoopys Armagh
Located on Thomas Street, Scoopys sell not only traditional sweet but also have an extensive range of American Candy. Has your Valentine got a sweet tooth? Scoopys will cater to that with an abundance of sweet goods..It's your one-stop shop for sweets, milk shakes, slushees, Maud's ice cream, coffee and much more.
A function room is available for hire for private parties after-school tutoring, demonstrations, meetings etc set above the store in a warm welcoming environment
Sign Up To Our Newsletter