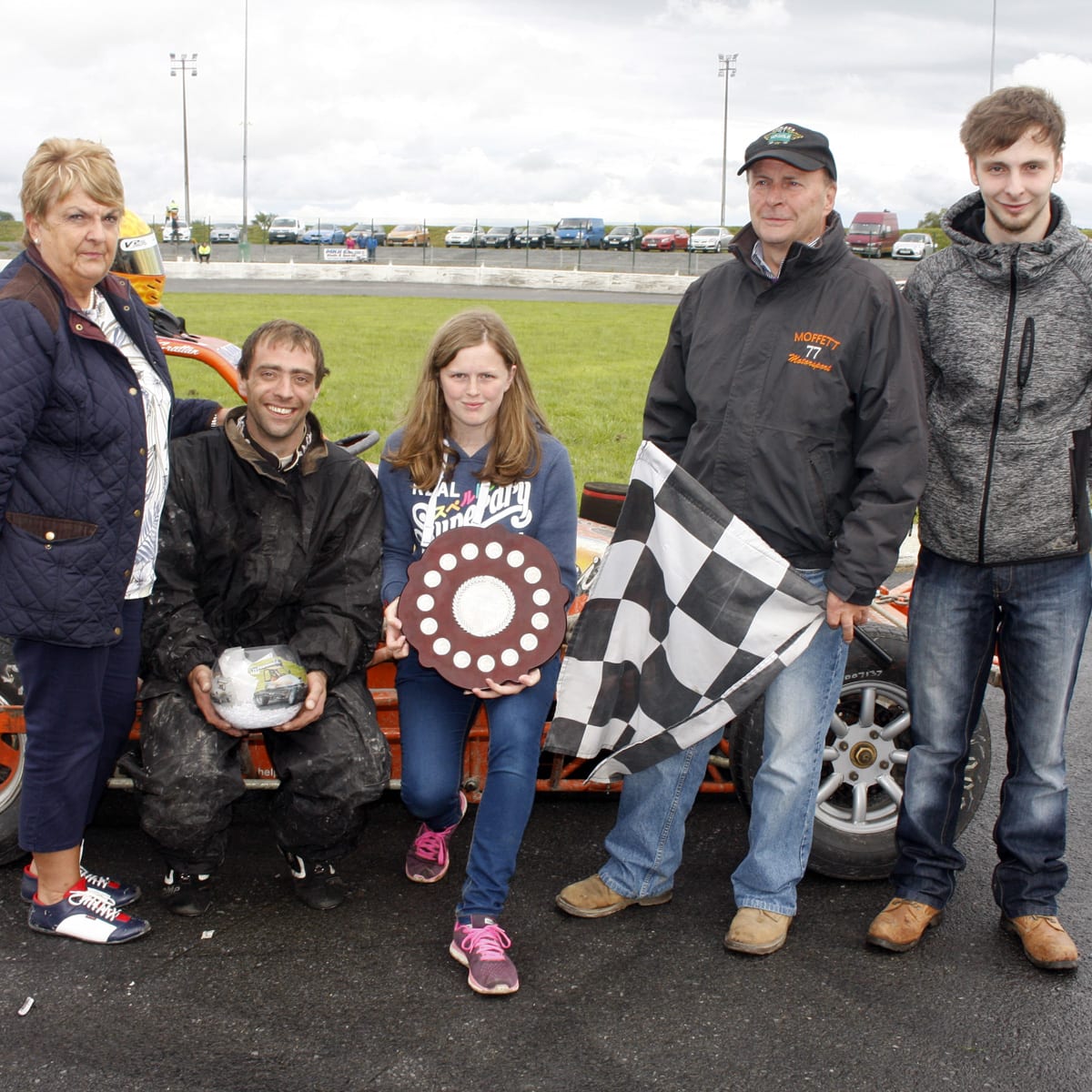 A dreadful afternoon of thundery showers was brightened up by some excellent on track action at Tullyroan Oval on Sunday afternoon.
Portadown driver Gary Grattan took the honours in the coveted Moffett Shield for Superstox, whilst Sammy Fisher was victorious in the Rookie Bangers Ulster Open Championship. Scottish visitor Kenny Purdie trumped the locals to land the Classic Hot Rods feature race win, whilst other victories at the meeting sponsored by 2ke Engineering were Adam Weir (Junior Productions) and Leonard Dunn (National Bangers).
Superstox
The usual Superstox pilots were joined for the day by recently married ProStock racer Crystal Millar, part of an unusual wedding present from her husband Aaron. Chris McArdle and Gary Chambers battled hard in the tough conditions in heat one, with Chambers taking the first win of the day over Gary Grattan and McArdle. Heat two saw a turn three crash put paid to the hopes of a number of drivers, with Gary Grattan powering through past McArdle to take the victory this time, with Sean Mark a creditable third.
The final, for the annual Moffett Shield kindly presented by staunch Superstox supporters Eleanor and Geoffrey Moffett, saw a great lead battle develop between McArdle and Chambers, with Lee Davison and the Grattan brothers closing fast. Davison for a time looked the man most likely to get to the front, but he spun out on the back straight when within touching distance of the lead.
That opened the door for Gary Grattan, who hit the front and took the big win over Chambers and Denver Grattan. McArdle also received a presentation as the first white/yellow grader over the line.
Rookie Bangers
The Rookie Bangers continue to entertain with each and every outing, and their biggest entry so far was on hand and produced some great racing.
The action came thick and fast in heat one, with Phillip Farrell taking victory despite carrying some damage late on. An ever more hectic heat two saw a big crash before they even took the green flag, but Sammy Fisher avoided the carnage to grab the win over Johnny Murray and Peter Murray.
Fisher is quickly becoming the star attraction in the Rookies with some very accomplished performances so far, and he once again took the flag in the Ulster Open Championship final. Stephen McLaughlin was set to mount a strong challenge but was taken out, with Fisher then heading home Thomas Browne and Peter Murray.
Classic Hot Rods
The Classic Hot Rods field was bolstered by a welcome visiting trio from the Republic of Ireland in Damien Corrigan, Gerry Rothwell and Adrian Boyle, whilst Scottish legend Kenny Purdie was also a welcome entrant.
A wet and slippery heat one saw a masterclass from former National Champion Clive Richardson, as the Annaghmore man won at a canter from Gary O'Neill and Purdie. Conditions hadn't improved much for heat two, and again Richardson dominated ahead of Purdie and Thomas Dilly.
The final for the latest round of the Dilly Roofing Supplies NI Championship saw a new race tyre on offer to the winner, and Purdie quickly demoted Boyle, Corrigan and Rothwell to go ahead. With Dilly and Richardson going at it hammer and tongs for second, the 'King of Carluke' Purdie stormed home to what was a very popular win. Richardson and Dilly filled out the places.
Junior Productions
The young stars of the Junior Productions were contesting the second round of their 2ke Engineering Young Guns Series, which produced some excellent racing all afternoon. The teenagers showed fantastic car control, and respect for each other, as they raced through three very clean races.
Gareth Halliday took the chequered flag in all three outings, but unfortunately a minor technical problem later saw him excluded from all the results. That handed the opening heat win to Drew McKeown, with Adam Weir inheriting victory in both heat two and the final. Graham Meek and Adam McFall came through to second and third in the feature race as the young drivers impressed in the poor conditions.
National Bangers
A low showing of 2L Non Mondeo National Bangers saw Leonard Dunn take the King of Krash win over Steven Bolton, with Bolton then victorious in the Allcomers.
Peter Murray then won an entertaining Destruction Derby after some great late action and a head on between Christy Bradley and Ben McKenna.
Next Meeting
The next instalment of racing at Tullyroan Oval is on Saturday August 12 at 6.30pm, featuring 2.0 Hot Rods, ProStocks, Stock Rods, Ninja Karts and Junior Productions.
Newsletter
Sign up for our weekly newsletter here.