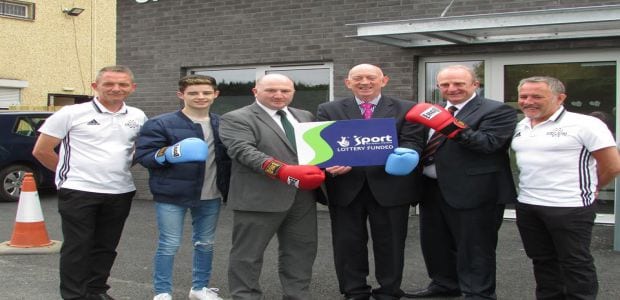 St Peter's GAA Club and Phoenix Amateur Boxing Club celebrated the completion of their new purpose built boxing facility at an official opening ceremony on Tuesday night.
Representatives from the two clubs were joined by colleagues from the boxing and GAA communities, including officials from the GAA Armagh County Council and Armagh, Ulster and Irish Amateur Boxing Associations, as well as representatives from the new facility's design and build teams.
Also present were officials from Sport Northern Ireland, which provided investment through its National Lottery-funded Boxing Investment Programme.
Speaking at the opening ceremony, Jimmy Magee, official with St Peter's GAA Club, acknowledged the support and commitment of all involved, but especially Sport NI and the National Lottery for believing in the project in the first instance and then providing the funding necessary to deliver it.
Sport NI Chair George Lucas, who officially opened the new facility, added: "Phoenix Amateur Boxing Club, in collaboration with St Peter's GAC, has done excellent work to promote boxing and physical activity to the local community in Lurgan. Sport Northern Ireland is pleased to be supporting the club and its volunteers through the development of this new purpose-built boxing hall.
"We believe passionately in the vital role that sport can play in enhancing physical and mental wellbeing and, thanks to National Lottery players, we are able to invest in new facilities such as this one, which provide the spaces for people of all ages, genders and abilities to enjoy, engage and excel in sport."
Sign Up To Our Newsletter