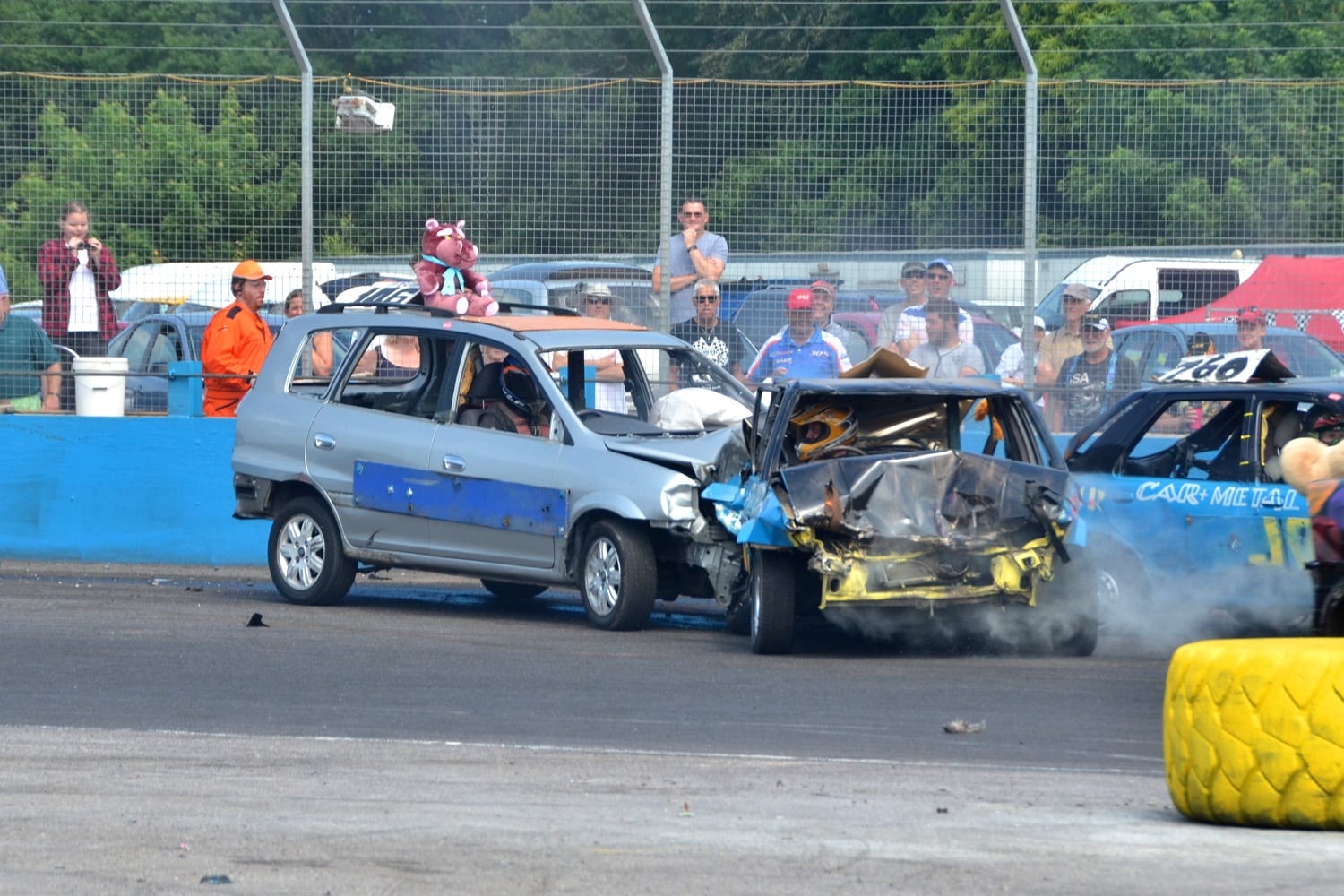 Banger racing returns to Tullyroan Oval latest this month, with a brand new format that has really caught the imagination of the drivers!
Back to Basics Bangers will make their Ulster debut at the meeting, with the cheap and basic specifications and rules tempting a huge grid out onto the Tullyroan circuit.
The cars are kept simple with little modifications other than the required safety changes, and the formula has been a huge hit on circuits across the UK.
The format appeals to the newcomer as well as the established drivers, and is sure to lead to some fantastic action on track.
Former National Bangers World Champion Steven Bolton heads the entry, whilst European and Irish ProStocks Champion Steven Haugh is also amongst those booked in to appear.
Fun will be the name of the game, and the packed grid will lead to some spectacular racing on the quarter mile oval.
The young stars of the Ninja Karts will also be in action, chasing the Midway Autopoint Individual Achievement Award for non race winners of 2018, whilst the Hollytree Farm Champion of Champions has attracted some welcome visitors.
Portadown's Max Hobson will aim to defend his Champion of Champions crown, but will face stiff opposition from Irish Champion Lacey Bevan, Scottish star Bailey Millar and Oxfordshire's Finley Kew.
Vital 2019 World Championship qualifying points will be on offer for the Lightning Rods and Superstox formulas at the meeting, with English star Barry Limer making the trip across to mix it with the best of the local talent in the Lightning Rods.
World Champion Gordy McKee, European Champion Jordan Rochford and Irish Champion Nigel Jackson are sure to be the pick of the locals. World Champion Lee Davison will head the Superstox entry, alongside Kyle Beattie, Stephen Stewart and Sean Mark.
The ProStocks complete the line up at the meeting on Sunday, November 25, sponsored by Stirling Trophies of Ballymena, with the first race blasting off the grid at 2pm.
Sign Up To Our Newsletter