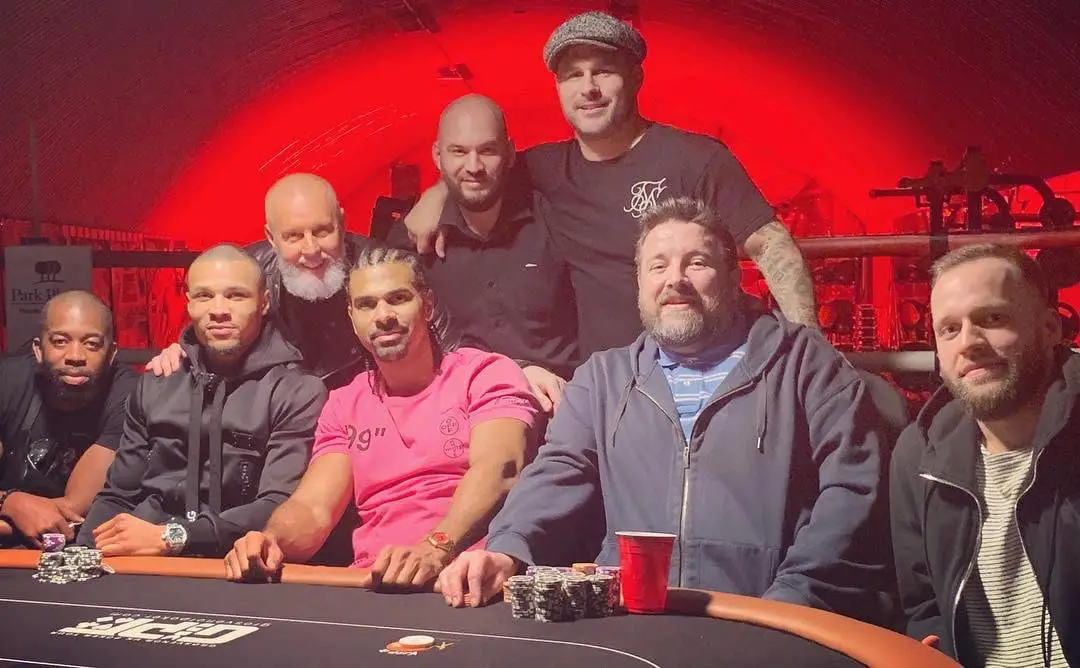 One of the most famous figures in British sports, David Haye, announced an end of his illustrious 20-year boxing career last year in order to focus full time on becoming a professional poker player.
The decision to step down from his sporting career when he was arguably at the top of his game has left many both within and outside the boxing world scratching their heads, especially since Haye had reportedly never played poker professionally in the past and was seemingly not even fully aware of the rules of the game.
Haye now reportedly plans to play poker professionally in the gambling Mecca of the world, Las Vegas, in the hopes of coming out on top at one of the many world championships that take place there, where top prizes regularly exceed millions of pounds.
He has even said in interviews that he plans to spend the next 12 months training hard and working on his poker game, enlisting the help of some of the best and most experienced poker players in the business. This decision is certainly one of the more unusual surprise twists in the world of sports, especially since heavyweight boxers, in particular, do not typically make publicity-generating career moves in their late thirties.
Let's take a look at how one of boxing's most celebrated figures came to such a decision and whether or not the future looks rosy for Haye and any other aspiring poker champions, in Armagh and beyond. 
How Did This Happen? 
Before David Haye announced his career switch in November last year, most people would have had him pegged as someone destined to retire from boxing in a couple of years before going on to live a quiet life of relative obscurity.
The Boxing Hall of Fame would have been a suitable place for Haye to end his glittering career. The 38-year old is one of the few boxers in the world today to hold world championships in two weight classes, after being the first ever British boxer to reach the final of the World Amateur Boxing Championships back in 2001, where he won himself a silver medal.
Since then, Haye's boxing career seemed to be on an unstoppable upward trajectory, becoming the unified cruiserweight world champion in 2008, and the following year winning the WBA heavyweight title, following his shock defeat of Russian opponent Nikolai Valuev. The following ten years saw very few defeats as Haye cemented his position as one of the most formidable and iconic boxers in the world. 
So why poker? Rumor has it Haye had been mulling the idea of turning his casual poker hobby into a full-time profession for some time. Such rumors were only confirmed following his crushing defeat in the ring at the hands of Tony Bellew in June last year, the second time in a row he'd lost to the same fighter. 
Almost immediately after this, Haye announced his move into the world of high-stakes poker. He also followed up his announcement with some concrete action. Near the end of last year, Haye participated in a side tournament at the Grosvenor UK Poker Tour, also known as the GUKPT, in Blackpool.
When asked about his participation, he told interviewers that he was doing so in order to prepare for the much larger GUKPT Goliath tournament that will take place later this year, one of the biggest poker events in the UK. He hopes that this will then serve as a stepping stone to Las Vegas, where the biggest prizes and most high stakes poker games await. 
Could Haye Become a Role Model for Aspiring Poker Champions? 
Judging by his performance in Blackpool last year, Haye is still a considerable length away from becoming the next poker world champion. He was eliminated from the competition entirely within three hands, meaning that most fans of the boxer didn't even get a glimpse of him before he was out the door. 
Haye is happy to admit that he isn't the greatest player in the world. He has admitted to being "pretty poor" at poker and admits that he still regularly gets spades and aces mixed up when playing. Ever the competitive sportsman, he has also said that the knowledge of what he is up against has pushed him to train hard and make sure he succeeds at the Goliath tournament later this year. 
So could Haye turn it around and go from poker novice to world champ in the space of a year? It is possible. The first thing he'll need to do is actually get his head around the games he'll be playing, ensuring that he knows the rules of the variants that matter such as Texas Hold 'Em and, of course, 7 card stud, inside and out. The latter is arguably one of the most popular ways to play poker, doing away with blinds and having the players pay an ante at the start of every new hand – which means a change of strategy over Texas Hold'em. Once Haye can safely tell his aces from his spades, he'll be on much better footing to become a true poker legend. 
What is known is that Haye already possesses the key qualities of a champion poker player in abundance. His willingness to learn from the best is what allowed him to steadily climb to the very top of the boxing world, albeit over the course of two decades rather than a single year.
He is known for placing a huge emphasis on strategy and established tactics when inside the boxing ring, a trait that will surely come in handy at the poker table, where every pro player has a strategy of their own that they keep under lock and key. 
Ultimately, naysayers can laugh at his recent performance in Blackpool but the truth is that is anyone has the potential to go all the way and become a world champion poker player from scratch, surely it's David Haye. 
Where You Can Work on Your Poker Skills in Armagh 
Haye may yet prove to be an inspiration to all of the aspiring poker champions of Armagh. If his bold career move has convinced you that you have what it takes to win million-pound jackpots at the poker table, then it's time to get to work on your skills. 
Armagh itself may be sorely lacking in casinos, but that doesn't mean there aren't plenty of nearby spots to work on your poker game. The Casino 7 in nearby Banbridge has rows of video poker terminals for you to practice with, as does the sprawling Casino Palace in Newry. 
If you'd prefer to practice in the same way that Mr Haye does, with real-life poker players, then there are plenty of option for you too. The Casino Royale in Magherafelt and the Fun. Casino in Derry both features several poker tables and dealers offering Texas Hold 'Em, 7 Card Stud, and just about every other variation you're likely to encounter on your journey up to the top. 
If you'd prefer to bring the poker action a little closer to home, you can always get in touch with Mulsanne Casinos, a corporate entertainment business which specialises in setting up glamorous Las Vegas style casino parties, complete with poker tables, cocktail waitresses, slot machines, and jackpot prizes. This option is best if you would prefer to practice with your nearest and dearest before deciding to spar with pro card players. 
If you do decide to embark upon a Haye-esque poker legend journey, be aware that the road to riches is not easily travelled. You'll need plenty of dedication and hard work in order to become a pro poker player. Just like David Haye. 
Sign Up To Our Newsletter