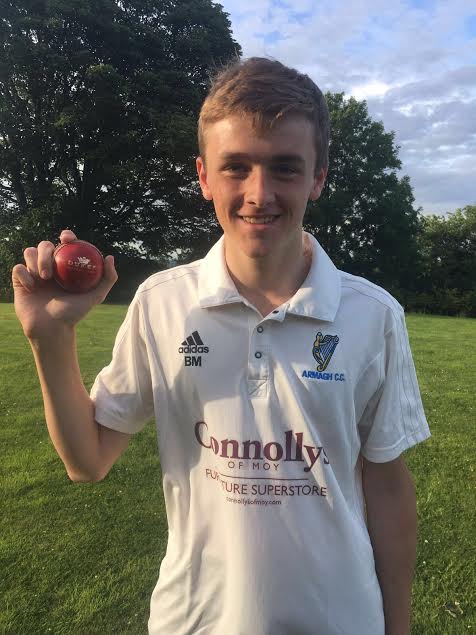 Armagh entered their Gardiner Brothers NCU League game against Holywood in confidently following a couple of strong league wins and their midweek T20 Trophy quarter final success against Cliftonville.
A tough challenge lay ahead though as the visitors had also been in wonderful form since their promotion from Section two.
Armagh won the toss and had little hesitation in batting first on an immaculate Mall pitch and started well with the Jamie Rogers taking 16 runs from the second over of the game. The opening partnership with Neil Gelston looked in excellent touch with many impressive shots to the boundary.
It was a surprise when the first wicket fell with McCormick trapping Rogers with a dubious looking lbw that appeared that it might have missed the leg stump. Gelston was joined by Colin Russell and they rebuilt well, taking lots of singles as Holywood tried to get back into the game with their spinners.
Gelston passed his half century for the third time in seven league games and Armagh looked strong but slipped a little with a flurry of wickets as Russell retired with a leg problem while Steenson, Barnes and Hoey all departed cheaply to the tricky bowling of Wilson who bowled a brilliant spell of 4-42 in his ten overs. Gelston was then joined by Andrew Bratten with the score at 134-4 and there followed an enterprising partnership full of attacking strokeplay.
The stand passed 50 before Bratten was possibly unfortunate to be caught for 24 off Kennedy from what might have been a no-ball. Disaster followed in the next over when Gelston was caught on the line off Wilson for a brilliant 89 that included 16 boundaries. Armagh were now 186-6 and potentially in a precarious position as Russell returned to the crease joined by Harry Doyle.
What followed was another brilliant stand that took Armagh beyond the 200 mark. Russell reached yet another fifty in Armagh colours as the home team batted with fabulous intent in the closing stages.
A sizeable crowd at the Mall was enjoying the entertainment as Russell and Doyle took 20 from the final over to propel Armagh to a great final score of 269-6 in their 50 overs with Russell 71 not out and Doyle scoring his season best of 36 not out.
Armagh took to the field in confident mood after the fabulous finish to their innings but wary of a Holywood batting lineup that had done well through the season to date.
What would follow was a remarkable passage of play as the visitors were destroyed for a mere 81 in 16.1 overs. Holywood actually started well with 13 coming from the first over but Ben Mackey clean bowled Duddy via the inside edge in the second over.
Another huge boost for the home side would follow when Jarred Barnes had recovered sufficiently from his shoulder injury to bowl for the first time in an Armagh jersey and picked up the wicket of Park in his first over when he chipped a catch to Michael Hoey. McCormick was bowled by Mackey before Wilson and Hurn were dismissed in the same over off Barnes thanks to catches from Hoey and Gareth McCarter.
The tall South African was really stepping up his pace and spectators on the Mall should have a treat watching him this season. The main man on this occasion though was teenager Mackey who continued to wreak havoc in the Holywood batting with Haire then Hayes the next two victims to his prodigiously swinging deliveries.
His first senior five wicket haul was sealed when an entertaining cameo from Browne was ended by a quite fabulous running catch from Hoey whose safe hands claimed their third grab of the afternoon. Mackeys spectacular day ended in the most dramatic fashion when the final ball of his allotted seven over spell tore through the defence of Crishop.
The Armagh team celebrated with great gusto enjoying the success of their young fast bowler who finished with the fabulous figures of 6-21 in his 7 overs. Armagh finished the job in only the 17th over when Doyle came back to take the wicket of Shannon who to his credit had battled bravely. His attempted flick flew straight to Russell who took an instinctive catch at leg-gully to wrap up a big Armagh win by the remarkable margin of 188 runs and moved into joint top position in the league.
Armagh captain Matthew Steenson was naturally delighted with the comprehensive nature of their win.
He said: "Our batting has been pretty steady a lot of the season with Neil and Colin leading the way. It was good too though for Rogers,Bratten and Doyle to contribute with the bat. We are all delighted for Ben to be so successful with the ball but he needs to not get carried away and keep working as hard as he has been.
"It's a massive boost for the team for Barnes to be ready to bowl too. We look forward to what he can offer us in the weeks ahead."
Next week Armagh host Downpatrick on the Mall at noon. On Wednesday night Armagh are scheduled to host Bangor in the T20 Trophy semi final at 6pm.
Gardiner Bros NCU League Section 1.
Armagh 269-6 N.Gelston 89. C.Russell 71* H.Doyle 36* J.Wilson 4-42
Holywood 81all out. B.Mackey 6-21, J.Barnes 3-13
Armagh win by 188 runs.
Sign Up To Our Newsletter