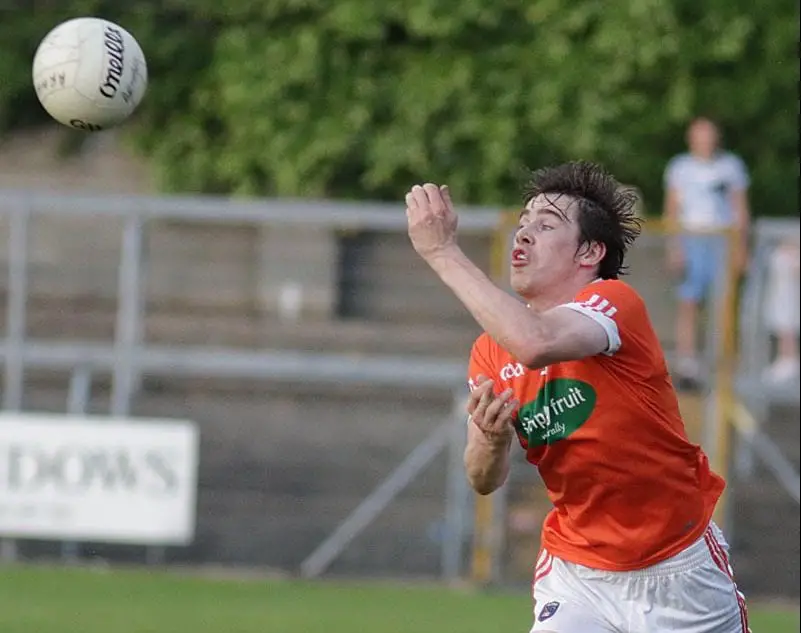 It hasn't been the most inspiring Allianz Football League Division Two season from Armagh.
Five games in, a shot at promotion looks to be all but gone, bar a minor miracle, leading to a battle to even stay in the division.
After defeating Tipperary 1-15, 0-12, the Belfast Telegraph reported that promotion hopes were still alive and well in Armagh, but a subsequent loss to Donegal at the beginning of March left Armagh with a 1-2-2 record, four points off the top two.
Armagh's last two games of the schedule were pencilled in as Fermanagh and Cork, with a win against the latter being a must to secure the team's Division Two standing. Luckily, the Ulster Football Senior Championship is just around the corner, with Armagh facing Down in the quarter-finals at Pairc Esler, and the team has been given a huge boost following some news from a currently injured star player.
Andrew Murnin set to return in May
Five minutes with Armagh's Andrew Murnin @ArmaghGAA @stpaulslurgan – https://t.co/C5s8Mt3dtK pic.twitter.com/NDrJmT7Y7Y

— Gaelic Life (@Gaelic_Life) September 23, 2017
One of the reasons behind Armagh's underwhelming Division Two campaign could be attributed is the injury to full-forward Andrew Murnin.
Murnin has been recovering from tendinopathy in both knees, preventing him for playing for his team in Division Two this season. It's an injury that had hampered him for over a year, so getting it sorted was necessary.
Murnin's rehabilitation has been going well, and he's on track to be fit and ready to face Down on 19th May. He's a proven weapon at the Championship level, wreaking havoc on opposing defences on many occasions in seasons past.
A fully fit Murnin can be the difference between winning and losing – the latter of which is becoming an all-too-familiar feeling for Armagh in the Ulster Football Senior Championship.
Is Murnin enough to push Armagh past the quarter-finals?
Andrew Murnin's return will be a welcomed one, but Armagh certainly lacks a bit of recent experience when it comes to success in the Ulster Football Senior Championship. The last time that the team won their first game in the tournament was in 2014. In the following years, Armagh lost to Donegal, Cavan, Down, and Fermanagh in 2018.
Even without Murnin, however, Armagh would have fancied their chances of progressing to the next round. The initial Ulster draw pulled Armagh and Down to face off in the quarter-finals. Down looks set to compete for promotion from Division 3, but Armagh should have the quality to come out on top.
The news of Murnin's impending return has certainly influenced the experts, though. Even though the oddsmakers of Mr Green Ireland see Down as the 8/11 favourites to win Division Three, with Armagh out of the odds to win Division Two, Armagh is at 10/1 – the third-favourites – to take the Ulster Senior Football Championship 2019, sitting way ahead of the 20/1 Down.
Prior to the news of Murnin's rehab progress, Armagh was at 11/1 to win the Championship, with the news giving them a better chance according to the experts.
The Division Two campaign may have a nervy end to the season, but an exciting and potentially successful Ulster Football Senior Championship is on the horizon.
Newsletter
Sign up for our weekly newsletter here.