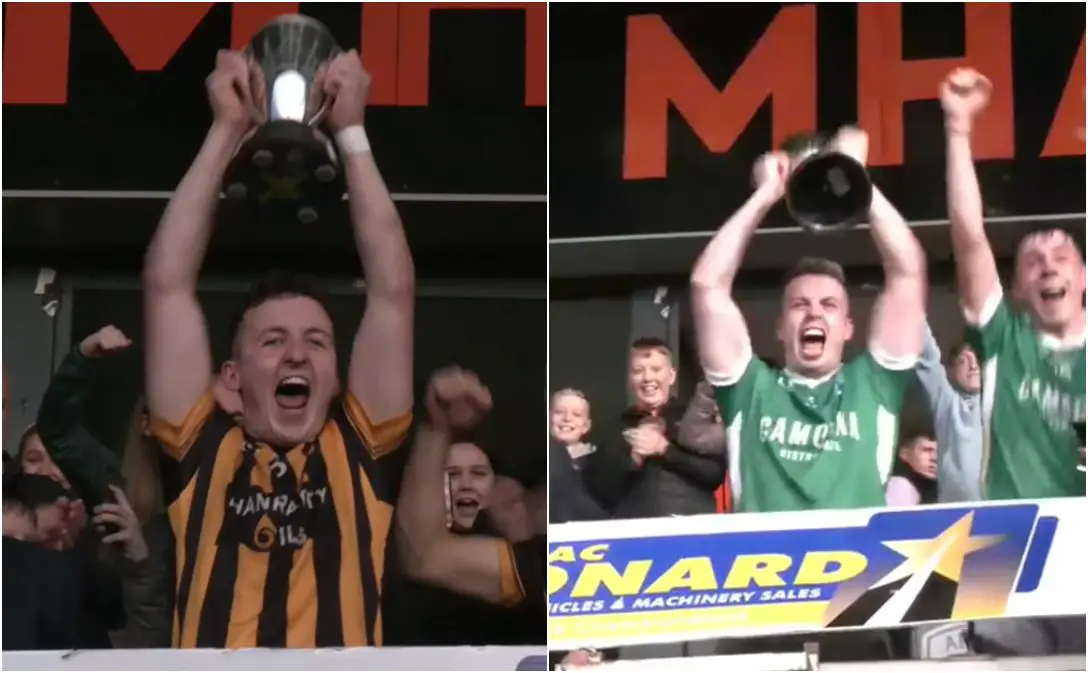 Crossmaglen claimed a record – albeit one of their own making – 46th senior county championship with a performance that suggested title number 50 will certainly arrive within this current decade.
Granemore arrived in their first senior final at the Athletic Grounds on Sunday – a first final of any kind since 2008 – with great expectations; better prepared than any team from the club had gone before them; not having conceded a goal in the competition to date. Unfortunately for them, Crossmaglen are the masters of expectation.
Two final defeats at the hand of north Armagh opposition in the last two seasons – a galling return for a club that, not since 1995, have gone three years without the Gerry Fegan cup resting on the clubroom mantle.
Cathal O'Hare opened the scoring for Granemore; he mustered three points from play throughout the game – perhaps a reflection of the difficulty their forward line had throughout the game.
Cian McConville opened the Cross' account soon after – it was the first of eight for the youngster who has certainly laid claim to involvement in the Armagh starting 15 next season. He was exceptional and a worthy Man of the Match winner.
While O'Hare added a second for Granemore, after Paul Hughes and McConville notched over two and three for Cross, it was as close as Granemore got. Wayward shooting cost them dearly as Stephen Kernan's men upped the ante – lead by the irrepressible Rian O'Neill.
Two points in a row from distance by the Armagh marksman – the second a placed ball from the guts of 60 yards put down a marker. Shortly afterwards, O'Neill fouled on the 45′ – well within kicking distance – caught everyone off guard as he opted for a quick free, finding the lively Caolan Finnegan who turned and blasted past Kevin Kelly – the one and only time the Granemore stopper saw the net rattle behind him in the entire campaign.
Crossmaglen had nine scores on the board before Granemore had their third – the first of two Marty Carr frees.
Half-time and the mountain Granemore had to climb prior to throw-in looked more like an active volcano as they trailed by 10 points to four.
But they cooled the mounting pressure for a period following the interval.
While Cian McConville put seven between the sides with the first score of the second half, Granemore rallied with Jason O'Neill (two frees), Ryan Rafferty and Louis Hughes hitting four unanswered points.
However, it proved a false dawn as by the time they got their ninth score, Crossmaglen had racked up 18.
O'Hare added his third, Tony McClelland fisted a point when he was introduced in full-forward but Crossmaglen's fire-power – even on a day when Jamie Clarke was well-marshalled – proved too much as they ran out comfortable winners on a scoreline of 1-19 to 0-10.
This result, coupled with the dismantling of bogie team Maghery in the semis would suggest Crossmaglen are installed as one of the favourites for Ulster. Next up is a crack at Monaghan champions, Ballybay.
Crossmaglen: Miceal Murray, Tony O'Callaghan, Caolan Dillon, Thomas Duffy, Aaron Kernan, James Morgan, Paul Hughes (0-01), Stephen Morris, Rian O'Neill (0-04, 1f), Caolan Finnegan (1-01), Callum Cumiskey (0-01 mark) Dara O'Callaghan (0-01), Cian McConville (0-08,0-4f), Jamie Clarke, Ronan Fitzpatrick (0-02).
Subs: Daniel Cumiskey for C Finnegan – blood sub (12-17'), Chris Crowley (0-01) for T O'Callaghan (ht'), Alan Farrelly for Dillon (39'), Orin McKeown for Thomas Duffy (53'), Seanie McConville for J Clarke (53'), Aidan Rushe for A Kernan (59').
Granemore: Kevin Kelly, Cathal O'Hare (0-03), Ross Finn, Padraig Hollywood, Michael King, Karl McQuaid, Kieran Doyle, Darren Carr, Brendan Boylan, Louis Hughes (0-01), Jason O'Neill (0-2,2f), Odhran Doyle, Peter Carr, Marty Carr (0-02, 2f), Ryan Rafferty (0-1).
Subs: Tony McClelland (0-01) for P Carr (ht'), E O'Neill for M Carr (ht'), Conrad Keenan for P Hollywood (25'), Darren Rafferty for L Hughes (55'), Padraig Doyle for M King (58').
Elsewhere, while the senior final was a one-sided affair, the preceding Intermediate final had pretty much everything as Shane O'Neill claimed victory in the dying moments of the game against an impressive St Paul's of Lurgan.
County man Greg McCabe scored the opening goal of the game after just 20 seconds in what was evidently a well-rehearsed, planned and ultimately executed move.
However, his dismissal on just before the break looked to have turned the tie with Andrew Murnin scoring a brilliant goal off the resulting free to put the Lurgan men three ahead at the break.
While St Paul's controlled much of the game, poor shot selection proved their downfall for large swathes of the game. Ciaran Nash's red card and a subsequent black card reduced them to 13 but the deficit in numbers was not reflected in the scoreboard.
St Paul's, leading by two as the assistant signalled five minutes of added on time, looked in control of the game. Shane O'Neill's became desperate and as the clock turned on 65, a hit and hope from distance landed on the edge of the square, but with no significant touch from any player, it found its way into the back of the net.
Heartbreak for St Paul's – jubilation for Shane O'Neill's who claim their first ever Intermediate crown, adding to their three previous junior titles.
Sign Up To Our Newsletter