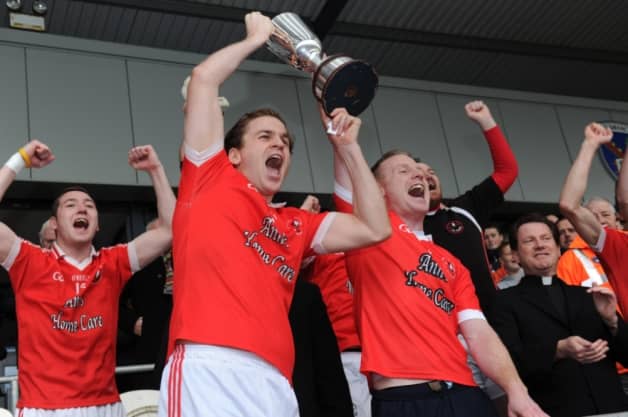 1. Armagh Senior, Intermediate & Junior Football Championships 2014
Championship Round 1 (16 Teams)*
Open Draw between competing teams
Winners gain entry to Championship Round 2
Losers gain entry to Qualifiers Round 1
Championship Round 2
Open Draw between winners in Championship Round 1
Winners gaining qualification to Championship Quarter-finals. Losers gaining entry to Qualifiers Round 2
Qualifiers Round 1
Open Draw between losers in Championship Round 1
Winners gaining entry to Qualifiers Round 2
Loser exiting championship
Extra time, if required
Qualifiers Round 2
Four losers from Championship Round 2 drawn against winners of Qualifiers Round 1
Winners gain entry to Championship Quarter-finals
Losers exit championship
Extra time, if required
Championship Quarter-finals
Winners from Championship Round 2 drawn against winners of Qualifiers Round 2
Winners gain entry to Semi-finals
Losers exit championship
Championship Semi-finals
Winners from Quarter-finals drawn against each other
Winners gain entry to Final
Losers exit championship
Championship Final
Winners from Semi-finals play each other
Winners receive trophy and medals
Loser receive runners-up medals
*Where there are less than 16 teams in any championship the following shall apply:-
Teams who are given a bye in Championship Round 1 will join the winners of that Round in Championship Round 2.
*Where there are more than 16 teams in any championship the following shall apply:-
A number of teams shall be drawn to play each other in a
Championship Preliminary Round
Winning team(s) gain entry to 1st Round of Championship
Losing team(s) shall be drawn to play losing team(s) of the 1st Round of Championship losing teams (not their Preliminary opponents) in a Qualifier Preliminary Round with winners gaining entry to Round 1 of Qualifiers and losers exiting Championship.
Newsletter
Sign up for our weekly newsletter here.