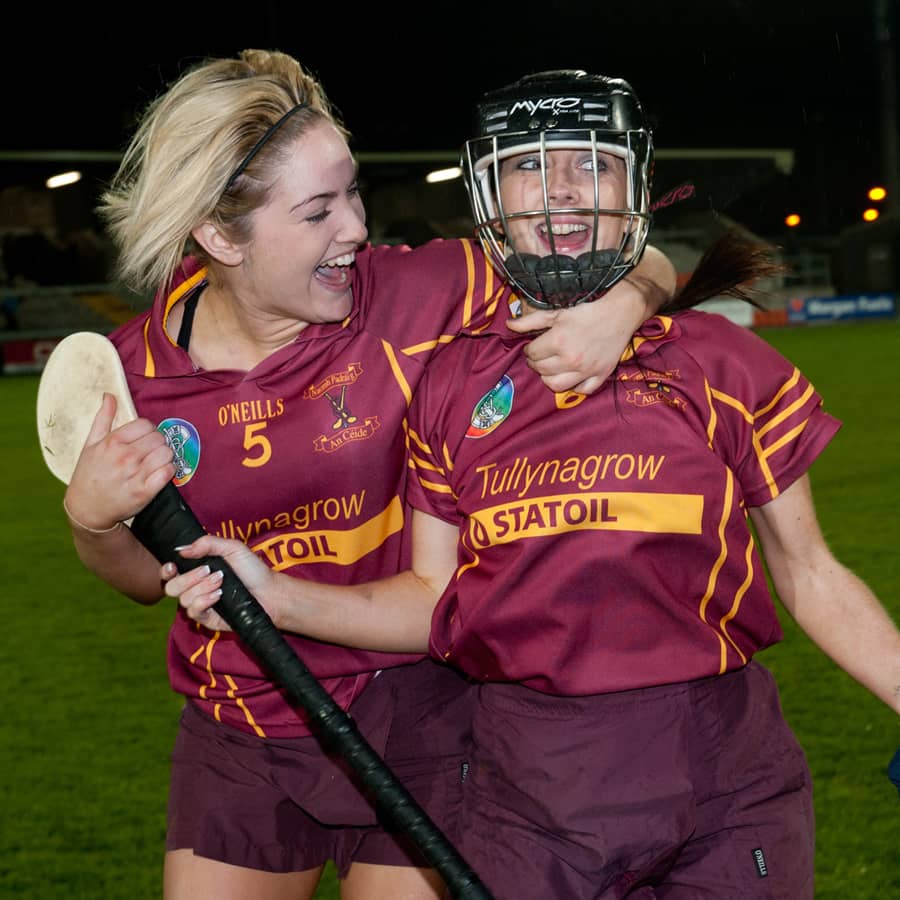 Keady  '1-08′   V   Tullysaran  '0-06′
By SEAN-PAUL DORAN
KEADY secured the Armagh Camogie Senior Championship crown at the third time of asking after edging a gallant Tullysaran side in a floodlit Morgan Athletic Grounds on Tuesday night.
Both previous instalments of the county showpiece ended in draws and the teams played out a predictably hard-fought game once more but Keady did enough to wrestle the title back from neighbours Ballymacnab.
Having built up a seven point half-time lead Keady looked to be on course for a comfortable win but they had to be at their best to prevent a storming second-half performance from the Red and Whites snatching victory.
Tullysaran's Eimear Hays earned herself the Player of the Match award but teammate and captain Collette McSorley provided the only real attacking threat for her side while Keady's Roisin Murray, Kellyann Comiskey and Michelle Murphy also impressed.
Armagh star McSorley top-scored with four points, including three from frees, while Keady full-forward Murphy's goal and two points played a key role in taking the shield back to Gerard McGleenan Park.
Keady are now due to play the winners of the Down Championship in the Ulster Senior B Championship Semi-Final on Sunday September 30.
The game started at a frantic pace with the teams exchanging early wides and Murphy opened the scoring with a clinical finish before Joanne Mullen and Ciara McGahan gave Tullysaran the lead.
After a spectacular long-range effort from midfielder Murray levelled matters, the impressive Comiskey played a key role in building a four-point cushion in a dominant spell for the side in Maroon and Yellow.
A well-struck '45 and two converted frees from the Keady half-forward edged her side further in front before midfielder Aoife Murphy fired over to extend the lead with half-time approaching.
And as Keady's tenacity and skill saw them dominate the midfield area Michelle Murphy dealt Tullysaran's championship hopes a considerable blow, catching an incisive cross-field ball from Sarah Molloy and dispatching a low strike past goalkeeper Patricia McKinney.
With the scores standing at 1:06 to 0:02 at half-time, another draw looked unlikely but a blistering start from Tullysaran set up a nervy second-half for a Keady side who defeated rivals Ballymacnab to book their place in the showpiece.
McSorley converted three frees in quick succession to punish Keady's lack of discipline in their own half and give her side renewed hope of causing an upset in a competition traditionally dominated by Keady and the 'Nab.
And the former national Young Player of the Year continued to threaten the Keady defence as she found herself clear after slipping her marker before firing narrowly over when a goal seemed a real possibility.
But that was to be her side's last score of the game as their opponents battled to regain control of the game and finish the job at the third attempt.
After both sides exchanged a series of wides it was Murphy who made the next impression on the scoreboard, receiving a superb pass from the left from Aine O'Farrell and firing over with ten minutes left on the clock.
As the game started to become more scrappy with the full-time whistle fast approaching, Keady had to dig deep to withhold a late Tullysaran push and battling performances from Catherine McCooey and Patrice Murphy helped to maintain their lead.
And it was left to O'Farrell to have the final say as she picked up the ball after a storming run from Molloy and completed the scoring with a fine point and etch Keady's name on the Father Tom Soraghan Shield once more.
Referee Frank McDonnell's whistle sparked jubilant scenes as Keady reclaimed the title after a two-year wait and hopes will now be high for a successful Ulster campaign.
Afterwards, Keady captain Roisin Murray expressed her delight at finally securing the title after a nervous few weeks since the first drawn game.
"It's absolutely amazing, we've worked so hard and given up so much just to play. We've had a lot of rebuilding in our team and tonight's just the icing on the cake," said the 23-year-old midfielder.
"It's been hard, Tullysaran put it up to us and made us work for it. We knew we were up against it and it wasn't going to be a walk in the park but thankfully we did enough to win."
Keady team: Catherine Connolly, Colleen Comiskey, Amy McAtavey, Patrice Murphy, Connie Conway, Ciara Keenan, Katrina Kinsella, Aoife Murphy, Roisin Murray(c), Sarah Molloy, Kellyann Comiskey, Kerry-Anne Tomany, Claire Kinsella, Michelle Murphy, Aine O'Farrell.
Subs: Orlagh Murray, Una O'Farrell, Edel McKee, Rachel McCabe, Kerry Mone, Nicole Conway, Catherine McCooey, Lucy Conway, Danielle McBirney.
Tullysaran team: Patricia McKinney, Aine Donnelly, Dervla Mallon, Helen Donnelly, Clare Mackle, Eimear Hays, Elaine McGrady, Noelle Kelly, Emma Mullen, Siobhan Mackle, Ciara McGahan, Joanne Mullen, Colette Finnegan, Collette McSorley, Shauna Mallon.
Subs: Kelly Mullen, Collette McGrady, Jeanette Donnelly, Aisling Loughran, Karen Devlin, Colleen O'Neill.
Sign Up To Our Newsletter