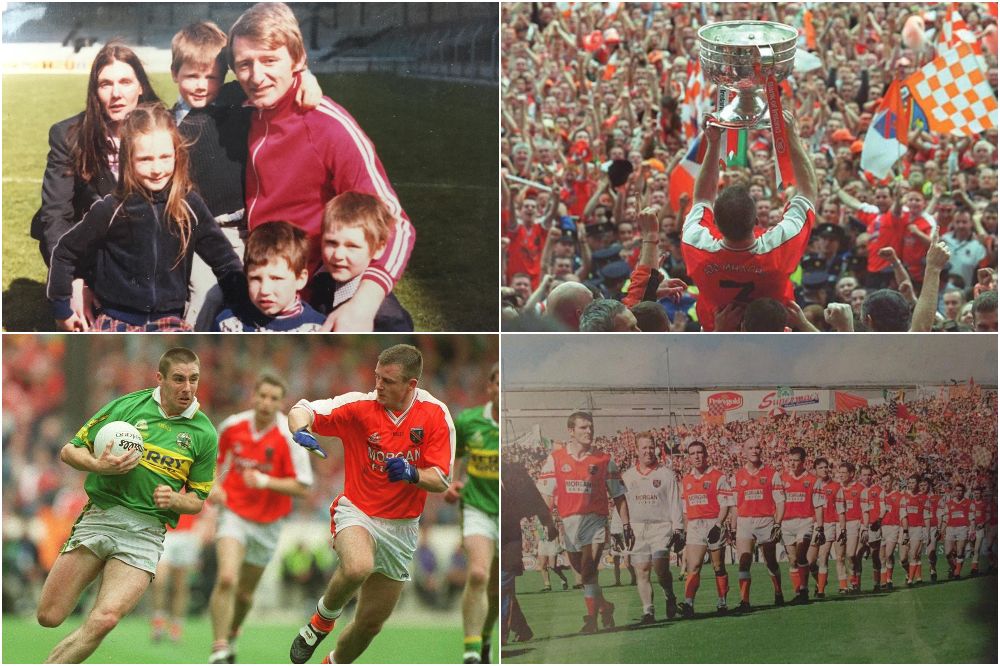 It's September and this time last year we were looking forward to an All-Ireland final replay between Dublin and Kerry.
We have to bide our time this year for the excitement of Inter-county Championship football, so to cheer us all up let's take a step back to a happier time that made for many joyful memories.
That time of course being September 22, 2002, when the Sam Maguire was carried up the road from Croke Park by a triumphant Armagh side, with a sea of orange paving the way back home.
For this week's 'The I on the Ball' podcast, proudly sponsored by Blackhill Energy, one of the heroes of that day, Justin McNulty, takes us back to that moment in time, and describes his preparations for the momentous day.
"I spent an extraordinary amount of time lying on my bedroom floor visualising every single match scenario – but specifically the last 10 minutes," says Justin who credits a lot of people, including the parents of the players and, "an enormous culture of hard work," for getting them over the line.
He describes the feeling at the final whistle as one of, 'utter elation' and smiles at the memory of the, "wave of Armagh fans breaking onto the pitch."
Justin has high hopes for Kieran McGeeney's current squad when inter-county football resumes.
As an SDLP politician and MLA for Armagh and Down Justin was a member of the Guard of Honour for the late great John Hume, whose presence he says was, "Like an aura around a saint" and describes how he, "warmed a room."
Justin speaks about his family, his career, and how he doesn't think the season will be disrupted again by Covid-19.
We also caught up with county man Stefan 'Soupy' Campbell after Clan na Gael booked their place in the Intermediate Championship Final, plus Belleek manager Gareth Thornton after they cruised into the Junior Championship final.
No – it wasn't Sonic the Hedgehog tearing up the Athletic Grounds on Sunday evening – it was just Soupy in his blue Clan na Gael kit, with a blue bandage around his head, as he put in a mesmerising performance and unselfishly set up Mel Patterson for the only goal of the game.
For all of this and more, listen below or subscribe and download here: Apple Podcasts – Google Podcasts – Spotify.
Sign Up To Our Newsletter