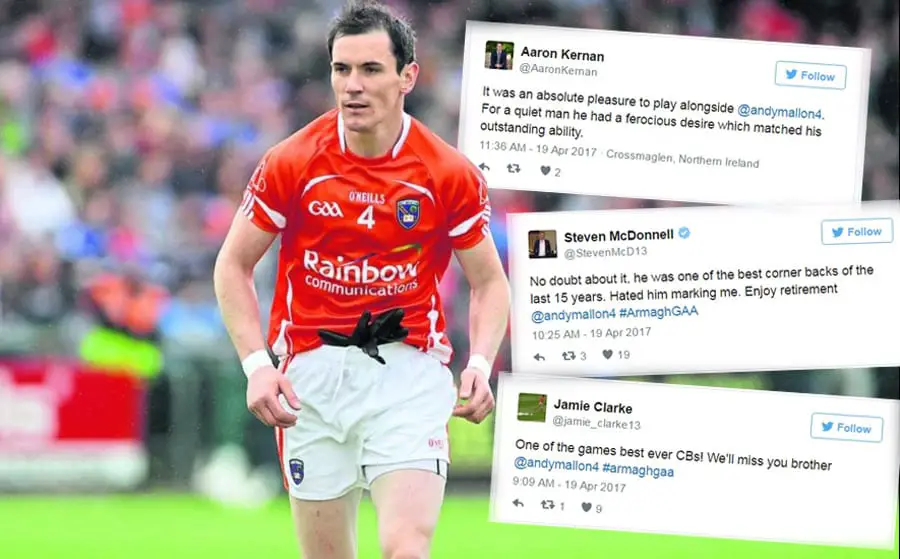 Armagh GAA legend Andy Mallon is to retire from inter-county football.
The veteran star and former Pearse Og clubman is hanging up his boots after 13 seasons.
He made his debut for the Orchard County against Donegal in Ballybofey in February 2003, replacing Enda McNulty for that game.
Mallon broke into the star-studded team which had won Armagh's only ever All-Ireland title in 2002, lining out alongside the likes of Justin McNulty, Aidan O'Rourke and brothers John and Tony McEntee.
He helped Armagh win the National League with a fantastic performance against Wexford in 2005 and it was a season which culminated with him winning an All Star.
Mallon, who lives in Dublin with his family and has enjoyed many highs and lows over his impressive career, was also a huge driving force with Pearse Og over many years.
Sad day as Andy Mallon retires after outstanding career of speed & guile playing for @Armagh_GAA & @PearseOgArmagh https://t.co/XeykRxYfs2

— Justin McNulty (@JustinMcNu1ty) April 19, 2017
It was an absolute pleasure to play alongside @andymallon4. For a quiet man he had a ferocious desire which matched his outstanding ability.

— Aaron Kernan (@AaronKernan) April 19, 2017
No doubt about it, he was one of the best corner backs of the last 15 years. Hated him marking me. Enjoy retirement @andymallon4 #ArmaghGAA

— Steven McDonnell (@StevenMcD13) April 19, 2017
One of the games best ever CBs! We'll miss you brother @andymallon4 #armaghgaa

— Jamie Clarke (@jamie_clarke13) April 19, 2017
What can I say about the gym bud and all round good guy @andymallon4 every game he played he picked up the danger man. Says it all. Legend ????

— Darnell Parkinson (@ddparko) April 19, 2017
All the best to @andymallon4 on your retirement from county football.
A great lad and one of the best defenders I've played with and against

— Paul Hearty (@paul_hearty1) April 19, 2017
@andymallon4 was one of the games most honest and genuine corner backs. Never resorted to sledging or bullying. @Armagh_GAA will miss him.

— Damien Mallon (@lemallon) April 19, 2017
Happy retirement to the Childhood idol and the best defender I have ever played with @andymallon4 ????????????

— michael carson (@mickycarson123) April 19, 2017
@andymallon4 Best wishes on your retirement Andy, a true gent and amazing defender.

— brendy mccann (@BrendyMccann) April 19, 2017
Had the pleasure of playing alongside this man. One of the best defenders to have played the game! Enjoy retirement @andymallon4 ????????

— Stephen McManus (@StephenMcManus1) April 19, 2017
Sign Up To Our Newsletter