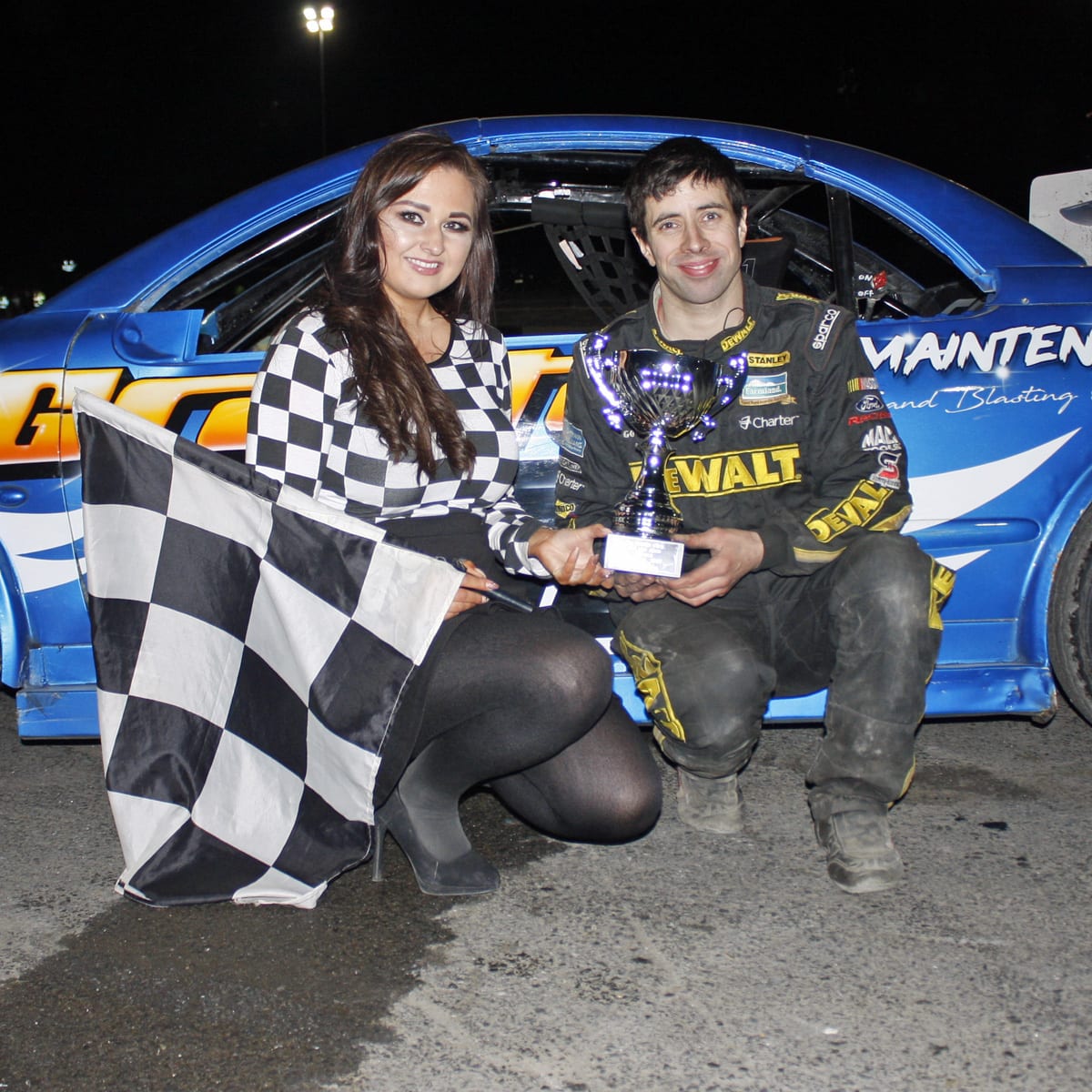 The 2019 oval racing season at Tullyroan Oval started in style last Saturday night, with some fast and furious action on a dry but cold evening.
Portadown's British Champion Adam Hylands was on top form as he scooped a heat and final double in the National Hot Rods, with the other silverware of the evening, sponsored by Bell Building, falling to Banbridge driver Denver Grattan (2.0 Hot Rods), Draperstown's Aaron Brunton (Lightning Rods), Cavan's Jason Goodman (Rookie Bangers) and Birches ace Steven Haugh (ProStocks).
National Hot Rods
The opening National Hot Rods heat was halted early on for a huge crash for Carl Sloan, from which he thankfully walked away unscathed. Simon Kennedy went ahead on the resumption, before losing out to former World Champion Adam Maxwell. Adam Hylands was showing blistering pace though, racing through to the win over Maxwell and Gary Woolsey. Heat two saw Kennedy hang on out front all the way home, taking the flag ahead of Andy Stewart and Mark Heatrick.
Woolsey had claimed pole position for the final, round nine of the Simpson Race Exhausts World Series NI. From the outside of the front row, Hylands made a blistering getaway to take up the running. Adam showed the rest a clean pair of heels as he completed his double for the night in some style, ahead of gallant runner up Derek Martin and Woolsey.
2.0 Hot Rods
Michael Woods quickly worked his way to the front in the opening 2.0 Hot Rods heat, ahead of a very impressive field of cars. Antrim's Mervyn Emerson chased him down as the race progressed, just failing to get past after a spirited outside challenge. Behind the pair, Adam Best inherited third after a number of penalties were handed down. Woods bid for another win disappeared in heat two when he lost a wheel early on, leaving Davy Potter to take up the running. The veteran held on for most of the distance before local star Allen Cherry found a way around the outside to take an impressive win ahead of Potter and Denver Grattan.
The feature race final saw early leader Lester McCloy lose out to Potter, before Grattan hit the front as the star men closed in. A clumsy challenge then regained the lead for Potter, but that would cost him later on. Potter took the flag ahead of Adam Best and Stephen Emerson, but all three fell foul of the stewards in Race Control for misdemeanours during the race. With penalties imposed on the top three, Grattan inherited the victory ahead of Thomas Dilly and the demoted Potter.
Lightning Rods
Glenavy's Mark McCambridge was on top form in the opening Lightning Rods heat, racing ahead early on to take victory over James McKinney and Richard Stewart, with a fine drive from Ricky Shaw netting him fourth. Ronan McNally was the first to show in heat two, and he held on all the way home for a morale boosting win. Behind him there was a great scrap for the places, which fell the way of McKinney over former World Champion Aaron Stewart and Shaw.
The final again saw McNally out front, with fellow yellow grader Aaron Brunton holding off a gaggle of challengers behind. McKinney, Aaron Stewart, Nigel Jackson and Jordan Rochford were all on his case, but Aaron held his nerve to claw the pack onto the tail end of leader McNally. With just two laps to go Brunton found a way past for the lead, taking a sensational victory over Rochford and Jackson as McNally lost out in the closing exchanges.
Rookie Bangers
The Rookie Bangers again excelled in terms of action, but a number of drivers will face disciplinary action as tempers got frayed as the night progressed. Peter McConnell took the opener over Josh McKinstry and Sammy Fisher, before Jason Goodman took the win in heat two ahead of Michael Hyland and Deano McGrath. The final saw a number of disqualifications handed out as some of the driving standards left a lot to be desired. Through the chaos Goodman landed his second deserved victory of the night, ahead of Paul O'Connor and Rocky McKenna.
ProStocks
A depleted field of ProStocks saw Dylan Booth grab both heat wins, before European Champion Steven Haugh blasted through to grab the win in the final, the opening round of the McElmeel Mobility Services Supreme Series. Booth and Darryl McAleese chased him across the line.
Next Meeting
Racing continues at Tullyroan Oval this Saturday evening, Easter Saturday April 20th, with a huge international event. Over 50 Stock Rods are booked in for the Irish Open Championship including World Champion Eric Walker from Surrey. Also in action will be the Micro Bangers, 2.0 Hot Rods, Superstox and Junior Productions. The event starts at the earlier than usual time of 6pm.
Newsletter
Sign up for our weekly newsletter here.