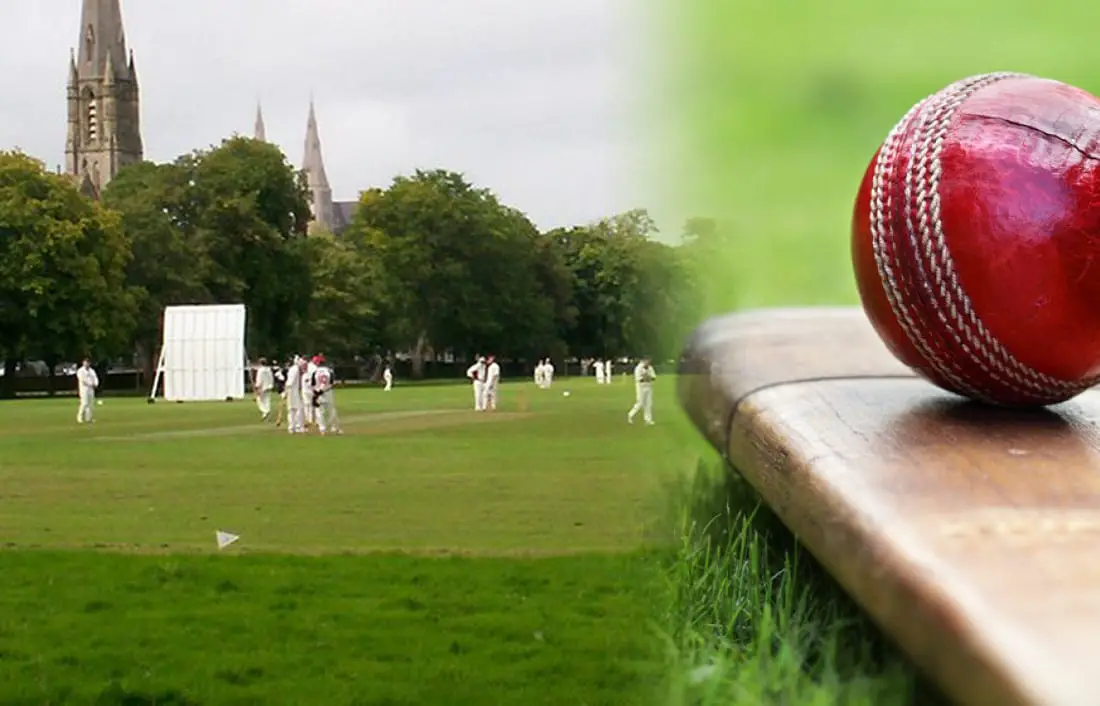 Armagh took a significant step forward in the NCU Gardiner Brothers League Section 1 race when they just about overcame nearest challengers Woodvale on the Mall on Saturday.
Armagh won the toss and elected to bat first as conditions in the outfield were likely to still be quite damp, although with a poor weeks weather the ground was in admirable condition. The innings could hardly have started much worse as Colin Russell was unlucky to be bowled off his boot without scoring. Woodvales bowling was disciplined and their seamer Farhan Saeed had further success with the wickets of Neil Gelston and Harry Doyle.
With scoring proving tough Jarred Barnes decided that the best policy was to attack and hit some great shots in counter attack, although finding support was proving difficult as captain Matthew Steenson and Michael Hoey both were removed cheaply.
Barnes had struck 5 boundaries and two impressive sixes in his 44 before he was dismissed courtesy of a quite fantastic boundary catch from the Woodvale fielder Hill leaving Armagh in quite a bit of bother. Andrew Bratten was joined by Samuel Wilson in an attempt to rebuild which had been looking positive but the former attempted a risky shot off the spin of Adair and was bowled. Armagh found themselves 96-7 and in disarray with wicketkeeper Gareth McCarter next to the crease.
Thankfully this pair were able to lay some foundations and steadily increase the Armagh score to something which might have been competitive and as the partnership grew so did the batsmens confidence. Wilson in particular was impressing with a fluency to his batting that hadn't been seen this season while smart running between the wickets was a feature of the stand which was eventually worth 68.
Wilson recorded his maiden half-century in senior cricket before being dismissed for 54, an innings that contained only one boundary, a measure of how hard the Armagh batsmen had to work; but also two superb sixes in consecutive deliveries.
McCarter played a stubborn innings of great importance to finish 24 not out while Alan Whitcroft was able to strike a six in an entertaining cameo as Armagh posted a competitive score of 180, something that had looked unlikely at one stage.
Armagh knew they would have to work hard in order to defend their target and stay in a strong position at the top of the table and had the best possible start as Barnes removed Mark Irwin courtesy of a great gully catch by Bratten. The hard-hitting Saeed went cheaply lbw to Ben Mackey and when the talented young swing bowler also removed Connolly and McKeown with edges safely taken behind the wicket by the safe hands of Steenson and the gloves of McCarter, Armagh had reduced their opponents to 28-4 and were in a wonderful position.
However, Woodvale are famous for the strength of their character and the depth of their batting and went on to show this as Mark Irwin and captain Jamie Gibson sought to rebuild the innings. Home captain Matthew Steenson rotated his bowlers without much fortune as their partnership built beyond 50 then 100 and frustration grew. The reintroduction of Jarred Barnes had the desired effect as he trapped Irwin lbw for 46 to end a stand of 121. However with Woodvale now at 149-5, only 32 more runs were needed.
Gelston picked a deserved wicket when Bardgett chipped a catch to Wilson at mid-off and when Whitcroft removed Browne leg before the equation now read 11 runs required with 3 wickets left. A moment of inspiration followed soon after when Colin Russell scored a direct hit run out at the non-strikers end to send the Armagh crowd into raptures. Harry Doyle returned into the attack and caught Hill on the crease lbw meaning Armagh only needed one more wicket with 4 runs left. The tension was clear for both teams when a huge appeal for a great legside catch by wicketkeeper McCarter off Doyle was somehow declined by the umpire; then Gibson escaped a caught and bowled chance to Whitcroft.
Knowing it was down to him the visiting captain Gibson advanced down the track to Whitcroft and tried to smash it down the ground but he couldn't clear the tallest man on the field Jarred Barnes who caught safely and Armagh celebrated wildly as they had won an epic match by the margin of three runs.
The home team also sportingly congratulated Gibson on a valiant innings of 84 that would have been worthy of winning any game. The players left the field to great applause from the large crowd who had been treated to a genuine thriller between two evenly matched teams who had given everything and only been split by the narrowest of margins.
Armagh 180 all out. S.Wilson 54, J.Barnes 44, G.McCarter 24no. Ma.Irwin 3-10, F.Saeed 3-27
Woodvale 177 all out. J.Gibson 84. B.Mackey 3-32, A.Whitcroft 2-18, J.Barnes 2-26.
Armagh win by 3 runs.
After the game, an exhausted home captain Matthew Steenson commented: "It took a lot of character to win that game today. We were dead and buried at 96-7 but Sammy Wilson and Gareth McCarter brought it back to life and gave us a chance.
"We talk about batting deep down the order and its games like this that show why it matters. Congratulations to Sam on his first senior fifty, it was a match winner. In the field we started brilliantly with Ben Mackey taking wickets but after that we switched off and it should have cost us.
"The way we came back was absolutely superb and it means a lot. Some can criticise the standard of cricket in section one but you won't see a better game than that anywhere this season."
Armagh would like to thank Mr Uel Taylor for his sponsorship of the match ball and the team travels to Bangor this Saturday for another crucial fixture.
Sign Up To Our Newsletter