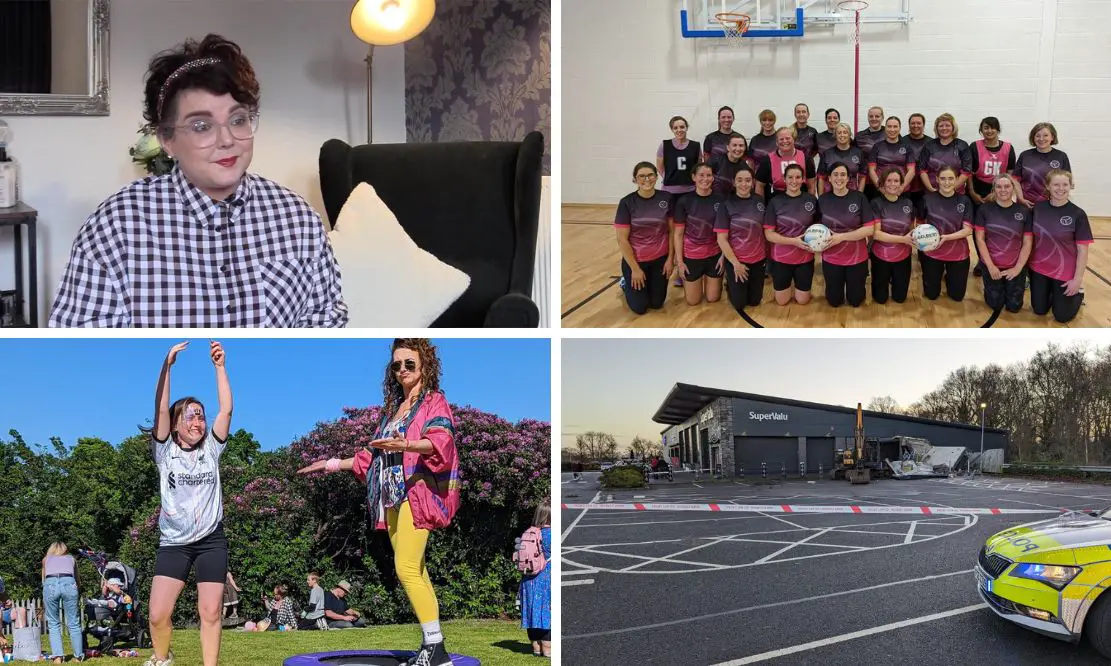 Just as with the written word, our video content has played a big part in the delivery of news throughout the year.
There's been some stories that have been hard for people to talk about, but trying to keep the balance right, we have also featured some start up businesses, as well as those already established.
Don't forget all our video content is first look on our YouTube channel, you can subscribe here. 
Also, why not join us on Instagram and TikTok.
In December 2021, just before the turn of the new year, Armagh I spoke to Theresa Burke. Theresa's son Kealan passed away on  February of 2009 aged just 22, after taking an overdose of methadone over a year earlier in October 2009.
Speaking to Armagh I, at the time the still heartbroken mother was visiting the country to give talks to schools, clubs and community groups throughout Northern Ireland warning others not to get involved with substances. Theresa spoke about the experience of losing her son and the work she has been doing to save others since. Check out the full video below.
Read more: South Armagh village 'moved to tears' as mother shares personal grief at loss of son Kealan to drugs
Brave mother's story of son's overdose to Keady students 'powerful beyond measure'
In January 2o22, disaster was averted in Tandragee after a lorry drove through a red traffic light close to Tandragee Primary School. A young family was mere seconds from serious injury or fatality.
Speaking to Armagh I, Cllr Paul Berry said  that there had been a "number of incidents which could have led to serious injury or in fact death". In previous months and year the main A27 Portadown to Newry route which is a very busy road used by all types of vehicles large and small has been at the centre of concerns by local people and councillors.
Armagh I met Councillors Berry and Gareth Wilson on the road in question and as we were on sight the speed at which some vehicles approach the village became apparent.
Read more: 'Enough is enough': Tandragee residents' horror stories of speeding cars and lorries
Speeding in Tandragee must stop or 'somebody will be killed'
New school term highlights ongoing safety concerns for parents at Tandragee Primary
Anyone running a business will know the pain involved when your business social media accounts are hacked. For some it's a few days until they regain control, however, this was not the case for one Armagh spa owner in January last year.
Jennifer McKearney, owner of White Orchid Beauty and Spa, called on Armagh I after her business Facebook account was hacked.
Jennifer spoke of the distress of being informed that videos of what she described as "the most horrifying content" were posted on her personal account.
Subsequently the young business owner had to start from scratch to regain her social media following.
Read more: Armagh spa owner's distress after 'horrifying' Facebook hack wipes social media following
Also in January, Owner's of keyless cars were been warned to be vigilant as a pair were caught on CCTV trying to steal a car from the Bush area of Dungannon using remote technology. Thanks to the foresight their attempt was foiled, as the owner had stored the keys in a signal blocking (Faraday) pouch.
Banbridge was alive with excitement in February, as the much anticipated Games of Thrones studio tour set up home at the Linen Mill Studios. The £24million Game of Thrones studio tour opened its doors as the hit TV show celebrated its 10th anniversary.
We went along to see what it was all about and needless to say we weren't disappointed
Read more: Construction work begins on new park and ride ahead of £24m Game of Thrones studio tour in Banbridge
200 jobs on way as plans lodged for £24m Game of Thrones tour which will bring 600,000 visitors a year
In 2019 the Games of Thrones' real life Gosford Castle was sold! The stunning 19th century castle near Markethill was used to shoot exterior scenes during the HBO series third season.
Also: Snowfall had really affected driving conditions in County Armagh. This is the scene on the Newry Road on February 24, 2022 with cars having to abandon their journeys.
In March, Armagh I People of the Year Awards got underway at the Armagh Observatory and Planetarium. It was a night of celebration and high emotion as Armagh I recognised some of the county's most remarkable individuals.
The event, hosted by the brilliant Rebecca McKinney, saw 11 winners collect awards; but the stories from all those nominated resonated with the audience, who packed out the venue.
This year's event will take place on February 2, 2023, hosted by Northern Ireland's weatherman Barra Best.
Read more: A night of celebration and emotion at Armagh I's People of the Year Awards
Later in the month, Armagh City Ladies celebrated their 20th anniversary. Just by chance, this momentous anniversary has come in the same year Northern Ireland Women were to make their debut appearance in a major tournament, Euro 2022. Watch the full video here
Read more: Armagh City Ladies celebrating 20th Anniversary with former players set to return
Armagh City FC member among 20 graduates from female leadership programme
In April, our young entrepreneurs series, sponsored by the Armagh Credit Union,  highlighted some of the amazing young talent from the world of business. We spoke to Matthew Sherry who was bringing a little slice of Italy Armagh City. Watch the video here
Born together, business partners forever, we also spoke to twin brothers Aaron and Andrew Burns who had built themselves a remarkable business empire, now based in the heart of Markethill. Watch the full video here 
Young entrepreneur Ellen Mooney talked fashion and her own approach to branding and marketing
June say the triumphant return on one of Lurgan's most popular calendar dates the Lurgan Show. The show had been cancelled the previous two years due to Covid. We went along to enjoy the day, and of course we done a little work when we were there.
In Pictures: Thousands turn out for triumphant return of Lurgan Show
Also crowds in Lurgan enjoyed soaring temperatures as the Seven Decades Pageant took place at Brownlow House, as the town continued the Queen's Platinum Jubilee celebrations.
Opening the concert to a crowd of more than 1,000 people, the County Armagh singer was on top form performing his title song 'Flash'. Other hits included "We will rock you", "I want to break free" and "Don't stop me now" while the artist provided a nod to family members "in the Royal box".
Read more: In Pictures: 'Queen' rocks Brownlow House as Lurgan ramped up Jubilee celebrations
In June, the Armagh County Show – one of the longest-running Shows in Ireland – returned to the beautiful picturesque surroundings of Gosford Forest Park on Saturday for its 175th anniversary.
Read more: In Pictures: Armagh County Show returns in style at Gosford Forest Park to mark 175 years
Also in June, after a break of two years, Tandragee Soapbox Derby made a roaring return.
In July, with the help of Tarasis Enterprises, we were supporting female entrepreneurs in a four part series highlighting woman in business from across the area.
Emma Stinson, owner of Simply E Designs, laid bare her love for leather and loom as she describes the various processes involved in taking her designer bag line from conception through to creation
Renowned hairdresser Petra Carroll, told us how she 'foiled' the stereotypical business plan.
In the third episode Benburb-based beautician Sinead O'Donnell spoke about how she was hard at work laying the foundations for her own brand of self-tanning products when tragedy struck, both personally and professionally, with the onset of the Covid Pandemic and also the untimely and tragic passing of her beloved father, Patrick Hughes.
Finally, Libby Clarke of Joyce Clarke Estate Agents in Portadown talked cattle and property and how her work family keep her grounded.
You may remember the summer of discontent. Our streets were lined with rubbish, council facilities closed and fly tipping was at it's height. Armagh I's extensive coverage of the strike action kept readers up to date with the latest happenings (or not so happenings). We were inundated with video from readers, outraged at the county's ever-growing problem. Here's a few videos from that time.
Read more: Rubbish piles up in Armagh and Craigavon as ABC Council strike continues
Read more: Mood 'resolute' as council workers turn out in force for first day of strike
In August we had a great time getting to meet some great animals, (and people) as part of our All Creatures Great and Small video series. We visited the USPCA centre, tucked away in the Carnbrooke Industrial Estate in Newry, which was a hive of animal activity. As the world's second oldest Animal Welfare Charity, it came as no surprise that they have developed a finely tuned system with every necessary service taken care of in-house.
We also met Siobhan Fox who  rescues pigs and poultry to pasture. Siobhan told us about an accident in which she was tragically crushed. Incredibly, Siobhan counts herself lucky and, now with hindsight, is able to see the positive to have come from her accident. The positive being, Foxglove Farm and Sanctuary. Watch the full video here
In part three of our four part 'All Creatures Great and Small' video series, in partnership with Pet Domain, we spoke with founder, Andrea Cowan, about her mission and journey into hedgehog rescue.
Last but not least we visited C&J's Animal Park in Portadown, where animal rescue and welfare have taken on a whole new holistic approach, for the animals, staff, volunteers and visitors alike.
Formed in March of this year, Armagh's first social netball club is already off to an amazing start – boasting 35 members and weekly practices. The 'Maidens of Macha' – Armagh City's first and only social netball team – are aiming to help local women have fun and get fit.
Armagh I spoke with Fiona about her experience with the team and how it has benefitted her wellbeing.
On October 27, Sharyar Ali, aged 34, was sentenced for the appalling murder of baby Hunter McGleenon, following an investigation by detectives from the Police Service of Northern Ireland's Major Investigation Team.
In November the Southern Trust chief Dr Maria O'Kane responded to criticism over home care package advice in an exclusive interview with Armagh I. 
It was a case of the Grinch who stole Christmas on December 20, when a stolen digger was used to rip an ATM from the ground at Fruitfield in Richhill during the early hours of the morning. Armagh I brought you the story first and went along to see the devastation which had been caused.
Read more: Stolen digger used to rip ATM from ground at Fruitfield in Richhill
Fruitfield owner condemns ATM theft as 'attack on the community' as police release details
Man (22) charged with multiple offences after ATM stolen at Fruitfield near Richhill
Also in December Primark opened to much fanfare in Craigavon's Rushmere Shopping Centre  as hundreds streamed across the threshold with just over a week until Christmas.
We finished of the year on a high with the announcement of our new office on Barrack Street, right in the middle of the city! With the help of Manor and Mill Estate Agents, and a fantastic building team, we have moved walls, plastered, painted and renovated the office space entirely, with our beautiful new sign having been installed by AP Signs Portadown. All of this has been achieved just in time for the close of 2022, the year of our 10th anniversary.
Sign Up To Our Newsletter