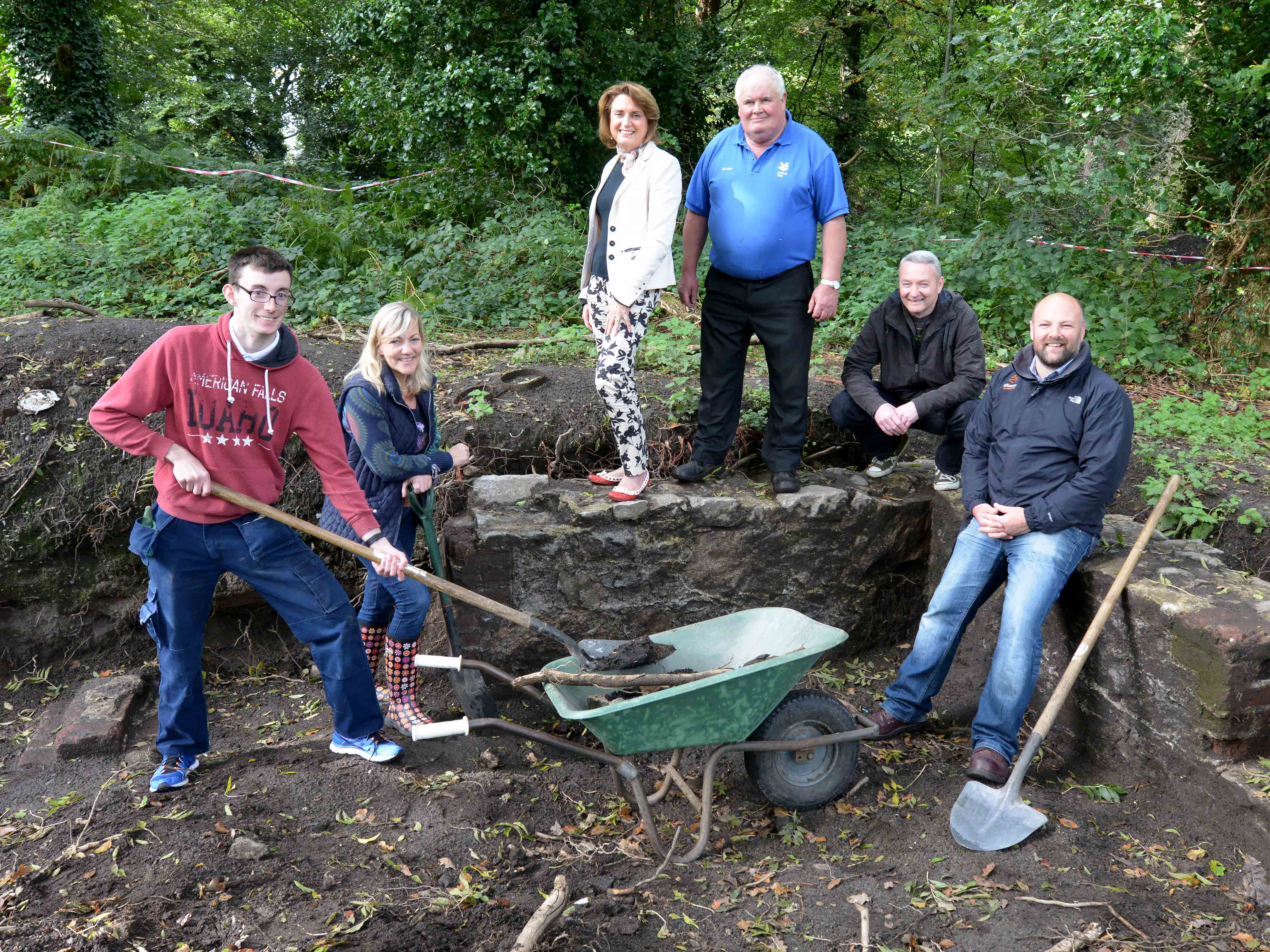 A group of friends with learning disabilities – part of a local day opportunities group – have discovered an historic ruin near Bessbrook.
They were said to be thrilled to uncover the foundations of a castle-style home – dating back 130 years – within Derrymore Woods at Bessbrook.
The group's historic find, made during a conservation project, has been unveiled by the Southern Health and Social Care Trust.
The ruins of old walls were uncovered from amongst trees during routine clearance work by the group who have been based at Derrymore House for the past four years.
The Trust arranges a wide range of day opportunity programmes to help people with learning or physical disabilities to develop their skills, abilities and interests. The group are more used to exploring the homes of local wildlife and were over the moon to make the rare discovery.
Local people tell the story that Mr Richardson who owned the site and old mill and founded the village of Bessbrook, wanted to build a new castle style home for himself and the family.
But after only building as far as the ground floor windowsills, he for some reason abandoned the project.
Now nearly 130 years later his work has been rediscovered!
The National Trust who own and manage the site are working to record and interpret the find and its contents.
Around 400 people throughout the area take part in educational training, employment and leisure schemes to ensure they can live as independently as possible and Miceal Crilly, Assistant Director for Disability Services for the Southern Trust explained: "Whilst we still have a number of day centres across the Trust which offer care and support for people with more complex health and support needs, our more independent clients want to lead normal lives, choosing and participating in their own everyday activities within their own communities.
"We have great relationships with many local businesses and community and voluntary organisations like the National Trust at Derrymore which help us to deliver a wide range of projects for our clients, for example conservation work, gym sessions, college courses, crafts, horticulture or catering.
"I would like to congratulate all of our staff and clients on this amazing find, with their great determination and meticulous attention to detail in uncovering and preserving these ruins, they should be proud to share this fantastic piece of local history."
Mr Crilly said projects such as this greatly benefit the health and wellbeing of clients, giving them a sense of purpose, belonging and achievement and ensuring that they get the most out of life.
If you want to find out more about Day Opportunities contact Noreen McComiskey on Tel: 028 3883 3248 or email: noreen.mccomiskey@southerntrust.hscni.net<mailto:noreen.mccomiskey@southerntrust.hscni.net>
Pictured (left to right) are Colm Murphy, Volunteer, Tina Maguire, day opportunity support worker , Roberta Brownlee, Southern Trust Chair, Barney O'Hare, National Trust, Sean Smyth Day, opportunity support worker and Alyn Jones, Alliance Youth.
Read more news:
Officer 'stable' in hospital as police reveal lorry which struck him was stolen
Hit and run: Police officer struck by lorry in 'attempted murder'
Watch: Shocking moment thieves target ATM in Bessbrook
Bessbrook ATM raid: One man arrested; forensics examine white van
Man taken to hospital following county Armagh hit and run incident
Ten tonne dumper truck stolen off county Armagh building site
Pictures: Shop ripped apart in south Armagh ATM raid
Sign Up To Our Newsletter