LEGENDARY Irish traditional singer Tommy Makem is to be forever immortalised in his home place of Keady as the new community centre and square in the town will be named after him.
The new Community Centre is to be named the Tommy Makem Community and Arts Centre following a SDLP notice of motion brought before Armagh City and District Council tonight (Monday).
Tommy, who died in 2007, was an internationally celebrated Irish folk musician who was best known for playing alongside the Clancy Brothers.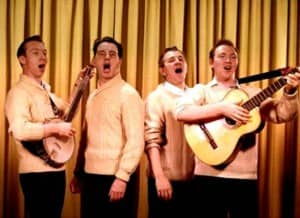 SDLP Councillor Thomas O'Hanlon first proposed the move last February and the proposal cleared its final hurdle at Monday night's Council Meeting.
Welcoming the move on Monday night, Councillor O'Hanlon said: "Tommy Makem is one of Ireland's most famous sons, he was a deeply humble man and was very proud of his Keady routes and what better way to pay tribute to Tommy than to name the town's new state of the art Community centre after him.
"Tommy and his mother Sarah before him are held in great esteem across the globe for their contribution to preserving traditional music and in particular the Irish song tradition and yet despite his fame the wold over, Tommy never forgot the place of his birth.
"Tommy was born and raised in Keady or the 'Hub of the Universe' as he was known to refer to it as and what better way to remember his legacy. Tommy never forgot his routes and would be immensely proud to know a community and arts venue in his own town was called after him.
"Since my proposal, which was seconded by Councillor Gerald Mallon, first came to Council in February officers and councillors have engaged with representatives of the Makem family and I am delighted that tonight Council has agreed to name the new community centre the Tommy Makem Community and Arts Centre and we will also rename the towns square Makem Square.
"Construction of the new centre will begin in the New Year and this is just one element of a council led multimillion pound investment in Keady which will see a new play park and new changing facilities at Madden Row.
"In addition to this, work is well advanced on an Environment Improvement scheme for the town which will see new footpaths and junction improvements throughout the town.
"I welcome tonight's confirmation that the Community Centre is to be named the Tommy Makem Community and Arts Centre and look forward to the construction beginning."
Sign Up To Our Newsletter