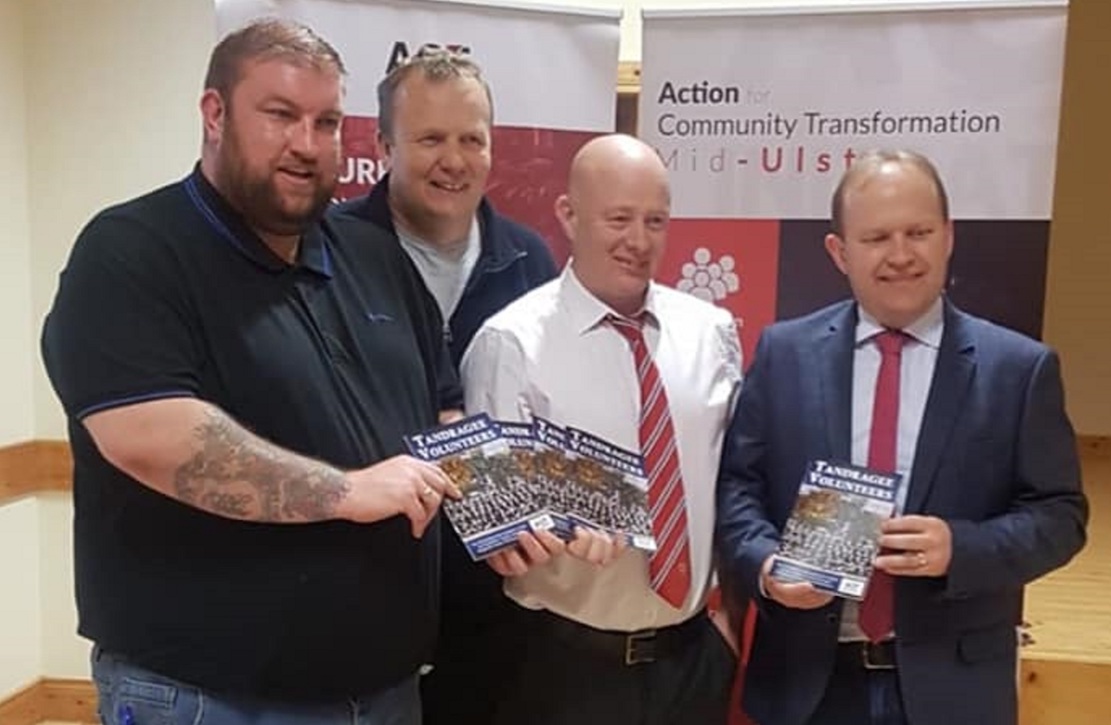 Last Wednesday evening the Tandragee District hall saw the launch of a new booklet examining a little documented aspect of local history. Host for the evening was the Mid-Ulster ACT grouping, who had facilitated the production of 'Tandragee Volunteers- The 3rd battalion of the County Armagh Regiment Ulster Volunteer Force' in conjunction with Armagh historian Quincey Dougan.
Local ACT facilitator Gareth Chambers began the proceedings, speaking on the goals of ACT, its core message of 'Learning from the past not trying and live it', and the motivations behind this specific project in trying to both revisit and understand some important lost local history. Councillor Gareth Wilson officially opened the night, launching the booklet before Quincey Dougan delivered a presentation on the subject.
Mr Dougan traced the development of Tandragee from the pre-plantation era, through the Plantation, the 1641 rebellion, the formation of the Irish Volunteers, the Orange Institution and the 1798 Rebellion; outlining local events and personalities of interest during the periods; observing how local experiences shaped the politics of the local community.
From the advent of the very first Home Rule Bill Tandragee passionately opposed the concept, and had a prominent place in a proposed 'Orange Army' in 1886 and the Ulster Defence Union in 1893, before the formation of Unionist Clubs across the District.
Quincey commented on the subject that "the onset of the Third Home Rule Crisis resulted in Tandragee being referenced by the RIC as far back as 1912 as being one of ten areas where drill was taking place, and when the Ulster Volunteer Force was born it embraced it enthusiastically."
He added: "The Tandragee area came to compose the most of what would eventually become an eight company strong Third Battalion of the County Armagh Regiment U.V.F."
An in-depth look at the activities of the local Volunteers until the outbreak of the Great War followed.
Following the talk the booklets were distributed free to all those in attendance. Speaking after the event, Alderman Gareth Wilson commented: "This was a very educational and informative evening and it was great to hear some interesting historical facts about the Ulster Volunteers locally in Tandragee.
"Gareth Chambers at ACT deserves great credit for hosting this event and they do important work in the community.
"Quincey Dougan also delivered a very interesting presentation as usual and I wish him well as he continues to tour."
Sign Up To Our Newsletter