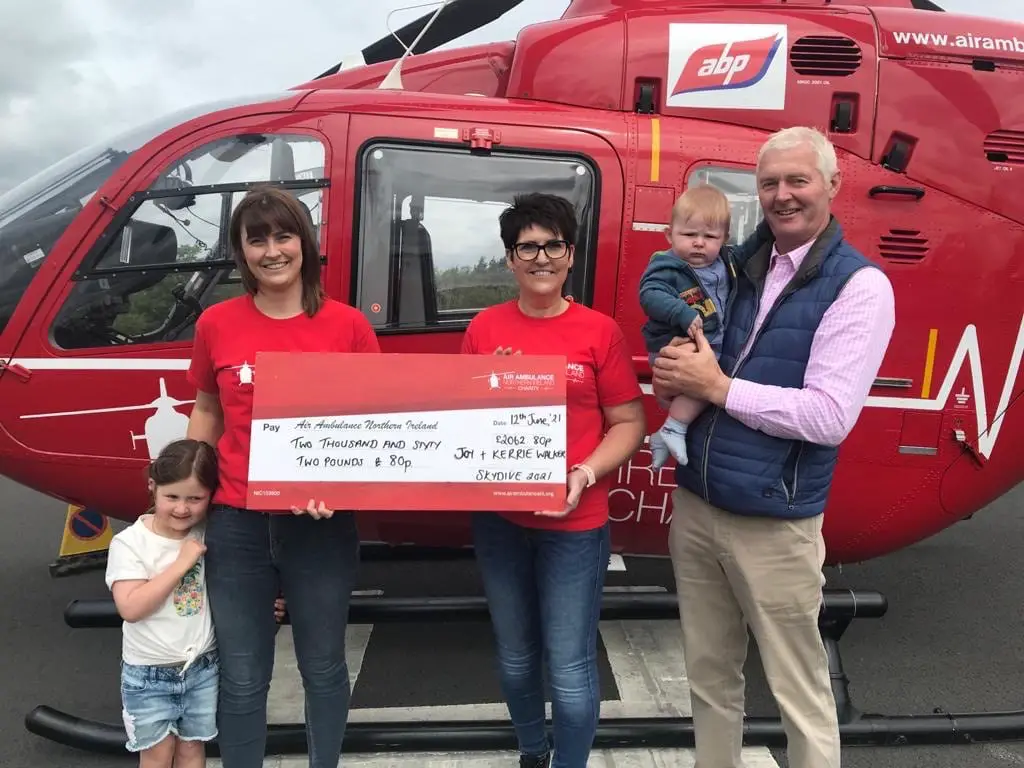 A mother and daughter from Poyntzpass have taken part in a charity skydive to raise funds for Air Ambulance NI (AANI).
Kerrie Walker had been wanting to do something for her 25th birthday and decided to celebrate by booking a skydive.
Joy, Kerrie's mother, had always been keen to brave the skies and make the jump and decided very quickly to join her daughter and raise vital funds for the charity.
Joy, who works in the Southern Health and Social Care Trust, explained: "It was a Thursday evening and Kerrie had said she was going to book a skydive for her birthday. I had always wanted to do one and straight away said, I'll do it too.
"We booked it on a Friday and made our way to Wild Geese the following week to do the skydive. Once it was booked, the nerves set in but knowing it was for a worthwhile cause and seeing the donations growing, we couldn't wait to complete the jump."
Explaining why they chose to support Air Ambulance NI, Kerrie said, "When we decided to complete a skydive, we wanted to raise money to support a worthwhile charity.
"It was my dad who immediately suggested the Air Ambulance as he is aware the team's interventions can be the difference between life and death."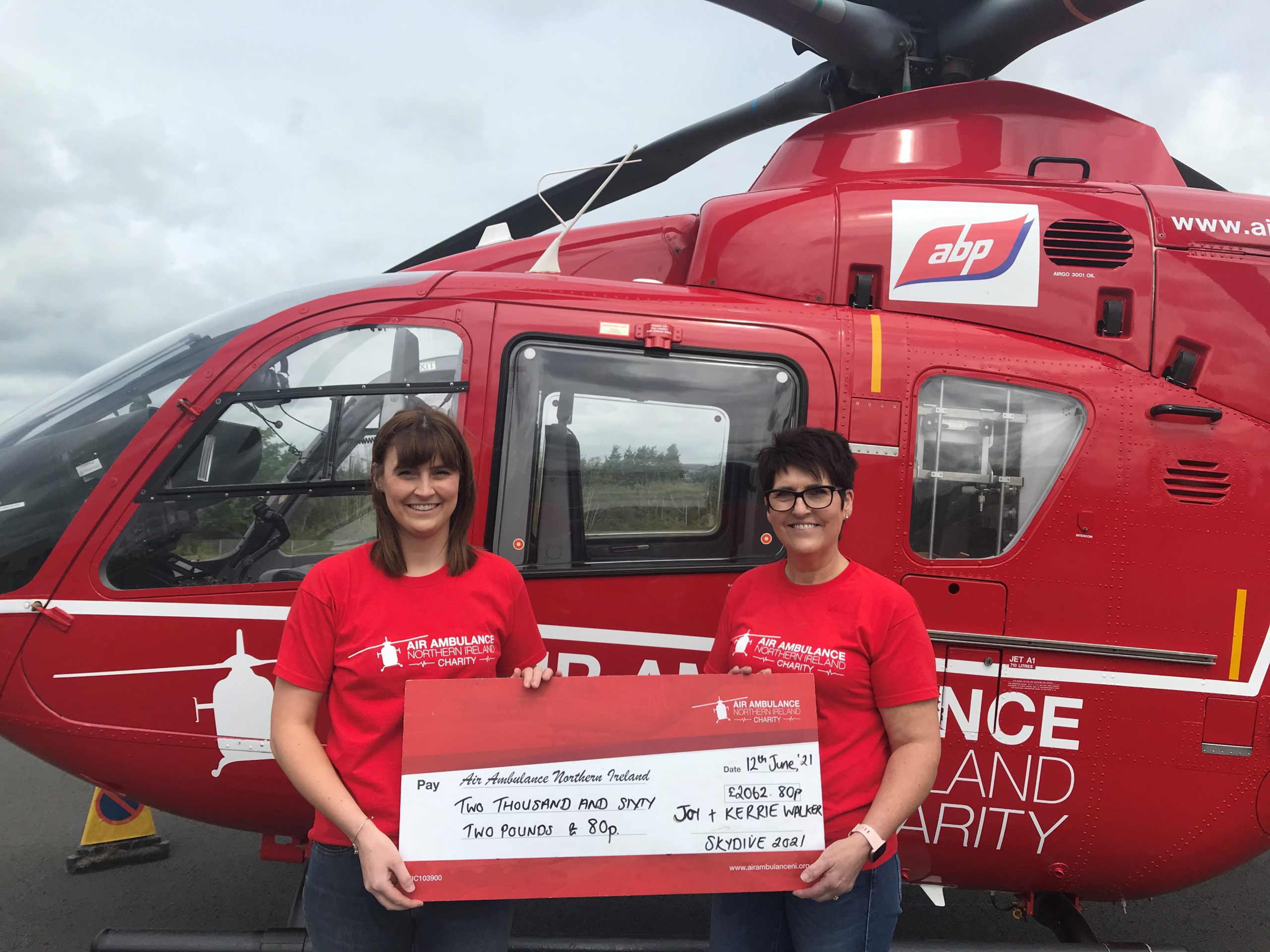 Both mother and daughter were delighted with the amount they were able to raise for the charity and were very happy to visit the Air Ambulance base last weekend to present the cheque for £2,062.80p to the charity.
Said Kerrie: "It was amazing to actually get the opportunity to see where the Air Ambulance is and hear all about their important work. While there, the HEMS team were tasked. We were able to stand back and watch as they walked with their kits to the helicopter and got on board ready for their mission.
"It was so emotional to watch them head off knowing that whoever they were going to was in great need, but thankfully they were getting the best possible chance of survival.
"We both want to say a big thank you to everyone who donated to our page, as we were able to see first-hand how these vital donations were being used."
The charity Air Ambulance Northern Ireland, in partnership with the Northern Ireland Ambulance Service, provides the Helicopter Emergency Medical Service for Northern Ireland. The service brings urgent medical assistance to anywhere in the region, operating seven days a week for 12 hours per day. It can get to anywhere in Northern Ireland in approximately twenty-five minutes. From inception to March 2021 the medical crew have been tasked 2,114 times.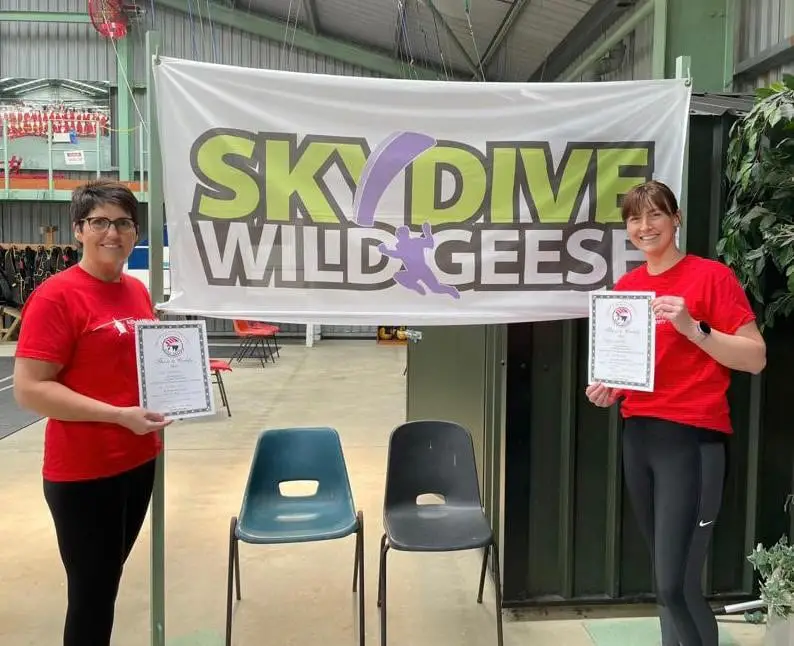 The service has been called out on 229 occasions from January – March 2021, an increase of 30 % on the previous year and a 73% increase from 2018.
The HEMS team attend patients who are seriously ill or injured, bringing emergency pre-hospital care direct to the casualty with the aim of saving lives, brains and limbs. Air Ambulance NI needs to raise £2million each year to maintain this service, fundraising has been severely impacted by Covid-19 so now more than ever public donations and fundraisers such as Joy and Kerrie's skydive are crucial.
If you have been inspired to support this life-saving service, there are a number of exciting upcoming events you can participate in.
On Friday 10 September you can take part in the charity's Dragon Boat Races and have a go at paddling up the River Lagan as part of a team of 12-20 people. Whether it's a workplace, family, or friends' team, you will have two timed trials to determine if you make the semi-finals and finals to compete for the coveted title of overall champion!
If that's not for you then you can face your fears in an abseil of the Tower Museum in Londonderry/Derry on Saturday 18 September, or abseil off Belfast Castle on Sunday 8th August. Or if running is more your speed, you could take on an element of the Belfast City Marathon on Sunday 19 September.
Find out more and sign up to a challenge that suits you by visiting www.airambulanceni.org alternatively you can contact the charity directly by emailing info@airambulanceni.org or calling 028 9262 2677.
Sign Up To Our Newsletter