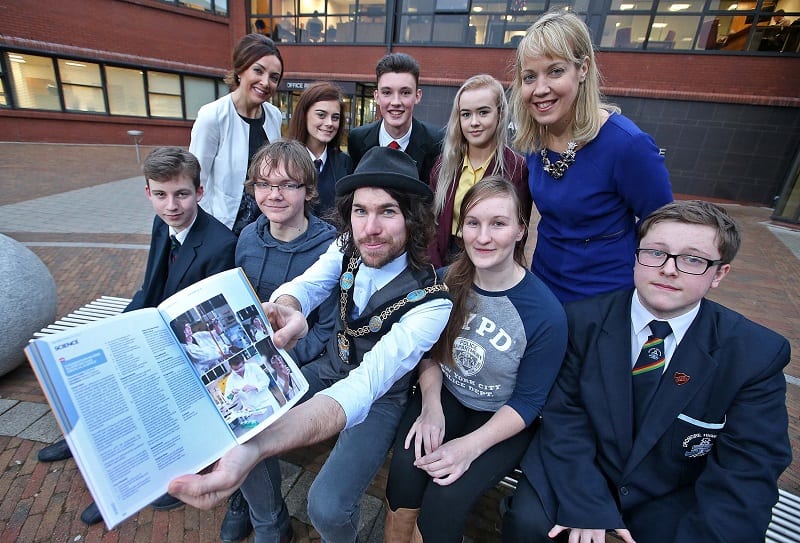 Around 50 local students attended a Life Sciences Skills and Careers Event in Craigavon Civic and Conference Centre last week.
Students from Southern Regional College (SRC) Newry, St. Patrick's College Dungannon, St. Patrick's Armagh, Dromore High School, Portadown College, St. Colman's Newry and St. Ronan's Lurgan got to hear about careers in the Life Sciences sector from enthusiastic people who work in top local life sciences companies Almac, Norbrook and Randox. Students found out about local career opportunities, gaining an insight into what it is like to work in the Life Sciences industry.
The event, organised by Armagh City, Banbridge and Craigavon Borough Council, also gave students the opportunity to find out more about SRC's Life Sciences Higher Level Apprenticeship (HLA) Programme and ask questions of the lecturers and those who work in the industry.
Council's Head of Economic Development, Nicola Wilson commented, "This borough is a hub for life sciences companies, so it is important that we encourage our young people to think about careers in this field. It is our responsibility to secure the future of this important sector for our local economy, and this begins with equipping our young people with the enthusiasm and the appropriate skills to work in this industry.
"There is a wealth of opportunities in our borough for young people considering a career in this sector, so we need to make sure our young people know about them. We believe that by educating our young people appropriately to meet the needs of this industry, we are securing the future of this important sector for our area.
"We organised this event as we are keen for industry and education to work together so that we retain high quality jobs in the growing Life Sciences sector."
Assistant Director at SRC, Claire Byrne commented, "Higher Level Apprenticeships (HLAs) offer A-Level/Level 3 school leavers an alternative to the traditional full time 'University' pathway to gaining a higher qualification. At SRC we currently have over 70 young people undertaking higher level apprenticeships with local employers.
"The apprentices are employed on a full time basis whilst also attending College typically for one day per week to study towards a degree at foundation level. This 'earn whilst you learn' models offers a 'debt free degree' option to the young person.
"The HLA model is very appealing to the employer as it delivers a combination of technical skills, academic knowledge and transferable skills based on the needs of the company thereby delivering a suitably qualified workforce. The young person is also developing practical skills and work experience during the lifetime of his/her apprenticeship affording a head start perhaps to recent graduates leaving University with a degree but less 'on the job' practical experience. Indeed, many of our HLA candidates have already secured employment with their relevant company beyond the lifetime of their apprenticeship contract."
SRC is experiencing increasing demand from both employers and students for the HLA model in a number of subject areas. Almac, Norbrook and Randox laboratories are supporting the initiative and apprentices are currently employed with all three companies.
Recruitment begins in the new year for a number of HLA programmes due to commence in September 2017. A range of local employers will be promoting HLA positions at College Open Days in March 2017. Visit the SRC website for more details over the coming months.
Read more news:
New jobs to follow as JF McKenna looks set to win approval for huge expansion
Archbishop leads tributes to 'tireless peacemaker' and dear friend, Bishop Gerard Clifford
PSNI officers across Borough will start using body cameras on patrol
Missing teenagers found safe and well in Armagh
Police issue appeal for witnesses after child struck by car at traffic lights
Major £5million Co Armagh housing development given go-ahead
Man convicted of historical sex abuse against a 14-year-old child
Life sentences for pair who murdered Co Armagh man Owen Creaney
Sign Up To Our Newsletter