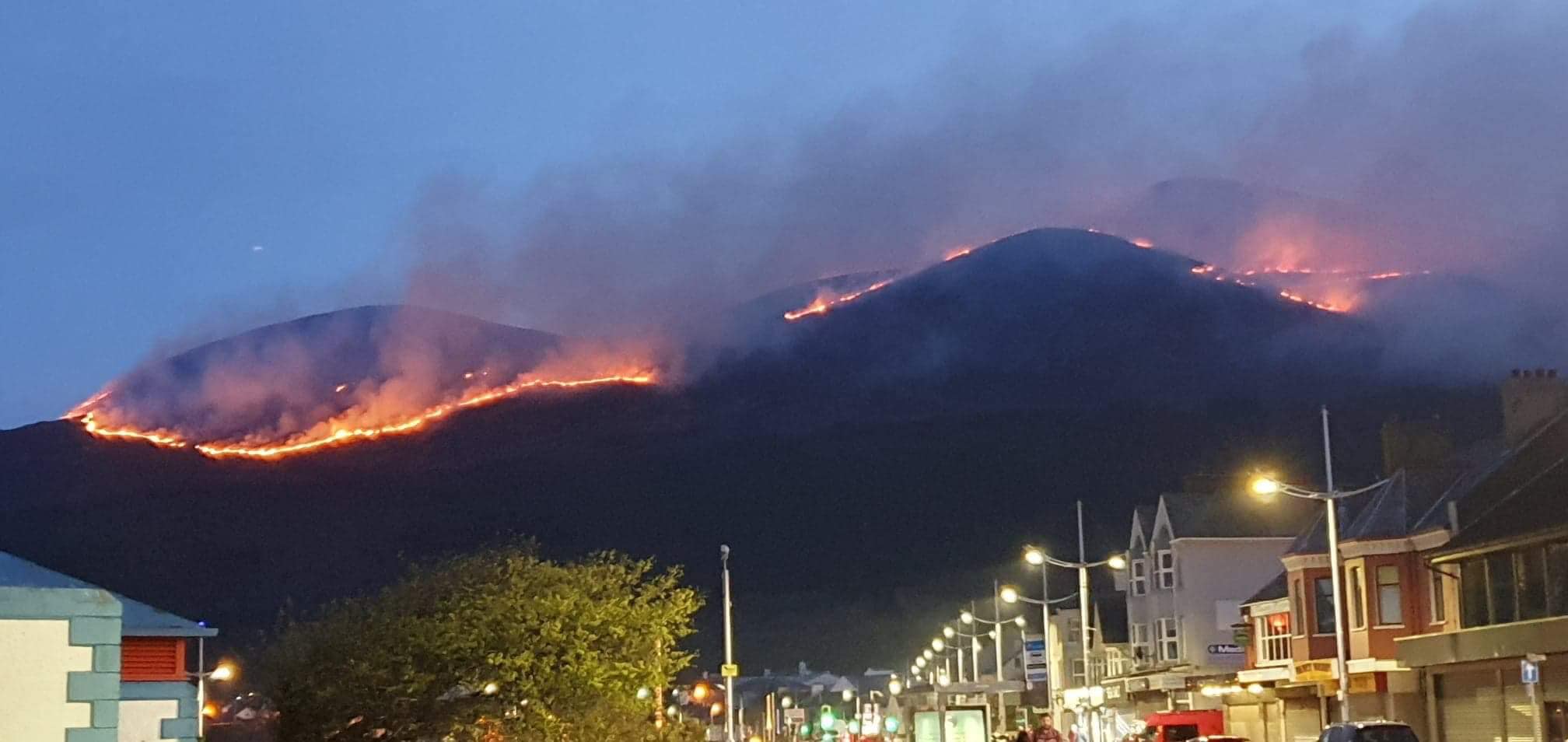 Police are asking people to avoid Newcastle as firefighters continue to battle a major blaze in the Mournes.
As crowds prepare to make the most of the glorious weather this weekend and flock to the seaside, the PSNI is warning people to stay away – you will be turned back!
Several people have been helped from the mountain and campers evacuated.
Scores of firefighters have been dealing with one of the worst fires to hit the area in many years.
Emergency services are all working together as they seek to do their bit in a volatile situation.
The Mourne Mountain Rescue Team were called into action latest last night (Friday) at the flames on Slieve Donard could be seen for miles around.
A spokesperson said: "The team received a request to assist an individual lost in Donard Forest. With the help of phone technology, their location was confirmed and members responded to assist and evacuate.
"In the process, members also cleared several other prominent camp sites in the forest and evacuated several campers.
"A further ongoing concern for another camper has just been resolved this morning.
"Due to the continuing wildfire incident, we would strongly advise avoiding the region for this weekend."
Police have repeated that advice.
A PSNI spokesperson said Northern Ireland Fire and Rescue Service was continuing to deal with a "major fire" in the Mournes.
And he said it was expected to be ongoing for the rest of the day.
The spokesperson added: "Police would ask that all members of the public avoid the Newcastle area, in particular Trassey Road, Bloody Bridge, Tollymore Forest Park and Donard Carpark to ensure NIFRS have full accessibility to these areas.
"We understand many people will have made plans to walk the Mournes today but we would ask that you reschedule as you will be turned away upon arrival.
"Further updates will be issued in due course."
Sign Up To Our Newsletter