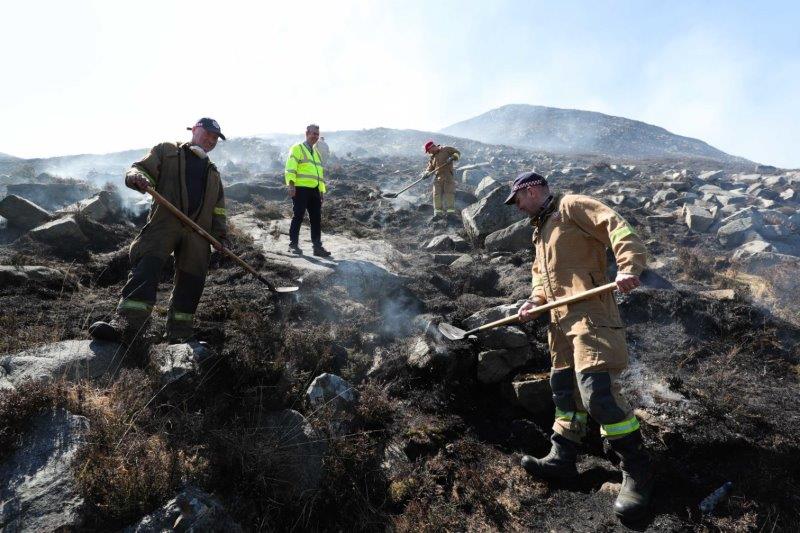 The public are again being asked to avoid Newcastle and the Mournes as the operation to try and bring under control a major fire enters a third day.
Some 70 firefighters have been tackling the blaze from across Northern Ireland watches at any one time.
On Saturday, fire chiefs declared it a 'major incident'.
And the PSNI this morning (Sunday), say that they are still working at the scene.
A spokesperson said: "Thank you for your patience and co-operation in relation to the ongoing fire in the Mourne Mountains.
"Fire Service are still working in the area and so we would ask again that you avoid the area of Newcastle, the Mournes and in particular the Bloody Bridge.
"There are still a lot of emergency vehicles in the area and they need space to work. We will keep you updated as and when the area is clear and all the fires are out."
On Saturday Environment Minister Edwin Poots visited the scene and expressed extreme sadness at the scene of devastation.
He said: "Wildfires cause a devastating level of damage to our natural environment and threaten people's lives, homes and businesses. I want to thank the first responders who are doing everything they can to get the fire under control.
"Many of these wildfires can be difficult for firefighters to access safely to control the fire.
"Just this week, I visited the Mournes where I was struck by the beauty of the area and all the life forms that exist there. I was pleased to see the ongoing work to maintain the environment and biodiversity in the area.
"I am shocked to see the devastation caused by this fire."
Meanwhile, the Northern Ireland Fire and Rescue Service have thanked the public for their patience and co-operation.
Assistant Chief Fire and Rescue Officer Aidan Jennings said it was a "significant multi-agency response" in "challenging and difficult circumstances".
He thanked all for staying out of the area and appealed for everyone to "take care, particularly when out in the country in relation to wildfires but generally in home fire safety as well".
Sign Up To Our Newsletter