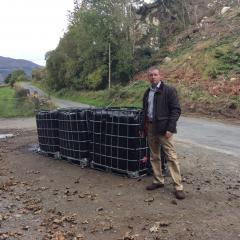 More fuel cubes litter the beautiful countryside around south Armagh.
Coming just shortly after an incident at Darkley, this latest blight was at Dromintee.
And in fact it is the first in the village area in quite sometime.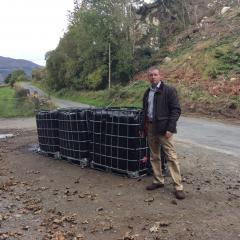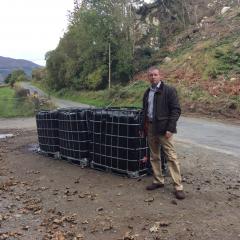 But with ambitious plans to grow tourism in the area, there has been a warning that that could be thwarted unless this is the last!
Slieve Gullion Councillor Mickey Larkin has lambasted the fuel launderers who once again have pound signs in their eyes regardless of the real cost to the area.
"Our beautiful countryside and natural heritage has been desecrated by those who put profit by poison above the wellbeing of their own community," said the Sinn Fein representative.
"This is the first incident of this nature for sometime. The residents of this area hope that it will be the last.
"It is long past time that those involved in the dumping of toxic waste in South Armagh desist.
"There is a bright future for the Ring Of Gullion area with massive potential for an expanded tourism product bringing jobs, investment and prosperity to a long neglected region.
"The gangsters involved in fuel laundering cannot be allowed to jeopardise this."
Picture: Cllr Mickey Larkin beside the dumped waste at Dromintee
Read more news:
Man to appear on catalogue of charges including murder and drugs offences
Supermodel and 80s icon: 'I want to come back and find my roots in Armagh'
Church minister's plea for action over pavement parking outside city school
Pilot scheme to see shops network trained to assist those living with autism
Sign Up To Our Newsletter