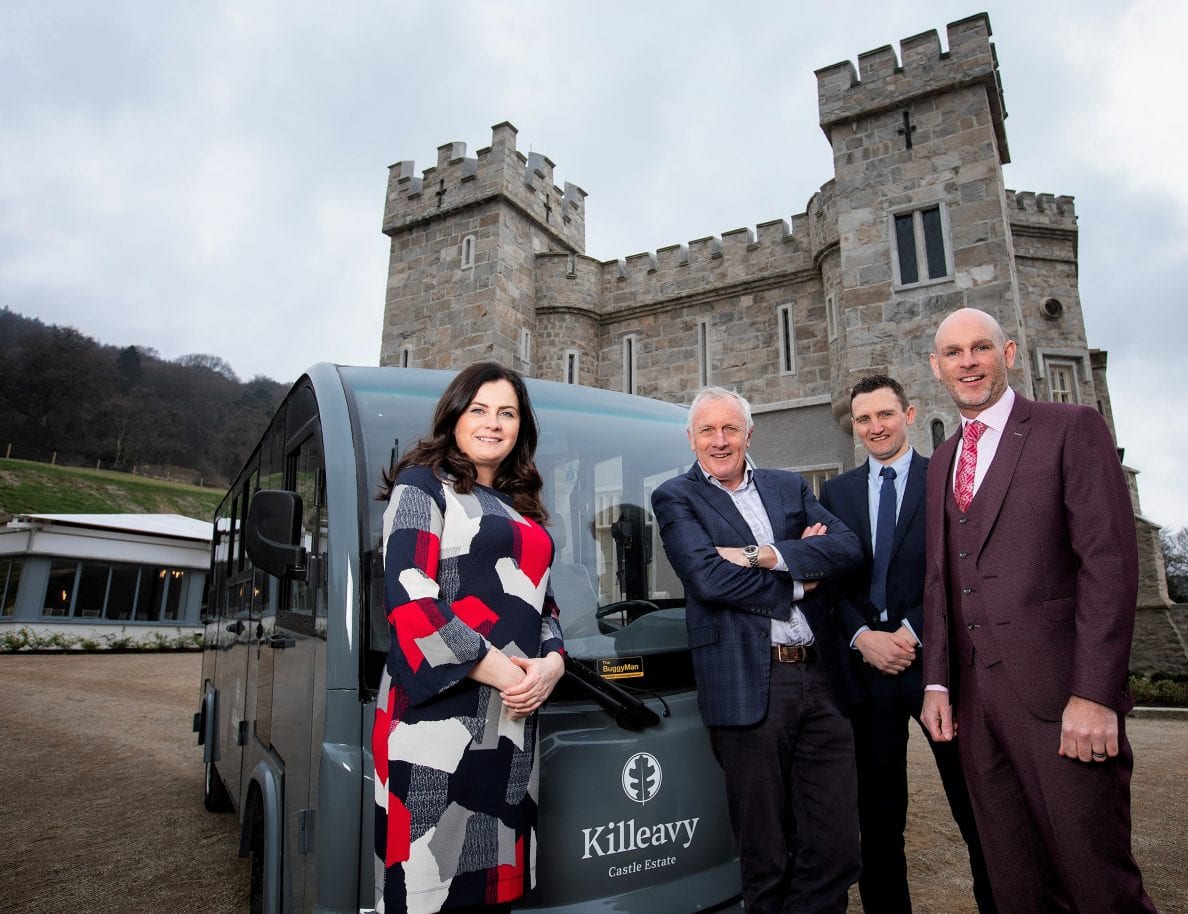 A new boutique style hotel in south Armagh – which will create 85 new jobs after a £12 million investment – will throw open its doors next month.
Killeavy Castle, nestled in the woodland at the foot of Slieve Gullion, is set to unveil its newly-refurbished premises, which has seen 90 jobs created in the construction work over the past two years.
The Grade 1 listed building, derelict for over a decade, has been given a new lease of life after being bought by County Armagh native Mick Boyle and his wife Robin, for £1.2 million, in 2013.
The Castle will create 85 new jobs for the local area from part-time to full-time staff under the management of new General Manager, Jason Foody.
Over the last two years, 90 local contractors – from design to construction and landscaping companies – have been employed to complete extensive renovations with painstaking care, ensuring the 19th Century building has been fully restored to its former glory.
Entrepreneurs Mick and Robin Boyle run a successful Australian construction company, Abergeldie Complex Infrastructure.
The couple, who currently live in Sydney, have a special connection to the local area as Mick was born in South Armagh before emigrating to Australia in the 1960s.
Speaking about the investment, Killeavy Castle Estate owner, Mick Boyle, explained that the renovations will put a modern twist on the traditional charm of the castle.
He said: "Robin and I wanted to change the way people think about South Armagh. We want to create a destination venue where tourists and local people can come to and enjoy great dining, access the beautiful mountain walks and feel very connected with their natural surroundings.
"We want Killeavy Castle to be a world class destination where people can escape the busyness of modern life and get closer to what's important.
"What makes us unique is our location and heritage. We are situated at the foot of the mighty Slieve Gullion with unrivalled natural beauty and incredible views.
"Our heritage and provenance are at the heart of everything we do.
"Our food will be sourced locally or grown in our walled garden, our 85 staff are by majority live locally, and we have incorporated the beauty of the countryside into the design and interior of the castle and hotel.
"We also have a working farm with cheviot sheep and longhorned cattle."
Killeavy Castle, first built in 1836, now has four luxury bedrooms, a formal dining room, a cellar bar and private function facilities, all with period features which have undergone significant restoration.
Behind the Castle there is a permanent marquee for weddings, retreats and corporate events.
Steeped in rich history, an underground tunnel once used as a servant's passageway now links the castle to the newly built 45-bed boutique spa hotel, a Grade 2 listed building which was formerly a coach house, mill and farm buildings.
General Manager of Killeavy Castle Estate, Jason Foody added: "There has been a great demand for our unique facilities with 50 events already booked in, from fairy-tale wedding ceremonies to glamorous receptions.
"We have had enquiries from all over the world including the US and Asia, with people excited to visit the estate and take in the breath-taking scenery."
Congratulating the owners on the development, Gary Flynn, Business Acquisition Manager at First Trust Bank, added: "We are incredibly proud to have played a part in the restoration of Killeavy Castle.
"The exceptional attention to detail at every step of the project has resulted in the creation of one of the most stunning venues on the island of Ireland.
"Mick's passion for South Armagh is infectious. It's clear he is committed to creating hospitality excellence and showcasing the beauty and charm of the local area on a global stage. The castle itself still has so many of its quirky period features, sympathetically restored to its former glory!
"So often we see investments of this scale taking place in our cities, so it's great to see such a high-quality development of this kind enhancing our rural communities and is testament to the potential that is there to be harnessed.
"The spectacular hotel will be a source of pride for the local people and we wish Mick, Robin, Jason and the team the best of luck with their opening in April."
Sign Up To Our Newsletter