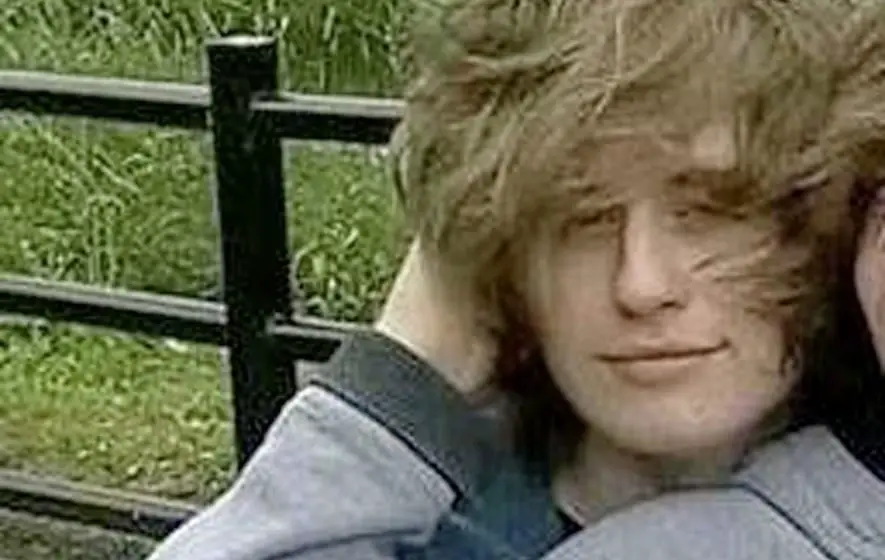 A judge refused to free a computer engineering student, accused of blackmailing hundreds of young girls to perform degrading and "sadistic sex acts" and to send him explicit images.
Refusing the bail application on behalf of Alexander McCartney on Wednesday, District Judge Michael Ranaghan  said that if the allegations are proved, the 22-year-old "presents a real risk to the most vulnerable group in society – I'm not prepared to take a risk."
"The allegation that he continued offending whilst under investigation shows me that he simply cannot stop himself," said the Newry Magistrates Court Judge, sitting in Craigavon on Wednesday.
He said that while the defence contend that he has already spent eight months in custody, "he will get a lot more if convicted…..I'm certain that he will attract a sentence in excess of the ten year mark."
McCartney, a university of Ulster student from the Lissummon Road in Newry, is in custody facing a catalogue of charges allegedly committed against more than 60 young girls across the UK and RoI.
The alleged pervert faces a total of 410 charges, said to have been committed on various dates between September 2017 and July 2019, including allegations of possessing, making and distributing indecent images of children, sexual communication with children, inciting children to engage in sexual activity, blackmail, intimidation and encouraging a child to have intercourse with an animal.
In court on Wednesday, a prosecuting lawyer claimed that while the charges across two indictments relate to 61 complainants, "they do not accurately reflect his number of victims – there are hundreds more" from as far afield as the US and New Zealand, with the PSNI having to "cooperate with police forces around the world to make sure they victims are safe and to identify further victims."
He told the court how the investigation began in March 2018 when Scottish police alerted the PSNI to a so-called "catfish" incident involving a 12-year-old girl who was befriended on Snapchat.
It is the police case that the school girl sent a naked picture of herself to the defendant who is then alleged to have blackmailed her that "if she didn't do what was asked her image would be uploaded to the internet."
Police enquires identified McCartney and when his home was searched, police seized a computer and mobile phone which when examined, officers uncovered thousands of images of young girls in "various states of dress and undress, performing various sexual acts."
After that initial complainant came forward, over the next number of months three more alleged victims reported that the same thing had happened to them including being told to perform sexual acts on themselves and younger siblings, to take images of their younger siblings and even to have "sexual penetration with animals, namely dogs."
Arrested and interviewed for those initial allegations, McCartney refused to answer police questions and was originally formally charged last July.
Last December however, a further 386 charges were laid against McCartney and the lawyer told the court it is the "biggest case of its kind" in the UK.
"The actions of the defendant, his routine, is the same,"  said the lawyer, who continued that he "contacted victims, mostly young girls, pretending to be a girl, to send images to gain trust to get indecent images which are then used to blackmail to send further and more graphic images, all for his own sexual gratification."
There was also evidence, claimed the lawyer, that McCartney "was planning to sell these for profit" and there was also elements of sadism in that McCartney ordered victims to "urinate on their underwear," to choke themselves and to commit acts of self harm.
Turning to bail objections, the lawyer submitted that McCartney posed a serious risk of committing further offences as his offences had continued, and even escalated, when he knew he was being investigated and was on police bail and that he also posed a risk of interfering with witnesses.
The lawyer revealed that on one occasion, McCartney had allegedly breached bail within 12 hours of being freed from a police station when officers found him to be in possession of a new mobile phone, a phone which had the Snapchat app open when officers seized it from his home and which his mother had sent texts to.
That incident, submitted the lawyer, showed that while willing to stand surety for their son and to give their home as a bail address, his mother "did nothing to prevent the offences."
There were also concerns for McCartney's safety if freed, both from the community as regards potential public disorder and from McCartney himself as he had written several apparent suicide notes.
As regards the state of the case against McCartney, the lawyer revealed that "the file is with counsel who is drafting charges at the moment."
Defence counsel Kevin O'Hare submitted that while there were alleged breaches of police bail, "I think it's important to make the distinction that he had never been charged or brought to court for offences" at the time of the alleged breaches.
He said that having served more than eight months in custody on remand, given the "vastness" if they case, McCartney was unlikely to see a Crown Court before the end of the year and argued that bail conditions could be put in place that would assuage police and prosecution concerns.
Judge Ranaghan disagreed however as said he was refusing bail "on the risk of further offences – he does represent a very serious risk of reoffending."
The case against McCartney will be mentioned again on 6 May.
Sign Up To Our Newsletter