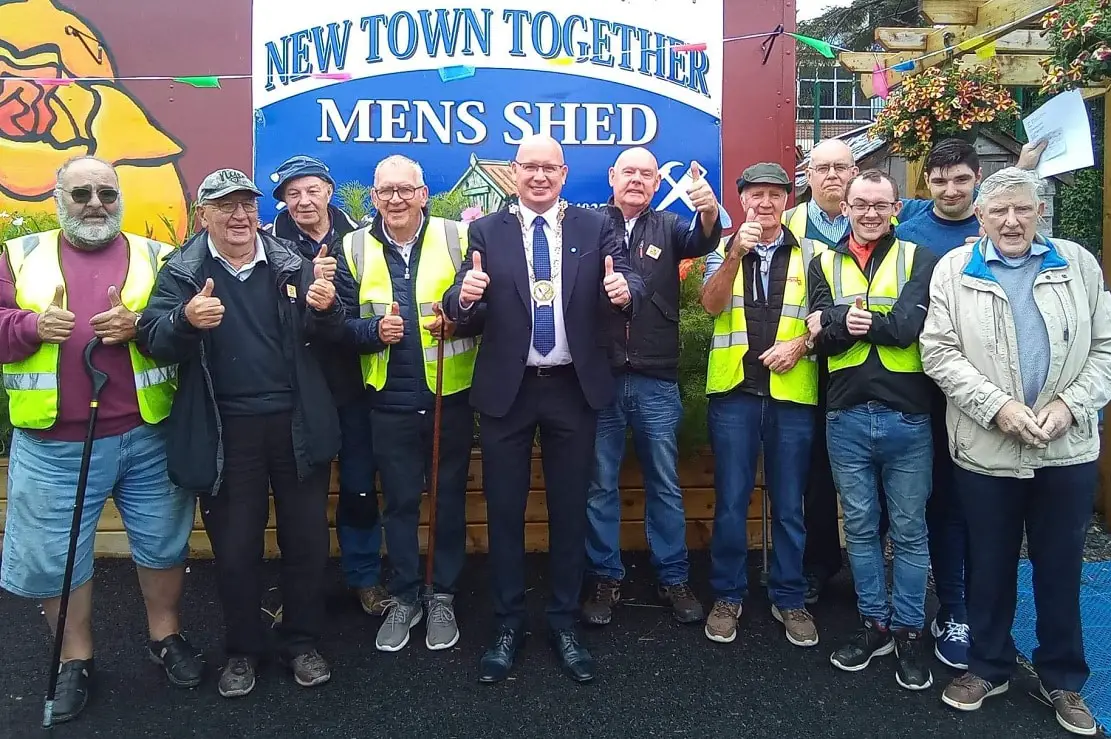 A men's shed which opened in Newtownhamilton three years ago has been such a success that it has had to move to bigger premises – and has even been the catalyst for a new women's group.
New Town Together Men's Shed was started by local man Pete Haughey in July 2019 after he saw a need in the area, not just for himself but for others.
Today, it has more than 90 members ranging in age from 19 to 81, from a wide surrounding area.
And recently, an annual open day and mini festival, attended by dozens of people and featuring over 90 musicians, was held to showcase its work and to celebrate and highlight the difference it can make to people's lives.
Pete (67), who worked as a fruit and veg wholesaler, had taken early retirement due to ill-health, in particular struggles with his mental health, when he decided to find out more about men's sheds.
He said: "I felt there was a need for something in the area for men to do, rather than be going to the pub during the day.
"I got a lot of support from Stephen McCleary in Armagh Men's Shed and visited them and other local sheds to see how they worked."
The group's first premises was a a 40ft container loaned to them by St Michael's GAA but as membership grew, more space was needed.
"I asked St Michael's for a bit of waste ground so we moved the container to that and then I bought two more 45ft containers, put them side by side and cut the centres out so we had a big, massive shed," said Pete.
The new shed was part-funded by proceeds from window boxes and bird boxes which Pete made in his own back yard and which kept him going through lockdown.
"It was something I was passionate about for my own mental health and I could see the benefit of it for others too," he said.
"A lot of what we do is chat, which is very important, especially talking about health issues, but mostly we have fun.
"Some of the men are very interested in woodwork and would make items like planters and benches. Now coming into the autumn we are busy doing bird boxes and we make cribs for Christmas too," he explained.
A garden area has been developed with a number of the men growing their own veg, and there's also an area with flowers and benches for people to sit.
Pete said he has noticed an "unbelievable" difference in men once they start attending.
"There was one guy and I worked with him for three months before he even came through the door. He had very bad mental health issues and now he's one of our best men, never misses. Before he wouldn't even talk to anybody," he said.
"Since I started this, my depression has lifted and I have never looked behind me."
There is also a popular women's group now as well, New Town Together Crafters, which meets every Thursday.
Having initially used the men's shed, they will be moving to Newtownhamilton Rural Community Hall in the same grounds this month.
New Town Together Men's Shed meets every Tuesday and Thursday from 10-1 and Saturday from 1-4.
To find out more, contact Pete on 07740378714 or email newtowntogether@yahoo.com.
Sign Up To Our Newsletter